Editors' Note: This article covers a stock trading at less than $1 per share and/or with less than a $100 million market cap. Please be aware of the risks associated with these stocks.
From time to time, certain stocks reach abnormally high valuations with no fundamental value. The following three short candidates are newcomers to my Seeking Alpha short articles, have enterprise values of over $150M, generate zero or nominal revenues, lose a lot of money, and have broken business models. Fundamentally, they should go to zero.
| | | | | | | |
| --- | --- | --- | --- | --- | --- | --- |
| Name | Ticker | Price | Ent Val | Revs | EV/Revs | Net Loss |
| Azure Holdings | OTCPK:AZRH | $1.27 | $155M | $0 | 1000x* | -$32k |
| Gawk | OTCPK:GAWK | $8.00 | $2.4B | $10k | 252667x | -$176k |
| Poly Shield Tech. | SHPR | $0.94 | $177M | $348k | 509x | -$1.3M |
*for companies without revenues, we use a default EV/Revs of 1000x
All of these stocks had hyperbolic price increases in recent months that are now topping out - AZRH (64x price jump from a low of $0.02 to $1.27 currently), GAWK (8x from a low of $1), and SHPR (4x from a low of $0.22). The timing is right to short these speculative shares.
Azure Holdings was attempting to sell used cars in Russia until a few weeks ago. The company's business plan du jour is advertising services that use audio watermarking technology to transmit advertising content to mobile devices. But a picture of the company's headquarters says a thousand words.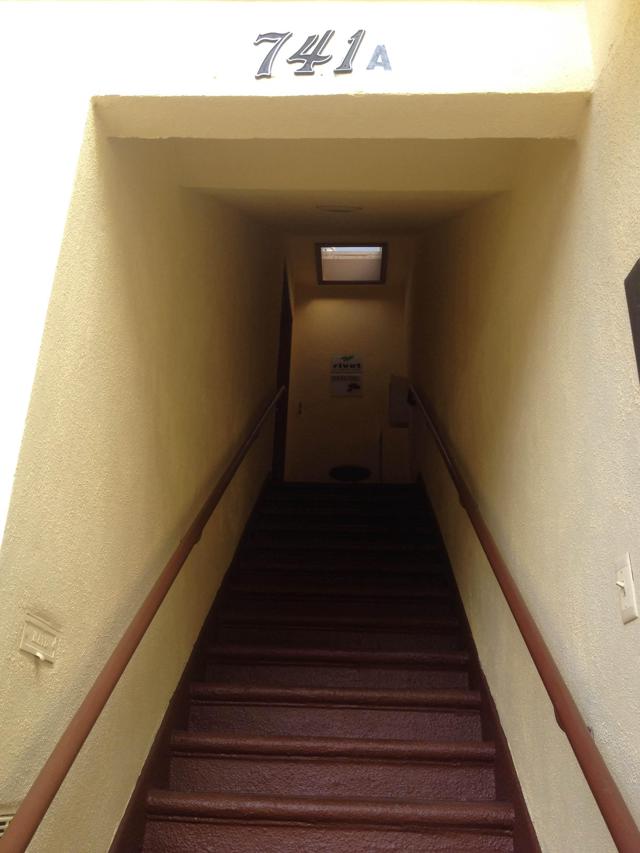 I give the company some credit; it upgraded its description from selling used cars to mobile advertising with audio watermark technology. But these are just words with nothing behind it. This is just a one-person show (as Paul Martin has replaced Olga Chernetckaia as the sole employee), and it appears that nobody is home. Not only is AZRH not worth $155M, it's not worth $1M. Please refer to this recent Azure Holdings article for more information.
Gawk takes the cake for overvaluation, sporting a current market cap of $2.4 billion! The company's latest business plan since August 2013 is online distribution of digital content via its supposedly proprietary content distribution network. So far, the company has reported zero revenues from this new business plan.
I visited Gawk's web site today, and was not impressed. The content is sparse and from no-name, aspiring musicians and producers. Specifically, 2 music videos for 99 cents, 1 short film for 99 cents, and 10 video clips for free. Movies and a few other categories are empty. Everyone in the developed world would have to download paid content from this site to justify the current valuation.
To be fair, the three managers recruited over the last few months are not slouches. But despite their Hollywood connections and past accolades, the site is currently lacking high-profile content to attract consumers. Even if Gawk entices consumers in the future to pay for its content, it will never be enough to justify anything close to the current valuation.
| | | | | | | |
| --- | --- | --- | --- | --- | --- | --- |
| Name | Ticker | Price | Ent Val | Revs | EV/Revs | EBITDA |
| Clicker | OTC:CLKZ | $0.06 | $1.1M | $9k | 116x | -$243k |
| Idle Media | OTCPK:IDLM | $0.05 | $3.1M | $2.9M | 1.1x | -$2.9M |
| StreamTrack | OTCPK:STTK | $0.01 | $1.8M | $1.8M | 1.0x | -$1.7M |
| Peer Median | | | $1.8M | $1.8M | 1x | -$1.7M |
| Gawk* | GAWK | $8.00 | $2.4B | $10k | 253k x | -$176k |
*last-quarter's annualized revs & EBITDA were $0 and -$0.5M, respectively
For every one Netflix, there are a multitude of money-losing followers in its wake. The B2C model is fraught with extremely high marketing costs. Gawk will have to raise (and initially lose) tons of money (translating into deeply discounted stock offerings and share dilution, if it's lucky) just to be at the table. The peer group above adds further justification to the low valuations and penny stock prices that Gawk will likely be encountering.
Poly Shield Technologies has a lot of moving parts, but the bottom line is that the company is literally going into the tank. The company unsuccessfully dabbled in a number of businesses over the last year or two ranging from wireless tracking equipment to water purification to fluoropolymer coatings to various emission reduction schemes for the marine industry. These endeavors generated ongoing revenues of only $5k in 2012 and $76k through September 2013 (which excludes a one-time royalty payment of $272k in 2013 Q3 from a discontinued business). Quarterly losses remained around -$0.3M in 2013 Q3 despite the one-time incoming payment, as SG&A expenses tripled.
The company's primary focus today is its DSOX-15 product that decreases the amount of sulfur in fuel used by ships. The DSOX-15 is supported by three new management members that joined Poly Shield in September 2013. Rasmus Norling, the previous head of the company with 154M restricted shares (82% of total shares), is currently floundering to sell his Bio Scrubber that removes alkali metals from fuel.
Poly Shield has high-interest/dilutive loans that it cannot afford to pay of $0.3M at 51% per annum, $0.6M in various other loans, and a loan last month for $0.5M up-front with $1.5M to follow at 10% per annum with 6.2M shares in cashless warrants. The $1.5M is subject to the company cancelling Rasmus Norling's shares and acquiring his patents. Thus, a power struggle is now in play between Mr. Norling and new management backed by the recent lender (KF Business Ventures LP).
The false hope of Poly Shield being resurrected by this tentative loan and hopefully cancelling all or part of Mr. Norling's shares and somehow acquiring his IP, as well as probable stock promotion activity funded by the small Q3 windfall, are the only reasons that I can find to explain the 4x rise in SHPR stock over the last nine months.
There are at least three main reasons why this is false hope: First, operationally, the DSOX-15 has only one customer, and this is a capital-intensive business that the company cannot afford to support. Thus, the prospect for future revenues is cloudy at best. Even in the unlikely scenario that Poly Shield generates above-nominal revenues, after failing to break the $200k-mark for the last 13 years, the money will be used to cover indebtedness, and to now cover its out-of-whack SG&A costs. So Poly Shield is going into the tank.
Second, new management has credibility issues. Brad Eckenweiler (current CEO) spent the last ten years as CEO of Midas Trade, an OTCBB stock trading firm. Not only does Mr. Eckenweiler have no operational experience, but in the past he was fined and banned for two years by the British Columbia Securities Commission for dubious payments and promotional activity. Simultaneous to Mr. Eckenweiler's CEO announcement in September 2013, he received $195k from the company for previous travel, marketing and other business expenses. Neither Mr. Eckenweiler nor his two manager colleagues have released their stock compensation arrangements yet. It will be interesting to see what the total net share count/ownership stakes will be, especially in the rosy scenario that most of Mr. Norling's shares are cancelled.
Third, the company would have to sell $150M in DSOX-15 systems to justify the current valuation of $176M (excluding KF Business Ventures warrants and debt). So far, DSOX-15 sales are a nominal $60k. Even in the rosy scenario that the share count is reduced to a 40M base plus new management shares and future dilution to avoid bankruptcy and maintain operations, the company would still need at least $50M in sales to justify that valuation, a far cry from $60k.
This creates today's shorting opportunity of SHPR with an EV of $176M despite dire financials of ongoing LTM revenues of only $76k, last-twelve months' losses of -$1.3M with more red-ink to come, while facing debt obligations that currently cannot be repaid. Poly Shield is a worthless folly in my view, where aside from insiders, very few shareholders will make any money.
Disclosure: I am short AZRH, GAWK, SHPR. I wrote this article myself, and it expresses my own opinions. I am not receiving compensation for it. I have no business relationship with any company whose stock is mentioned in this article.