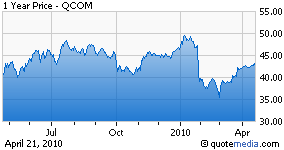 Qualcomm (NASDAQ:QCOM) is expected to report Q2 earnings after the market close on Wednesday, April 21, with a conference call scheduled for 4 pm ET.
Guidance
The consensus estimate is 57c for EPS and $2.63B for revenue, according to First Call. Qualcomm's stock lost nearly a quarter of its value in the month after the company reported Q1 in late January. The company warned on that earnings call that the subdued economic recovery forced it to pull back slightly on its 2010 forecast. Qualcomm later lifted its outlook for Q2 on March 25 to about where it was before January's warning. But the stock has recovered only about half of its dip and has far to go before it again reaches the 12-month high of $49.80 from mid-January. Qualcomm has said it expects Q2 earnings of 56c-58c on revenue of $2.55B-$2.65B. Moble Station Modem, or MSM, units are expected to be 92M-93M. In early March, Qualcomm said it would buy back $3B in stock. It also boosted its quarterly dividend by 2c to 19c per share.
Analyst Views
Citigroup expects Qualcomm to report Q2 results in-line with the company's guidance. The firm's estimates are 57c, $2.64B and 93M MSM units. Citigroup expects Q3 guidance to be worse than street expectations of 55c and $2.66B in revenue. The firm is modeling 53c and $2.65B. Noticeable negative order revisions from LG Electronics led Citi to revise their Q3 MSM estimate lower to 94M units. Therefore, Citi expects that MSM guidance from Qualcomm could prove disappointing based on their current checks. For FY10, Citigroup recently changed their non-GAAP revenue/EPS estimates to $10.74B/$2.28. Consensus is $10.77B/$2.30, and guidance $10.4B-$11.0B/ $2.10-$2.30. Citigroup awaits Qualcomm's earnings report to better understand the outlook for QTL, but reiterates their prior view that ASP's are stabilizing. Longer term, Citigroup will continue to monitor handset pricing trends for evidence of renewed pressure, noting the risk of hardware commoditization.