Intel (NASDAQ:INTC) has been clipped to start 2014 - it's down 7.6% on the heels of earnings that failed to impress the street, the bottoming of the PC market, and focus on whether or not the company is going to be able to develop for mobile and tablets effectively.
Three weeks ago Intel reported less than stellar earnings - EPS of $0.51/share that missed by a penny and revenues of $13.8 billion that exceeded expectations. The company reported basically what analysts were predicting - a less than stellar quarter.
The stock has been hit accordingly, off from $26 down to the mid $23's as of yesterday. Today, Intel is rebounding as the macro markets continue upward with momentum from the morning's jobs number.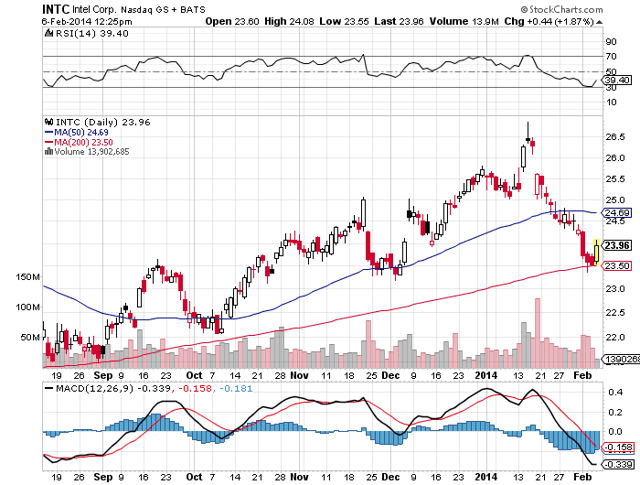 My last article on Intel pointed out that it was closing its AppUp - the app store that nobody really knew it had to begin with. I saw this as a good sign, as the company is shedding dead weight.
One of the things a lot of people look for when investing is insiders that own a good portion of the company's stock and/or insiders that are buying in the open market - generally seen as a very bullish sign. It's been one of my core arguments for getting bullish behind Kona (NASDAQ:KONA) and Pacific Healthcare (OTCQB:PFHO).
As an investor, you want the people working for the company to not only help push the company forward, but to have a vested interest in returning that value to shareholders through the stock price. It's one of the main reasons that a lot of public companies offer stock incentive plans for their executives.
That's why I was pleased to read news about Intel engaging its employees awareness of the company's stock price. It was reported by Bloomberg today:
Intel Corp., the world's largest chipmaker, said it will require more executives to own stock and tie bonuses to operating goals, moves aimed at connecting pay more closely with the company's financial performance.

Starting this year, 350 senior leaders will have to own specified amounts of shares, the Santa Clara, California-based company said yesterday in a letter to shareholders. That's up from the 50 executives covered under existing guidelines.

Intel said it is changing its pay structure following input from investors, seeking to align its compensation with the interests of shareholders. The stock rose 26 percent last year, compared with a 30 percent gain in the Standard & Poor's 500 Index. Sales (INTC) slipped for a second straight year. The rules are being instituted under Chief Executive Officer Brian Krzanich, who was promoted to the company's top job in May.
I like this move.
In a time where Intel has a major focus on monetizing a push into mobile and getting lean and mean to prepare for a rebound in the PC market, it's important to make sure everyone is on the same team. Adding performance bonuses and stock incentives makes sure that executives and employees are, on a daily basis, asking themselves if what they're doing is good for the common shareholder. If you're part of the common shareholder constituency, this is great news.
Intel's P/E continues to be attractive, near 13 - and the company's dividend yield, although roped in a bit, it still attractive for me. We all know Intel, we know the company isn't going anywhere, and it represents a nice buying opportunity at these levels.
I continue to be long on Intel and could add on dips.
Disclosure: I am long INTC, PFHO. I wrote this article myself, and it expresses my own opinions. I am not receiving compensation for it (other than from Seeking Alpha). I have no business relationship with any company whose stock is mentioned in this article.