Contagion from emerging markets spread to developed market equities in the latter part of January, with the S&P 500 (NYSEARCA:SPY) down 5.3% from its peak on Jan 15. In the midst of the Fed's tapering that will reduce access to cheap liquidity, many investment managers moved to a risk-off mode, reducing their most risky positions. In this article, I argue that based on fundamentals, the sell-off may be justified in the cases of EM and Japan. In the U.S., on the other hand, long-term fundamentals have improved, and U.S. equities are becoming quite attractive at these lower levels.
Emerging-Market Currency Exchange Rates vs. USD
Argentine Peso, Brazilian Real, Indian Rupee, Turkish Lira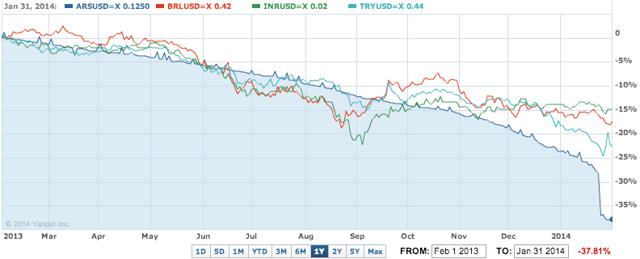 Sources: YCharts, Model Capital Management LLC
It Started with EM Currencies
Emerging-market currencies were in turmoil last week - a reminder that currency is a significant part of risk when investing in emerging markets. Argentina's peso was down almost 20% for the week against the dollar, and Turkey's lira hit a new record low (see chart above).
Argentina (NYSEARCA:ARGT) effectively devalued the peso last week after the central bank scaled back its foreign exchange interventions, in which it used its dollar reserves to buy pesos in an effort to halt the steady decline. This followed Venezuela's announcement of a tweak to its controls over very-limited access to the preferred "official" exchange rate. Both situations highlighted that not all is well with the currencies of emerging-market countries, many of which run high deficits, debt, and inflation. The Turkish (NYSEARCA:TUR) lira's plunge has accelerated since late December, and hit a 12-month performance of almost -25% before rebounding somewhat last week after an interest-rate hike (see chart above). Three of the previously-popular BRIC countries India (INP, INDA), Brazil (NYSEARCA:EWZ), and Russia (NYSEARCA:ERUS) saw their currencies plunge by at least 15% in the past 12 months [China (NYSEARCA:MCHI), the fourth BRIC, does not let its currency exchange rate be set by the market].
Let's Look at Fundamentals
The EM currency debacle highlighted that not all is well with their economic fundamentals. Many emerging markets have serious problems, including high deficits, debt, and inflation. The events in Argentina echo its last devaluation in 2002 when the country abandoned a one-to-one peg with the U.S. dollar. Then, as now, the country was running high trade and budget deficits and accumulating debt. Last year the Argentina's finances seemed to have spiraled out of control amid ballooning government spending and annual inflation of over 28%. In an economy with uncontrolled deficit spending, debt, and inflation, the central bank can prop up the currency only temporarily - hard-currency reserves eventually run out.
China's slowdown is also a serious global concern, especially for commodity-exporting emerging economies such as Argentina and Brazil.
Equity Index ETF Performance, YTD
U.S., Japan, Europe, Emerging Markets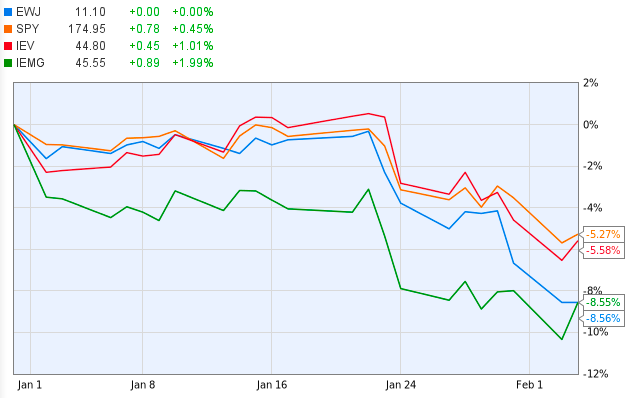 Sources: YCharts, Model Capital Management LLC
EM equity and bond markets also took a hit in January, with the MSCI Emerging Markets ETF (NYSEARCA:IEMG) plunging 8.5% year to date. Among major developed-market equities, Japan fared the worst, also dropping 8.5%, and broad European equities (NYSEARCA:IEV) slipped a bit more than the U.S.
Investors were excited about Japan prime minister Shinzo Abe's "Abenomics" last year, taking the Nikkei 225 (NYSEARCA:NKY) up 28.4%, and MSCI Japan (NYSEARCA:EWJ) up 24.5% (both in USD terms). This year, reality is striking back - asset managers question whether the positive effect of the weak Yen has already been realized and may not provide for a lasting economic recovery. In addition, Japan has a tax hike coming up in April, raising the sales tax from 6% to 10% to cope with its high deficit and debt levels. The higher tax is likely to slow down consumer spending considerably.
U.S. equities were not completely immune to the EM contagion but are weathering the storm relatively well compared to other markets, with the S&P slipping 5.3% year-to-date. Longer-term fundamentals in the U.S., however, improved in Q3-Q4 2013: 4.1% GDP growth in Q3, unemployment dropping to 6.7%, and Q4 corporate profits growing at 7.9%. The manufacturing ISM number released on Feb 3 was 51.3 (readings above 50 indicate growth), well below consensus expectation of 56 - but some of the slowdown was likely temporary, related to the harsh weather in January in many parts of the country. The non-manufacturing ISM released today increased to 54 from 53 in December.
Q4 Earnings Growth is Healthy
We're now in the middle of the Q4-2103 earnings reporting season. The blended YoY earnings growth is quite healthy at 7.9% (including analyst estimates for companies that haven't yet reported). This is a marked improvement from lackluster growth of between 2% and 3.5% in Q1-Q3 2013. Given the typical estimate-to-actual earnings "bump," earnings growth will likely reach 9% by the tile all S&P companies report.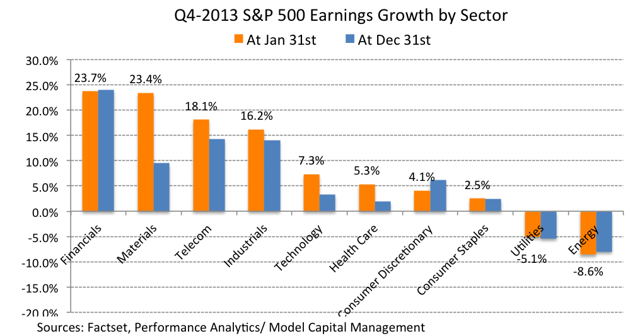 Looking at sectors, growth is positive in eight of the ten S&P sectors, and four sectors are growing at double-digit rate, led by the Financials and Materials (see chart above). The Materials sector had the largest improvement relative to the beginning of this earnings season on Dec 31 when growth was estimated to be 9.5%. The Telecom and Technology sectors also showed broad-based growth and large positive surprises. It is also very positive that the sectors that typically lead growth at times of economic expansions - Financials, Tech and Telecom - are among the leaders once again.
While short-term volatility can nudge the market temporarily off course, we think that the current rout in the markets is creating a buying opportunity for U.S. equities. Our firm's latest near-term return forecast for the S&P 500 is significantly positive, reflecting the improved economic fundamentals and valuation. If you have funds available, we recommend adding to broad U.S. equity exposure (such as SPY). Our more-aggressive strategy is allocated to the 200% leveraged S&P 500 exposure (NYSEARCA:SSO).
Disclosure: I am long SPY, SSO. I wrote this article myself, and it expresses my own opinions. I am not receiving compensation for it. I have no business relationship with any company whose stock is mentioned in this article.