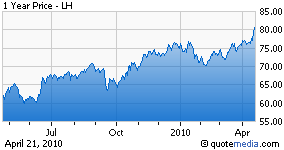 Laboratory Corporation of America Holdings (NYSE:LH) reported first quarter fiscal 2010 earnings per share (EPS) of $1.25 compared to earnings of $1.22 reported in the year-ago period. However, after considering restructuring and other special charges, the company's EPS came in at $1.30, missing the Zacks Consensus Estimate by a penny.
Revenues recorded a 3.3% year-over-year increase to $1.19 billion. During the reported quarter, there was a 3% decline in testing volume (measured by accessions) while revenue per requisition increased 6.4%. However, excluding the consolidation of Quest's Canada unit, revenues would have increased 2.2%, testing volume would have declined 3.3% while revenue per requisition would have recorded a growth of 5.7%.
During the quarter, bad weather conditions had an adverse impact on the company. It reduced volume by 1.3%, revenues by $23 million and EPS by about 8 cents. Apart from bad weather, the termination of two large government contracts in 2009 reduced volume by another 2.4%. Excluding the impact of these factors, volume would have increased 0.4% during the quarter.
At the end of first quarter of fiscal 2010, LabCorp had $172.2 million of cash and short-term investments, more than the $148.5 million at the end of December 2009. Free cash flow position improved to $207.5 million during the reported quarter compared to $178.2 million in the corresponding year-ago period. Operating cash flow during the quarter was $232 million after a transition payment of $14.5 million to UnitedHealthcare (NYSE:UNH).
LabCorp had $20 million outstanding under its $500 million revolving credit facility. The company repurchased $105.7 million of stock, representing approximately 1.4 million shares during the quarter.
In addition, LabCorp has reiterated its guidance for 2010. The company expects EPS in the range of $5.35–$5.55 with a 2.5%-4.5% growth in revenues. LabCorp expects to generate $870 million of operating cash flow while $135 million of capital expenditure is likely to be incurred.
We believe demand in the clinical testing market should continue to grow due to the increase in aging population, increased recognition of the value of more specialized and sophisticated tests and the low-cost benefits of testing to improve health. We have a Neutral recommendation on the stock.