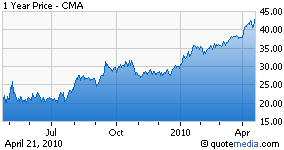 Comerica Incorporated (NYSE:CMA) reported a net loss attributable to common shareholders of $71 million or 46 cents per share. The company was expected to report a loss of 28 cents according to the Zacks Consensus Estimate. The company had incurred a loss of $62 million or 42 cents per share in the prior quarter and a loss of $24 million or 16 cents in the year-ago quarter.
Results in the reported quarter were impacted significantly by the payment of dividends on the preferred stock issued to the U.S. Treasury under its Capital Purchase Program. Excluding preferred dividends, the company reported a profit of $52 million, versus a net loss of $29 million in the prior quarter.
Credit metrics improved during the quarter, with significant declines in net charge-offs and provision for loan losses. The company also reported an increase in interest margin in the quarter.
Preferred dividends included $24 million of cash dividends, non-cash discount accretion of $5 million and a one-time, non-cash charge of $94 million associated with the full redemption of the preferred stock in March 2010.
However, the company experienced a gain of $17 million from the cash settlement of a note receivable related to the 2006 sale of an investment advisory subsidiary.
Behind the Headline Numbers
Net interest income increased 4.8% sequentially and 8.1% year-over-year to $415 million. The sequential increase resulted from an expansion of the net interest margin and offset the compression in the level of average earning assets.
Net interest margin improved 24 bps sequentially and 65 bps year-over-year to 3.18%. The sequential improvement stemmed predominately from improved loan spreads, a less-costly blend of core deposits, and maturing higher-cost wholesale funding. Earnings assets reported a decrease of 1.9% sequentially and 14.3% year-over-year.
Non-interest income decreased 9.3% sequentially and 13.0% year-over-year to $194 million. The sequential decrease was primarily the result of a decrease in net securities gains, a fall in gains related to the repurchase of debt and small declines in several categories of non-interest income.
Non-interest expenses for the quarter decreased 4.9% sequentially but were up 1.8% year-over-year to $404 million. The sequential decrease in non-interest expenses was primarily from a decline in real estate expenses coupled with pension and salary expenses, partially offset by an increase in the provision for credit losses on lending-related commitments.
Credit Quality
Net charge-offs decreased 42 bps sequentially to 1.68% of average total loans. Non-performing assets as a percentage of total loans and foreclosed property remained flat at 3.06%. Provisions for loan losses decreased 31.6% sequentially and 13.8% year-over-year to $175 million, with declines in all major markets.
While the commercial real estate business reported an increase in charge-offs, the line experienced a fall in non-performing loans. The allowance for loan losses increased 8 bps sequentially to 2.42% of total loans.
Capital Ratio
Tangible common equity improved 169 bps sequentially to 9.68%, reflecting the increase in common shareholders' equity from the common stock offering. The estimated Tier 1 capital ratio decreased 206 bps sequentially to 10.40% as a result of the net decrease in total shareholders' equity following the redemption of the preferred stock.
Repayment of TARP Money
In March 2010, Comerica fully repaid the $2.25 billion of bailout money it received from the government for its participation in the Troubled Asset Relief Program (TARP) at the height of the credit crisis. The repayment of TARP money followed Comerica's completion of an $880 million common stock offering earlier in March 2010.
Most of the major institutions in the financial market such as JPMorgan Chase and Co. (NYSE:JPM), Bank of America Corp. (NYSE:BAC), Wells Fargo & Co. (NYSE:WFC) and Goldman Sachs Group Inc. (NYSE:GS) have repaid the TARP loan. Also, the Treasury has started auctioning stock warrants it had acquired from the banks that received a significant portion of taxpayers' money and have fully repaid the same.
We think that the repayment of government money and the auction of warrants can be viewed as a sign of recovery of the institutions as well as the economy.
Outlook
For full-year 2010, Comerica expects low single-digit growth in loans, with net interest margin of 3.25% to 3.35% from improved loan pricing, lower funding costs and a lower level of excess liquidity. Investment securities are expected to remain flat with the first quarter 2010 level. The company anticipates approximately flat to low single-digit decline in non-interest income compared with 2009 and low single-digit decrease in non-interest expenses.
Moreover, management also expects net credit-related charge-offs between $675 million and $725 million for full-year 2010 while provision for credit losses is expected to be consistent with net credit-related charge-offs.