The SEC-imposed 25-day quiet period, following the January 17 IPO of RSP Permian, Inc. (NYSE:RSPP) will come to a close on February 11. This could likely leading to at least a brief surge in the stock's price as the IPO underwriters are allowed to release positive research reports on the oil and gas E&P firm into the market.
Since its IPO pricing at $19.50 per share, within the expected range of $19-$21 per share, RSPP has held steady-never falling below $19.50 per share and never exceeding $22.00 per share. RSPP closed at $21.28 on February 5. See chart below.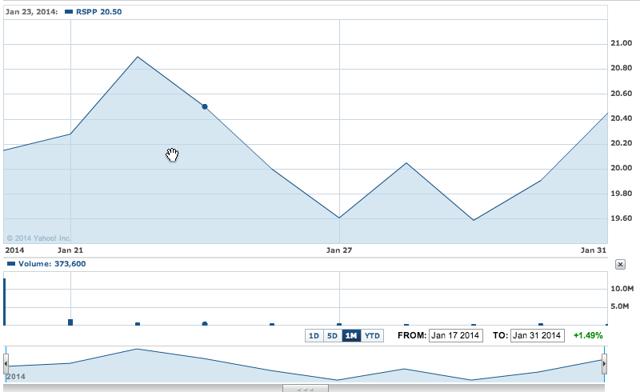 (Source: Yahoo! Finance)
The firm's underwriters, including Barclays Capital Inc., Comerica Securities Inc., J.P. Morgan Securities LLC, Citigroup Global Markets Inc., Jefferies LLC, Johnson Rice and Co LLC, RBC Capital Markets LLC, Scotia Capital Markets, Raymond James and Associates Inc., Simmons and Co International, Stephens Inc., Tudor, Pickering, Holt & Co Securities Inc., and UBS Investment Bank, will attempt to stimulate the stock to more impressive heights with releases of positive reports, beginning on the 11th.
A positive correlation between the quantity and reputation of IPO underwriters and a growth in stock price at the conclusion of the quiet period has been empirically evidenced--both through our recent research and through academic studies. The rise in price is typically seen in the days leading up to the expiration of the quiet period, as wise investors anticipate the release of positive research and buy up shares in advance of the actual expiration. (Underwriters would hardly release negative information about a company they just underwrote.) These early buys often lead to an increase in prices well before the new information from the underwriters is made available.
Business
As an independent oil and natural gas E&P firm, RSPP is focused on the acquisition, development, and production of unconventional oil and liquids-rich natural gas locations in the West Texas Permian Basin. RSPP's properties are mostly in a sub-basin of the Permian Basin, known as the Midland Basin. In the past year, RSPP has shifted its efforts away from the vertical Wolfberry wells it previously drilled towards horizontal wells. The company has been involved in the drilling of 32 horizontal wells, including 14 that it operates. The firm operates also a pair of horizontal rigs and one vertical rig. RSPP plans to increase to four vertical rigs by the end of 2015 and eight horizontal rigs by the end of 2017.
RSPP competes with similar E&P firms, some of which have superior technical and financial resources. Competitors include Chevron Corporation (NYSE:CVX), ConocoPhillips (NYSE:COP), Apache Corporation (NYSE:APA), BHP Billiton Limited (NYSE:BHP), Anadarko Petroleum Corporation (NYSE:APC), and El Paso Corporation.
Management
CEO Steven Gray co-founded RSPP and has been with the firm since 2010. He previously co-founded and led two other oil and gas E&P firms, including one, which operated in the Permian Basin. He also worked for 11 years as a petroleum engineer for Texas Oil & Gas Corp and Bettis, Boyle, and Stovall Inc. He received a BS in Petroleum Engineering from Texas Tech.
Conclusion
RSPP is a solidly profitable firm that should continue to succeed in the Permian Basin. The firm's leadership team is strong, and its plans for expansion are encouraging. The upcoming quiet period expiration will provide an opportunity for investors to get into the RSPP business-and may provide short term traders with an opportunity as well.
Disclosure: I am long RSPP. I wrote this article myself, and it expresses my own opinions. I am not receiving compensation for it (other than from Seeking Alpha). I have no business relationship with any company whose stock is mentioned in this article.