Advanced Micro Devices (NASDAQ:AMD) launched the latest version of its display drivers last wee,k which added support for the trio of new technologies supported by its new Kaveri APUs. Of significance right now is its support for its new Mantle API, which has been the talk of the tech world since its announcement last fall. With this release we finally get a glimpse into the potential for Mantle and what it means for PC gaming. The early results from benchmarks run on Electronic Arts' (NASDAQ:EA) "Battlefield 4" suggest that Mantle will benefit systems with slower CPUs the most.
With the release of the Catalyst 14.1 drivers, a number of reviews were released. The one I'd like to point out as I think it gives us the most information in the least number of slides is the one from Techreport.com (linked below), which devised two test setups, one where performance was bound by the CPU and one where it wasn't.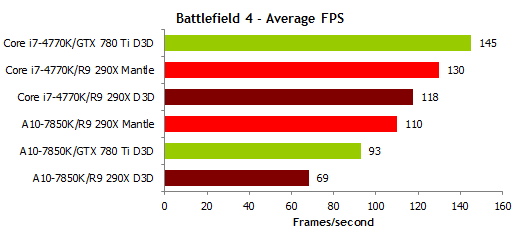 It's clear from this set of results that even in an enthusiast gamer rig Mantle provides a strong 10% uplift in performance over Microsoft's (NASDAQ:MSFT) Direct3D. What is more interesting is the improvement with Kaveri's Steamroller cores. This is a 59% improvement over Direct3D and simply adds a ton of value to Kaveri even in these early iterations of the technology.
Other reviews, like this one from Hothardware, tested Kaveri's iGPU on its own and the performance gains went up as the demands on GPU went down.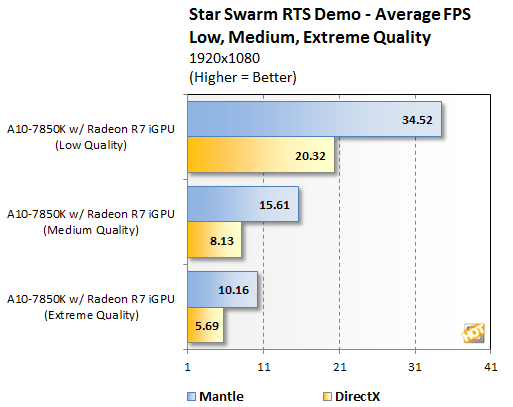 And this is the important point that has to be made about the direction that AMD is attempting to take the industry. For years we have been overpaying for hardware that was being badly utilized because of a mix of legacy code within Windows and the high value proposition of any form of personal computer. As the perception of that value proposition has changed with the rise of the mobile device that is "good enough" to do what most people do with their computers, a sincere reassessment of the cost/benefit analysis of a particular computer purchase has taken place.
I will be interested to see how performance improves with Kaveri in a dual graphics setup with an R7 250 or the newly announced 250x discrete GPU now that AMD's drivers support both Mantle and have greatly improved frame pacing issues that have plagued its APU platforms in the past. The early Mantle tests show distinct improvements in frame time stability. The review at Techreport.com covered this in detail.
Computer gaming is exploding on what amounts to minimalist graphics hardware. Being able to provide higher overall value at lower price points is the entire goal of AMD's strategy. These early Mantle performance numbers from one of the most demanding titles on the market today suggest that there is a lot of future-proofing being developed for existing hardware.
The Size Game
As we reach closer to the minimum practical node size for both CPUs and GPUs it is an imperative that the hardware these companies build be fully utilized, versus the current state where CPU cores are left idling and GPUs have to wait for the CPU to finish, etc. A number of reviews showed how well Mantle improves the performance of 6 and 8 core Intel and AMD CPUs on a highly threaded game like "Battlefield 4" and Oxide Games' "Star Swarm" demo. At some point the question will be not what process node the chip was fabricated on but rather how many cores can be fitted to a particular die size at a desired price/performance point.
The takeaway here is that while Mantle is still obviously in its early stages of development it is providing developers more options in designing the engines that run their games and should drive a higher baseline of performance that they can code for at the mass market price point.
And the real gains in bringing these improvements down to lower class hardware will be felt in smaller form factors. I'm not just thinking in terms of laptops using AMDs x86-based APUs like Kaveri and the upcoming Beema and Mullins, though Kaveri looks to have achieved its design goal of being maximally efficient at around 45W.
I'm looking longer term and seeing a whole host of ARM-based (NASDAQ:ARMH) chips on the horizon that will give smaller game companies the ability to write first class performing games on minimal hardware - think Chromebooks and/or tablets -- once Mantle is finished and is adopted by other ARM vendors.
Remember AMD will be coming out with a consumer-level 64-bit ARM SoC within the next 12 months mated to GCN 1.1 cores and you can bet that Mantle will be supported. So, I'm looking at those 8 core FX-8350 results from Wccftech and extrapolating performance gains on Cortex A57 chips and seeing disruption in the Android gaming space. Greater CPU parallelism can keep the GPU fed optimally under load. Current software does not properly take advantage of what computing power is available but it is coming.
Eidos' new "Thief" game supports both Mantle and TrueAudio and went gold recently for a February 25th release. EA's "Plants vs. Zombies: Garden Warfare" is due right after that. With each new game released a better picture of just how much we can expect to see from Mantle will emerge.
Post-Earnings Blues
I think it's obvious that the rest of the industry is content to let AMD pursue this for the time being and let Mantle mature. As an AMD long I'm purely focused on what today's technology releases mean for the future. So much of what AMD is developing is future-based, it is almost like trying to value this company like a biotech startup.
The stock has found a base of support between $3.30 and $3.40 per share. That the stock did not re-test the October low at $3.04 so far is very encouraging. It will need to close the week or next above $3.57 to confirm a bottom here. So, there is still a strong possibility of the stock heading lower, especially if general equity weakness continues. A smooth launch of "Thief" at the end of the month would support the stock as well.
Disclosure: I am long AMD. I wrote this article myself, and it expresses my own opinions. I am not receiving compensation for it (other than from Seeking Alpha). I have no business relationship with any company whose stock is mentioned in this article.