In yesterday's article on VE.com we provided our readers a list of the most attractive stocks from every major AFG sector (ex. Financials) as a focus list of stocks that meet AFG criteria to be an attractive investment opportunity to be used as a starting point for investors looking to add positions to a client's portfolio. AFG's Buy/Sell lists are a good starting place for investors searching for Large-Cap ideas. Over a ten-year period, companies that come up on AFG's buy list have significantly outperformed those on the sell list (see performance chart below).
AFG's quantitative process is centered on the proprietary Economic Margin (EM) Framework (what a company earns above its true cost of capital). The core of AFG's quantitative process starts with evaluating corporate performance and the expected improvement relative to their peers, evaluating the valuation attractiveness of the company, and determining if a firm is following a wealth creating or wealth destroying strategy.

A brief description of those variables is available below the list of companies.
When identifying potential torpedoes AFG looks for companies with the least valuation upside compared to their sector peers, below sector median expected Economic Margin change, and a management quality score that reflects a management team following a wealth destroying strategy.
These 18 S&P 500 companies from every major AFG defined sector (ex. Financials) are potential torpedoes that could be lurking in your portfolio. These companies all possess characteristics that make for a bad investment opportunity. If you own one of these companies or consider adding one to your portfolio, we suggest taking a closer look as they look the most likely to underperform their sector peers according to criteria that has proven successful at identifying winners and losers in the market.
To stay updated on companies AFG believes are attractive investment opportunities register here.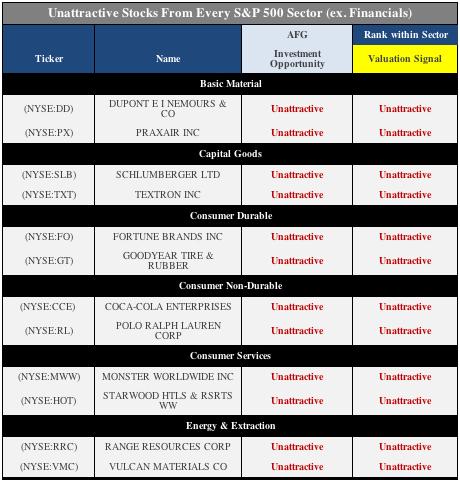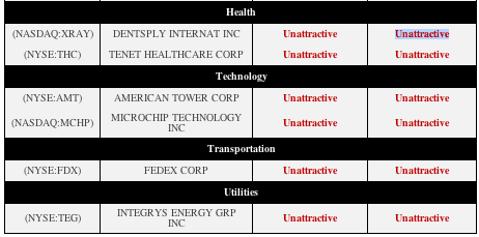 Source: EconomicMargin.com

AFG's Valuation Metric – Measures the percent to target (deviation between a stock's current trading price and its AFG current default target price). To derive the intrinsic value of a firm, AFG uses its proprietary Valuation Model (modified discounted cash flow model).

Economic Margin - A corporate performance measurement that addresses the gaps in GAAP, eliminating distortions caused by accounting policies to measure what a company is truly earning above or below their cost of capital.

Management Quality – Assesses management's ability to make wealth creating decisions.
AFG Recommendation Performance
9/1998 – 5/2009
Annualized Returns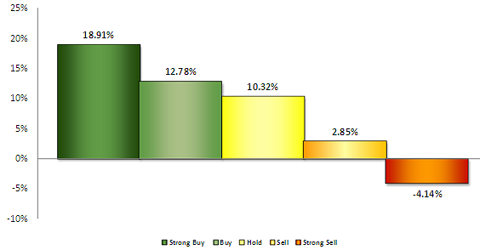 Disclosure: None