By Platinum Tiger
The sagging Chinese real estate sector dragged down the 35-issue Rising China Stocks (RCS) index to a half-point loss on Wednesday, its third decline in the past four sessions. Largely because of real estate's 16 percent decline in the past month, and its ripple effect on other sectors, year-to-date returns for the RCS fell behind those of the Russell 2000 small cap index for the first time all year.
[Click to enlarge]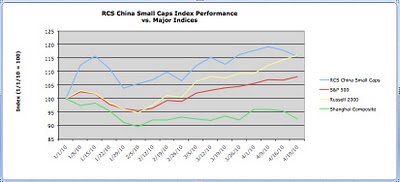 As Beijing has intensified its campaign to curtail speculative investments in real property, small cap real estate stocks, notably IFM Investments (NYSE:
CTC
), which accounts for 7 percent of the RCS Index's total value, have suffered. The real estate sector has declined in value for four consecutive weeks, and CTC is down 22 percent from its recent peak of a few weeks ago.
Other stocks have also come under selling pressure as a direct result of real estate's bearish trend. Among these is China Shuangji Cement (
OTC:CSGJ
), down 16 percent in the past few weeks, presumably due to an anticipated slowdown in new construction.
Interestingly, China HGS Real Estate (OTC:
CAHS-OLD
), a developer of high-rise apartment buildings in central China, dipped only briefly last week and even rebounded this week to near its all-time high. This may be because Hanzhong, the city where CAHS operates, is less prone to speculation than other areas, and because the company has a good track record of selling all of its apartment units.
The longer term effects of China's real estate gyrations on the broader economy remain to be seen. There appears to be nearly universal consensus that China is heavily over-built, but the "bubble" induced market crash that many have prognosticated has yet to materialize.
Disclosure
: None