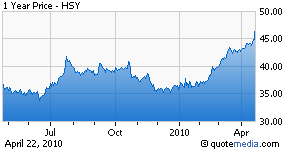 The Hershey Company (NYSE:HSY) reported results for the first quarter 2010 with earnings of 64 cents per share. Earnings were well above the Zacks Consensus Estimate of 47 cents. Profits were primarily driven by price increases and supply chain efficiencies.
Net sales for the quarter increased 13.9% year-over-year to $1.4 billion, driven by favorable pricing and improvement in the international business, which includes a 1% favorable impact from foreign currency translation.
Furthermore, management stated that core brands such as Hershey's Kisses are responding to the investments in advertising (which was up approximately 68%), in-store programming and merchandising. In the channels measured by syndicated data, U.S. market share during the first quarter increased 0.5 points.
During the fourth quarter, Hershey completed its Global Supply Chain Transformation initiative. Total ongoing annual savings from the program of approximately $175 million to $185 million are expected to be achieved by the end of fiscal 2010. Management intends to deploy these savings for brand-building purposes.
Gross margin for the quarter expanded 658 basis points (bps) to 42.2% versus 35.6% in the prior-year quarter. The increase was primarily driven by favorable pricing, Global Supply Chain Transformation program savings and productivity gains, which more than offset the impact of higher input costs. The operating margin for the quarter also expanded 563 bps to 18.0% from 12.4% in the comparable prior-year quarter.
The company had cash and cash equivalents of $303 million and a debt-to-capitalization ratio of 66%.
Based on the results, management raised its outlook for fiscal 2010. Net sales are now expected to grow at 6%, greater than long-term target of 3% to 5%. Earnings are expected to increase in the low-to-mid teen percentage range, which is greater than the previous outlook of 6% to 8%.
Management expects advertising expense to increase in the range of 35% to 40% in 2010, which is greater than the earlier guidance of 25% to 30% increase.