The latest dip in the stock market due to the Fed's taper and the volatility in the emerging markets shows that unpredictability still persists in the economy. International Monetary Fund has predicted the economy will grow by 3.8% in 2014 which is much better than previous years' growth levels. In fact, the diversified industrial industry has momentum and in the last year alone, the industry's total returns came to 38.7%. The companies within the industry have strong business models and are consistently working on enhancing their product portfolios to capture new markets, as well as making divestures of non-core businesses and achieving strong cost management goals to enhance profitability. Additionally, these companies have the ability to generate strong cash flows, which allows them to return significant cash to shareholders.
Looking at the strong indicators for the industry and seeing the latest drop in the market (which I believe is generally due the panic of the investors due to the Fed's initiatives), I have picked Illinois Tool Works (NYSE:ITW), which is offering a solid entry point for investors to gain big profits in the coming days and has resistance to face the volatility in the market. This diversified industrial giant has been gaining momentum and establishing strong footprints for future growth. This company has demonstrated the trend by posting full-year growth and sticking to the forecasts for the current year. In this article, I try to convey whether the company is offering a good entry and if it has the ability to gain momentum by looking at its strategy and business models, as well as its financial position.
How Illinois Tool Works is a Solid Bargain?
Over the past ten decades, ITW has turned out to be the globe's leading diversified manufacturer of consumables, specialized industrial equipment, and related service businesses. The company and its subsidiaries serve local customers and markets all around the world, with a considerable presence in both developed and emerging markets. The company mainly operates in seven business segments: Test & Measurement and Electronics, Automotive OEM, Polymers & Fluids, Food Equipment, Welding, Construction Products, and Specialty Products, with operations in 58 countries that employ about 60,000 women and men who stick to the highest ethical standards. The company has a broad portfolio of over 12,000 active patents.
With an extensive and wide-ranging business model, ITW is working on a smart business strategy with three main principles - business structure simplification, portfolio management, and strategic sourcing. In addition, the company's portfolio management program aims to build a business portfolio that leverages its differentiated business model. As part of this initiative, it reviews its operations to identify those factors that may no longer be aligned with its long-run goals. Going forward, its focus will be on operations with strong differentiation and growth potential.
Illinois' business structure simplification initiative scales its operating divisions in order to enlarge organic revenue growth, improve global competitiveness and increase operational efficiency. This is expected to improve the company's profitability and returns through a combination of applying its 80/20 business process to more focused growth investments, new divisions, and reduced infrastructure. Finally, the company's strategic sourcing initiative concentrates on building sourcing capability to leverage purchasing scale, with the intent of increasing profitability and worldwide competitiveness.
With a solid business model and a strong management team in place to implement its strategic initiatives, the company's full fiscal year performance exceeded its mid-point forecast. The company has grown earnings per share by 13%, and operating margins enlarged by 100 basis points to 17.8%, with enhanced return on invested capital by 180 basis points to 16.3%. All seven business segments are generating growth both in revenues and margins with the company's business simplification initiatives. Steady improvement in the economic environment and good portfolio management strategy is creating demand in many of its key end-markets. These factors are driving a sequential improvement in its organic growth rate.
Top and bottom line growth enhance ITW's cash-generating potential which is leading the company to return a massive amount of cash to shareholders. In 2013, the company generated record operating and free cash flows which allowed it to return $2.9 billion to shareholders in the form of dividends and share repurchases. The company's dividend looks completely safe as it is paying the equivalent of 29% of income as dividends. ITW's free cash flow conversion rate is very high at 147% of income which proves complete protection to dividends and further allows it to work aggressively on share buybacks.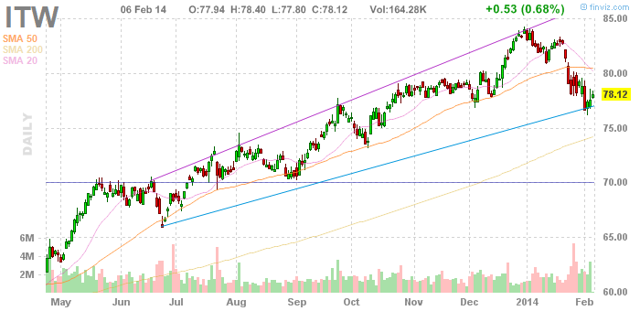 With all the positive indicators, ITW has had solid momentum and the stock has gained around 25% in less than a year. However, with the recent volatility in the market related to the Fed's taper and emerging markets, the stock has dipped in price, and I consider it an opportunity for investors to initiate positions in the company so that they can generate big gains in 2014. At the moment, ITW is trading at only 14 times-to-earnings with a forward price-to-earnings ratio of around 16 that looks undervalued to me with solid upside potential. Another catalyst which should allow the company to continue upward momentum is its solid 2014 outlook. ITW is well set to post another year of strong progress with its enterprise strategy performance. The company is looking to generate EPS in a range of $4.30 to $4.50, a 24% growth over 2013, with a 2%-to-4% of top-line growth.
Final Notes
Illinois Tool Works is working on a smart business strategy which has been generating massive returns for the company. Looking at its solid growth in the past year and plans to generate consistent growth in the coming year, I believe the latest dip in its stock offers an attractive opportunity to initiate a position.
Disclosure: I have no positions in any stocks mentioned, and no plans to initiate any positions within the next 72 hours. I wrote this article myself, and it expresses my own opinions. I am not receiving compensation for it (other than from Seeking Alpha). I have no business relationship with any company whose stock is mentioned in this article.