Oi SA (NYSE:OIBR) merger with Portugal Telecom (NYSE:PT) is a significant step for both companies, and also for Brazilian telecommunications sector, the world's fifth-biggest wireless market. The combined trans-Atlantic carrier will have roughly 100 million customers, and almost $19 billion in annual sales.
This is a case where two companies with great potential, but with relevant debt problems, join forces to overcome difficulties, and try to grow successfully. Innovation, marketing development, and financial restructure are the key areas of Zeinal Bava's work, the chief executive of OIBR and PT.
Oi shareholders will own the majority of the combined company after the transaction, which requires the Rio de Janeiro-based carrier to sell new stock for at least $3 billion. In addition, it has to be paid off $2 billion in debt for controlling shareholder Telemar Participacoes SA, a holding company whose owners include the Andrade-Gutierrez and Jereissati families. Under the deal, Portugal Telecom - whose investors will get 38% of the new entity - will participate in the capital increase by contributing all of its assets, allowing itself to be absorbed in the new company. In October, the Lisbon-based phone carrier said its assets were worth $2.6 billion to $2.9 billion.
In terms of governance this transaction will simplify hugely the complexity that Oi still has today: it will be only one listed entity, one class of shares with the same voting rights, and the same dividend.
As the procedure for financial engineering is underway it is normal for small shareholders to defend its position firmly. A fair decision must be found as the dilution of its shares will be the main concern because of the high capital increase planned.
Recently, Brazilian securities regulator CVM said Oi's controlling ownership group cannot participate in calculating the price of some assets involved in the transaction. Oi and Portugal Telecom had planned to use asset prices approved by their biggest investors to help determine the distribution of shares in the new company. Although this is a preliminary decision, it means that Oi may have to buy out non-controlling investors, who argued the transaction favored Oi's biggest owners.
Goldman Sachs Group analyst Tim Boddy wrote in a note:
The new entity will have significantly greater ability to raise further equity, enabling it to participate in any moves to consolidate Brazil's wireless market.
In due course, Oi will complete its merger with Portugal Telecom, which will make it more competitive against rivals. Telecom Italia, also charged with its immense debt, may split its Brazilian unit (Tim Brazil) and sell the parts to its direct competitors.
A potential offer for Tim Brazil could be worth as much as $16.3 billion, or 7.5 times EBITDA. Tim's assets may be divided in even pieces among its rivals to make a transaction more acceptable to regulators.
Thus, Oi will carefully decide if it wants to get a third of that amount (almost $5.5 billion) through new capital increase. It's tough to obtain a second funding operation, and additional debt would only be considered in exceptional circumstances.
Incidentally, asked whether a mobile deal would require additional funding, Bava said: "It all comes down to how much it costs. But if we need capital to consolidate and on the back of that we can prove to the market that we can generate synergies, I believe raising it will not be an issue".
About leverage, Oi and PT have been able to extend maturities and are getting very competitive capital costs.
The possible offer for Tim Brazil is only a mere business possibility in the future. For now it is Telefonica that owns a minority stake in Telecom Italia, but there's no formal or informal process ongoing for the disposition of Tim stake.
In the case of Tim's sale, the Brazilian market would be divided between Telefonica's Brazilian unit ((Vivo)), America Movil ((Claro)) and Oi (already integrating PT), with some other companies of low market share. To get more room to grow, it is necessary that Oi will make also a significant investment in 3G and 4G networks to benefit from wireless data growth. Oi's ratio of net debt to EBIDTA will fall to 3.3 once the merger is completed, which is still very high. Currently, Vivo has a ratio of less than 1 and Claro of less than 2.
By analyzing the share price in the chart below we may see that 2013 was a bad year for Oi.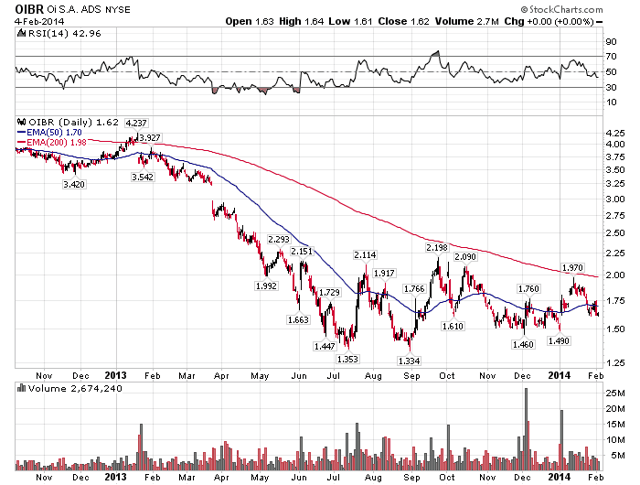 Charts courtesy of StockCharts.com
Last year, Oi's shareholders have lost about 60% of the value of their shares. With this merger, and the new strategy for the company expectations are now very positive. So, the company has great upside potential in the medium term. However, Oi needs some time to fully capture its target customers with high added value and thereby improve its market and financial position. Only when that happens there will be a solid foundation for prices to rise according to the company's potential.
Conclusion
Oi will complete the merger with PT as a natural process concerning the development of the relationship of the two companies. The synergies will be roughly $2.4 billion in a conservative approach. In terms of consolidation, though Oi can grow its market share in mobile on a standalone basis it will be open to opportunities - like a possible Tim deal. Oi has all the conditions to succeed if it can carry out the company's strategy. A decisive factor lies in Oi being well located throughout Brazil, and covering 90% of its population. After completing the merger, Oi has the chance to grow consistently, generating significant cash flow.
Oi is a good stock to invest with a view to the medium and long term, preferably with a time horizon of 2 to 3 years. It's potential upside is large, and has a fairly limited potential to fall.
The author of this article gives only his personal view and opinion, never making any investment advice to buy or sell specific securities. The information presented is from sources believed to be reliable, but its accuracy cannot be guaranteed. Before investing in financial assets, investors should do their own research, and consult a professional investment adviser.
Disclosure: I have no positions in any stocks mentioned, and no plans to initiate any positions within the next 72 hours. I wrote this article myself, and it expresses my own opinions. I am not receiving compensation for it (other than from Seeking Alpha). I have no business relationship with any company whose stock is mentioned in this article.