The market (NYSEARCA:SPY) (NYSEARCA:DIA) had its best day of 2014 on Thursday, after a skittish and uncertain looking start to the year. After 2013's massive run, it appears that the economy could be slowing, reality could be setting in, and investors are quick to pull the trigger on profit taking.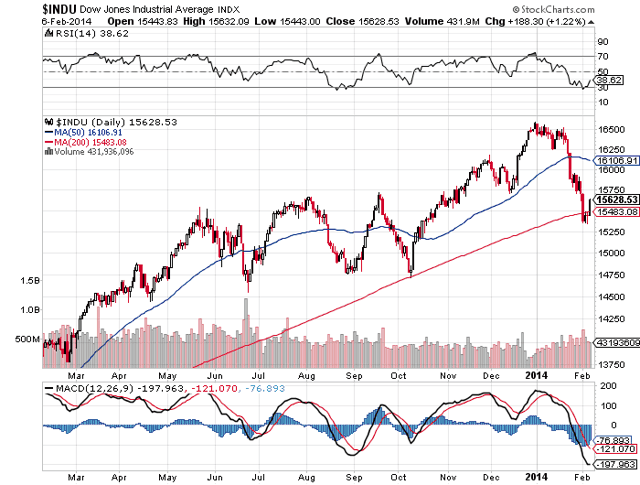 All week analysts on TV and the Internet put their sigh of relief on hold pending this morning's jobs number. There was a considerable amount of focus after last month's poor number, which was initially seen as an anomaly due to the weather.
This morning, January's numbers were reported, and they did anything but instill confidence in investors. The report pointed out:
113,000 jobs versus expectations of 185,000
6.6% unemployment versus expectations of 6.7%
Long-unemployment decreased by 232,000 to 3.6 million
Average workweek: 34.4 hours
Average hourly earnings: +$0.05 to $24.21
The Dow Futures dropped as much as 100 points and then whipped back upwards to give back some of the immediate losses. If the market opens neutral or positive today and holds that number across the board, it could be a sign of strength for the week to come. If the market sells off today, we're likely to have another week of "January-like" uncertainty next week.
This continues to pile on to a litany of questions surrounding jobs, as this is the third poor number reported in a row.
The question is whether or not we can continue to blame the weaker number on the weather, which has been the excuse du jour, especially for companies that have missed earnings. Judging by the way these companies have traded, the market doesn't seem to be buying the excuse.
I believe today's response during trading hours is likely to foreshadow the type of week we have next week. If the market shakes off the news and trades strong, we'll likely have a less volatile week next week. If the markets spook today, next week we're likely to expect further volatility.
Futures have bounced back as of 9AM this morning - after tanking. The Fed's consumer credit numbers for December are due out at 3PM today.
Disclosure: I have no positions in any stocks mentioned, and no plans to initiate any positions within the next 72 hours. I wrote this article myself, and it expresses my own opinions. I am not receiving compensation for it (other than from Seeking Alpha). I have no business relationship with any company whose stock is mentioned in this article.