Given volatile emerging markets (EM) backdrop, owing to the Fed's tapering and on-going EM currencies turmoil, global investors understandably are looking for a defensive play/sector. Here, I would like to highlight Macau gaming as a defensive play despite common perception that gaming falls into discretionary consumption, which tends to rise/fall with economic cycle. There are three strong reasons why global investors should consider Macau gaming as a defensive sector to invest these days. Furthermore, I want to highlight Sands China (OTCPK:SCHYY) as the largest beneficiary of favorable Macau gaming trends.
Rising importance of mass market customers overlooked
The common perception that Macau gaming is a cyclical sector stems from the fact that generation of VIP customers (65% of Macau's gross gaming revenue - GGR -) rely on junkets (middle-men), which often lure them with credit. Hence, in a tougher economic environment, junkets' credit availability is reduced as well.
However, in this argument, what has been overlooked, in my view, is the rising importance of mass market customers to Macau's casino operators. If we are to look at the GGR growth chart below (based on DICJ - Macau Gaming Inspection and Coordination Bureau -), it is clear that YoY growth in mass market revenue is steady at a robust 33-37% during 2010-13. The one exhibiting volatile YoY growth (mirroring China's economic cycle, as 70% of Macau's visitors arrival is Mainland Chinese) is the VIP segment. For example, in 2010-11, Macau's VIP revenue surged by a robust 45-70% due to strong Chinese economy post large infrastructure stimulus. But in 2012, as the Chinese economy slowed down, VIP revenue grew by 8% only.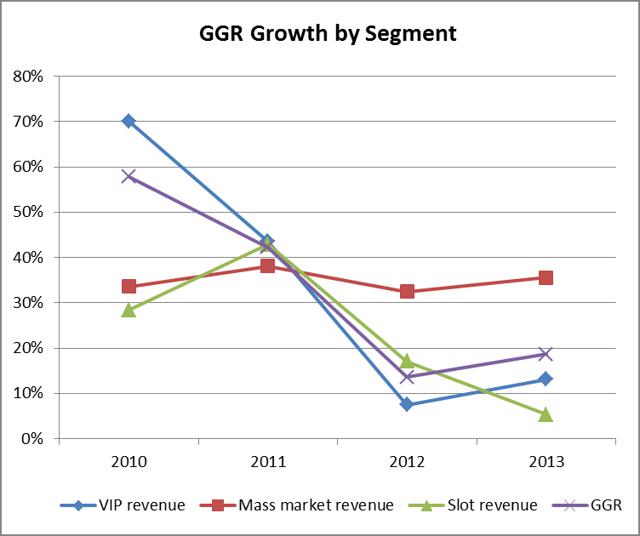 More importantly, the steady, robust YoY growth in mass market revenue indicates the structural growth theme of Macau as tourist resorts/family vacation place, not only as traditionally a gamblers' paradise. As a percentage of Macau's GGR, mass market revenue has accounted for 30% in 2013, substantially up from the 23% level in 2010. What's more remarkable is that the rising proportion of mass market revenue is achieved amid 24% CAGR in Macau's GGR over the 2010-13 period.
As a backdrop, the evolution of Macau into tourist resorts/family vacation place is supported by the opening of the Cotai area several years ago. In general, there are two gaming areas when it comes to Macau, location-wise. One is the fully-developed Macau Peninsula (the old town), which suits gamblers (VIP segment) as the casinos are mostly in hotels (some are very old, unattractive hotels). The other area, a 15-minute drive from Macau Peninsula, is Cotai (new gaming area, only half-developed). This is where the state-of-the-art integrated resorts with casinos, retail and sightseeing areas that could cater to families' (mass market) recreational needs are.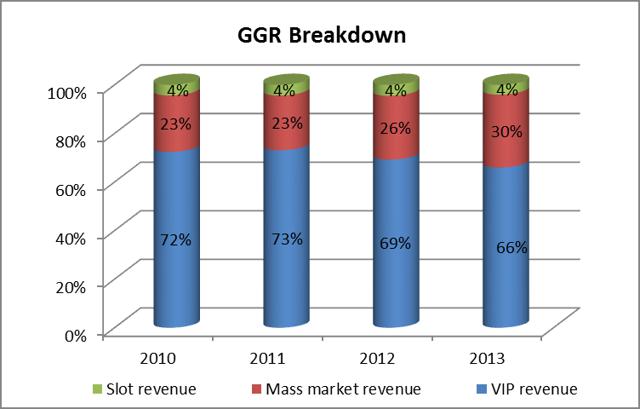 Furthermore, the rise of mass market customers is more important for casino operators in the context of EBITDA margin. Mass market's EBITDA margin is high 40-50%, vs VIP's 10%. While VIP and mass market revenue is charged the same gaming tax rate (39% of GGR), junkets' commission takes away another 45% of GGR, vs. only 5-10% for marketing/promotion expenses to attract mass market customers. As a matter of fact, amid a slow 8% growth YoY in the industry's VIP revenue in 2012, the industry's EBITDA rose by 25% YoY, thanks to better customer mix. Hence, coming back to the point of Macau's gaming as a defensive sector, it's the continued 30% plus growth (YoY) in mass market revenue that will make for earning resilience/respectable growth of Macau casino operators, just like the 2012 story.
Strong cash generation capability
Strong cash generation capability is another reason to like Macau gaming as a defensive play. Back in Dec 2009, all six Macau casino operators had total net debt of HK$ 40.1 bn as they invested in/constructed the integrated resorts in Cotai area. As of Sep 2013, this total net debt has turned into net cash of HK$ 18.9 bn.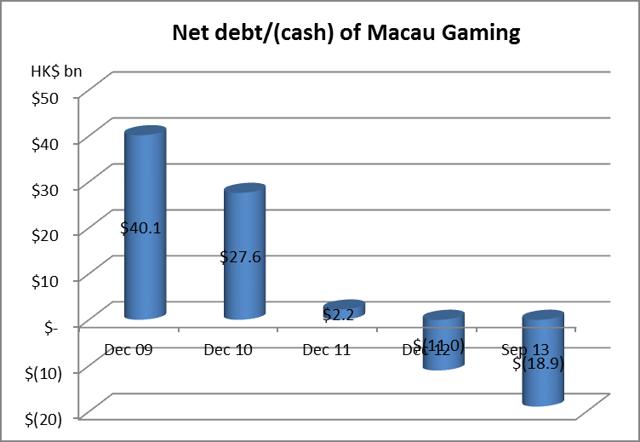 Macau casino operators' strong cash generation capability is highly linked to high ROIC of new integrated resorts in Cotai area. Let's take an example of Sands Cotai Central, the newest integrated resort (opened in Apr 2012) owned by Sands China. The investment cost to build and get Sands Cotai Central up and running is US$ 2.5 bn. In its first full-year operation (2013), I estimate that Sands Cotai Central would generate EBIT of US$ 480 mn. This translates into approximately 19% ROIC, which is very good for first full-year of operation as EBIT margin would improve markedly in the coming years. This is because in its first few years, a new integrated resort spends more on promotional/marketing gimmicks in order to capture consumers' attention. However, as the year progresses, promotional gimmicks could be reduced due to better resort branding and growing revenue.
As a sector, ROIC for Macau gaming players is a high 32% in 2013, in my calculation. This indicates that not only Sands Cotai Central generates high ROIC, but the overall industry (all six players) does.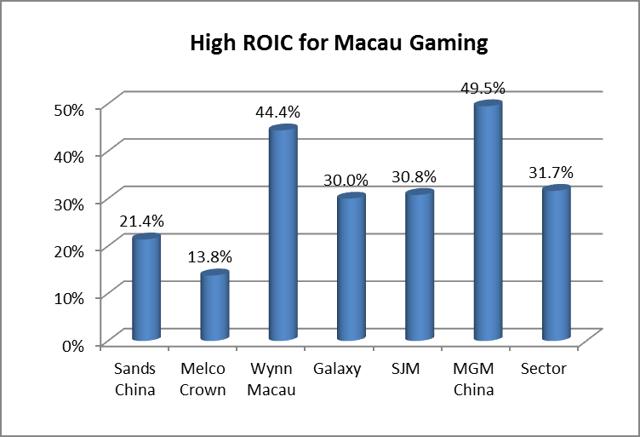 New integrated resorts opening
New integrated resorts opening of all six players in Cotai area, slated for 2H15/2016, will make the strong growth story continue well into 2016-17. Worth noting is that the story of Macau gaming, capacity-wise, is more of an under-supply given strict regulation of the Macau government to cap gaming table growth. Hence, a 2H15/2016 big supply addition is unlikely to create cut-throat competition, but it is more of fulfillment of strong pent-up demand given insufficient hotel rooms inventory to accommodate overnight visitors (those who pick to stay in Macau for family vacation, not only for gambling purpose).
Details of new integrated resorts that will open in 2H15/2016 are provided in the below table.
| | | | | |
| --- | --- | --- | --- | --- |
| Integrated resort | Operator | Capex | GFA | Exp. opening |
| | | (US$ mn) | (SQM) | |
| Galaxy Macau Phase 2 | Galaxy Entertainment | 2,500 | 450,000 | 1H15 |
| Macau Studio City | Melco Crown | 2,800 | 426,000 | 2H15 |
| Parisian Macau | Sands China | 2,700 | 399,000 | 2H15 |
| Wynn Palace | Wynn Macau | 4,000 | 557,000 | 1H16 |
| MGM Cotai | MGM China | 2,500 | 400,000 | 1H16 |
| SJM Cotai | SJM Holdings | 4,000 | 521,000 | 2H16 |
Sands China the largest beneficiary
Given my expectation of increased mass market customers (overnight visitors) to Macau as the Cotai area develops further, Sands China is the largest beneficiary (my top pick for the sector). This is because Sands China has the largest exposure to mass market customers among its Macau peers, as two-third of its EBITDA is derived from this segment. In addition to strong branding for its integrated resorts, Sands China has the largest hotel room inventory in Cotai (9,000 rooms), which is where overnight visitors (mass market customers) stay.
As a 70%-owned subsidiary of Las Vegas Sands (NYSE:LVS), Sands China is the leading developer, owner, and operator of integrated resorts and casinos in Macau. It owns three properties in Cotai area (the most): the Venetian Macau, the Plaza Macau, and Sands Cotai Central. In Macau Peninsula, it has Sands Macau.
Based on its 9M13 interim results, the Venetian Macau is the most profitable property in terms of EBITDA margins (40%). This is followed by Sands Macau (30%), Plaza Macau (28%), and Sands Cotai Central (26%). It is clear here that Sands Cotai Central has a lot of room for EBITDA improvement due to less than 2 years in operation, its Cotai location (major draw for mass market customers), and comparable state-of-the-art resorts to the Venetian Macau. Sands Macau probably has reached its optimum EBITDA margin given its location in Macau Peninsula and its being Sands China's oldest property. Meanwhile, Plaza Macau's relatively low EBITDA margin is attributable to the fact that it is a boutique integrated resorts with less gaming area.
Overall, in 9M13, Sands China's revenue rose by 41% YoY to US$ 6.394 bn, led by Sands Cotai Central's growth (240% YoY) and the Venetian Macau (23% YoY). The Plaza Macau's revenue grew by 5% YoY only, while Sands Macau's revenue declined by 3%. EBITDA surged by 52% YoY to US$ 2.065 bn. Again, the key growth driver at EBITDA level was Sands Cotai Central (376% YoY) as the property ramped up its operation. The Venetian Macau's EBITDA rose by 32% (YoY), followed by the Plaza Macau (15% YoY), and Sands Macau (6% YoY). In line with the EBITDA surge, Sands China's net profit doubled to US$ 1.559 bn in 9M13.
Going forward, with Sands Cotai Central ramping further, I estimate Sands China to remain in high-growth mode: 24% EPS CAGR in 2013-16. The Parisian Macau, slated for 2H15 opening, will be another growth driver, especially in 2016-17. As of Jun 2013, the capex spent on the Parisian Macau was US$ 223 mn out of expected total US$ 2.7 bn. The Parisian Macau is expected to have 3,000 hotel rooms, 450 gaming tables, and 2,500 slot machines, similar capacity to Sands Cotai Central.
Valuation-wise, Sands China trades at 18.4x 2014 PE, which does not look inexpensive. However, with a strong growth profile and its high growth visibility, investors should look to 2016 valuation (13.2x PE or only 0.55x PEG ratio), in my view. As a sector, Macau gaming companies would generate 21% EPS CAGR in 2013-16, in my estimate. Valuation-wise, the sector's mean PE is 13.2x 2016 earnings, with 2016 PEG of 0.74x. Thus, Sands China trades in line with its peers, with slightly higher growth prospects. With great management quality, it is likely, in my opinion, that the market would re-rate Sands China to a 20% premium to its peers, valuation-wise.
Mkt cap
PE
PEG
EPS CAGR
(US$ mn)
2014
2015
2016
2014
2015
2016
2013-16
Sands China
56,769
18.4
15.4
13.2
0.76
0.64
0.55
24%
Melco Crown
21,460
23.2
18.2
15.5
0.80
0.63
0.54
29%
Wynn Macau
21,386
18.2
14.5
10.5
0.77
0.62
0.44
24%
Galaxy Entertainment
36,051
21.3
16.7
13.2
0.79
0.62
0.49
27%
SJM Holdings
16,026
14.5
13.1
11.8
1.24
1.12
1.01
12%
MGM China
14,026
17.6
15.6
15.2
1.63
1.45
1.41
11%
Macau gaming sector
165,719
18.9
15.6
13.2
1.00
0.85
0.74
21%
Final Thoughts
The common perception that Macau gaming falls into discretionary consumption could present a buying opportunity, especially in the context of the emerging market rout. As laid out above, fundamentally, Macau gaming companies should be seen as defensive play given high earnings growth visibility as three factors are at play: rising mass market customers (overnight visitors), strong cash generation capability, and new integrated resorts opening. In particular, Sands China is the largest beneficiary of increased overnight visitors, as it has the largest exposure to mass market customers (67% of EBITDA), thanks to largest hotel room inventory in Cotai area and strong branding of integrated resorts. Moreover, with Sands China's valuation in line with its peers, it's likely that the market would re-rate the stock, thanks to great management quality and slightly-higher-than-peers growth prospects.
Disclosure: I have no positions in any stocks mentioned, and no plans to initiate any positions within the next 72 hours. I wrote this article myself, and it expresses my own opinions. I am not receiving compensation for it (other than from Seeking Alpha). I have no business relationship with any company whose stock is mentioned in this article.