The US has seen its housing market slowly come back after the Great Recession. This has included growth in new housing of 28.5% in 2012 and approximately 18.5% in 2013 (+145,000 more units). This last amounts to about 925,000 new housing starts in 2013. Wood Markets feels that new residential housing starts growth of +20% or more should result in a very strong lumber market in the US in 2014. The November 2013 forecast by Wood Markets called for 3.4% growth in lumber demand worldwide in 2014. This should result in favorable, but not spectacular growth. Wood Markets is predicting steady US growth for 2014, but less than +20%.
North American lumber production is expected to increase by 3 billion board feet (or +5.4%) in 2014. This is an increase from 2013's +5.0% growth. This all sounds blah or even discouraging. However, if you look a little bit farther down the road, the picture gets decidedly better for US lumber companies. In Canada, especially in British Columbia, there has been a Mountain Pine Beetle epidemic for many years now. It is on the decline, but it has now killed an estimated 710 million cubic metres of commercially viable pine timber -- 53% of all such pine in British Columbia. This epidemic is expected to have killed 58% by 2017 (767 million cubic metres killed). One cubic meter equals 423.776 board feet. Hence 767 million cubic meters is about 325 billion board feet. This is about 27 times the current yearly production from B.C. Much of this will become waste.
The B.C. Interior has historically contributed about 40% of Canada's overall lumber production and about 15% of the US lumber supply. The Mountain Pine Beetle killed pines in B.C. have already caused a slowdown in B.C. lumber production from the area from a peak of 15.0 billion board feet in 2005 to 9.0 billion board feet in 2009. The production is forecast to be about 12 billion board feet in 2014. After that the production is expected to go down due to log supply tightness and/or sawmilling economics. The cost at sawmills will increase due to the Mountain Pine Beetle epidemic as:
Logging cost rise. More non-sawlog timber must be left in the woods; and harvestable stands get farther away from the mills.
Sawmill lumber recoveries drop as wastage due to rot/checks becomes more common.
Difficulties in sawmilling increase. You need more saw changes. There are more clog-ups. There is more breakage and wood dust.
Lumber grade yields also decline. The wood fiber of the dead forest (killed by Mountain Pine Beetles) gets drier and more brittle as it ages. Then it starts to rot at the base of the tree.
Costs rise most quickly as the logs pass four years dead. This has caused many Canadian mills to close. More than 20 have already closed. More are expected to close as costs go up. This should lead to tighter supply in 2015 and beyond. That will lead to higher prices and higher operating rates. All this is expected to lead to more profitability for US lumber producers.
It is hard to tell exactly when prices will take off. They could start as early as 2014. However, the prospects for the future look good due to the coming supply constraints. Some see a potential lumber "super-cycle". If you want to get in on this, you may wish to start investing in lumber now. Even without a "super-cycle" profits should improve from 2015-2017 (and perhaps beyond). This makes US lumber producers look very good as an investment, especially to long term investors. Plus a secular growth story is always a good backstop for a troubled overall market.
Unfortunately the Mountain Pine Beetle is also moving south. The overall climate warming has allowed the beetle to move into sub alpine forests in the US. Particularly hard hit has been the Greater Yellowstone Area and surrounding areas in Montana and Wyoming. It has been attacking the whitebark pines in these areas (at higher elevations allowable due to the warmer weather). More than a million acres of whitebark pine have been killed.
Three US lumber companies seem like good to great possible investments:
Rayonier Inc. (NYSE:RYN) has timberlands in the US, New Zealand, and Australia. It pays a good 4.46% dividend. It has a PE of 15.34 and an FPE of 19.97. However, analysts expect EPS to shrink by -18.70% in 2014. EPS are expected to grow by 12.20% in 2015. With the currently positive fundamentals for US lumber companies, EPS growth may be substantially better.
Plum Creek Lumber Co. (NYSE:PCL) has timberlands in the US. It pays a 4.10% dividend. It has a PE of 32.98 and an FPE of 26.46. It is only expected to grow EPS by 0.70% in 2014. However, analysts are expecting 15.70% EPS growth in 2015. Again EPS growth may be substantially better with the positive lumber industry fundamentals in the US. Plus PCL has more eastern US lumber. That is unlikely to become infected by the Mountain Pine Beetle. This could make PCL a bit less risky.
Weyerhaeuser Co. (NYSE:WY) has timberlands mostly in the western US. WY is not currently having big problems with the Mountain Pine Beetle; but it lives in fear that the Mountain Pine Beetle will move south into its forests. A truly cold winter (colder than -35 degrees Celsius for at least several days or weeks) will usually kill most of the Mountain Pine Beetle population; but the west has not seen one of those since 1995/1996. One can hope that the Polar Vortex weather that hit the Central and Northeastern US recently may appear in the West and Midwest one year soon (and in B.C.). I am sure Weyerhaeuser hopes for this. Few companies wish devastation on their competition, especially when the cause may spread to them.
Regardless of longer term fate of Weyerhaeuser's forests, it would take several years of serious infection before a Mountain Pine Beetle epidemic started to impact profits. Therefore WY should be a good investment for the next several years at least. It could perhaps prove to be the best investment of the three. It pays a good dividend of 2.90%. It has a PE of 31.06 and an FPE of 17.16. Analysts see EPS growth of 23.70% in 2014 and 22.00% in 2015. The Mountain Pine Beetle problems in British Columbia may turn the above growth estimates into considerable underestimates. The continued strong demand from China should help too. European demand may even perk up in the near future.
The two year chart of WY provides some technical direction for a trade.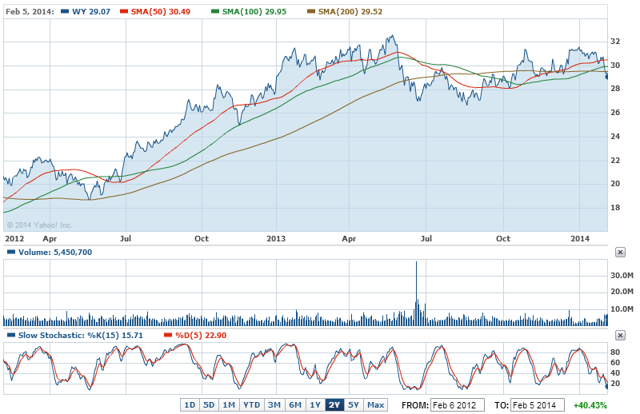 The slow stochastic sub chart shows that WY is near oversold territory. The main chart shows that WY has been in a consolidation pattern for more than one year. It is hard to get excited about buying in with the overall market in such an uncertain state. However, the fundamentals indicate that averaging in over the course of 2014 may prove to be a good strategy. The fundamentals bode well for 2015 and several years beyond. With a little luck 2014 could turn out to be a great year for lumber WY itself. WY is a buy. The average analyst agrees with me with a recommendation of 2.2 (a buy).
With this article I was just attempting to present a macro view of the North American lumber market. This is not an in depth view of any of the above stocks. However, the article should give investors a good place to start. It should also give them a good amount of information about the overall selling environment, which should be good to excellent. Investors can then interpret the microeconomic factors to more profitable effect.
Some investors may also wish to invest in long term lumber futures. However, I think this will likely have a less certain outcome than that of WY (and perhaps the other US lumber producers).
NOTE: Some of the fundamental information above is from Yahoo Finance.
Good Luck Trading.
Disclosure: I have no positions in any stocks mentioned, but may initiate a long position in WY over the next 72 hours. I wrote this article myself, and it expresses my own opinions. I am not receiving compensation for it (other than from Seeking Alpha). I have no business relationship with any company whose stock is mentioned in this article.