HP (NYSE:HPQ) creates new possibilities for technology to have a meaningful impact on people, business, government, and society. With its broad technology portfolio, spanning printing, personal systems, software, services, and IT infrastructure, HP delivers solutions for its customers' most complex challenges in every region of the world.
For the fiscal first quarter, management is forecasting GAAP EPS of $0.60-$0.64. The full-year forecast is GAAP EPS of $2.85-$3.05. For the full year, management is expecting EPS growth of 8.8%, at the low end. First quarter EPS is forecasted to be roughly flat.
At this point, HPQ is close to its intrinsic value, if not at its intrinsic value. While the share price and the P/B multiple can continue to increase. At 2 times book value, the easy money has been made. The fundamentals of the business suggest that it should trade at a discount to the market, which is trading at 2.5 times book value.
Recent Developments
HP declared a quarter dividend of $0.145 per share.
Citi upped its price target to $40 per share from $32, which is 41% above the current share price.
Business Summary
Hewlett-Packard Company is a provider of products, technologies, software, solutions & services to individual consumers, small- and medium-sized businesses and large enterprises, including customers in the government, health and education sectors.
During F4Q2013, net revenue declined $828M, relative to the year-ago quarter. Most of the operating expenses declined during the quarter, but SG&A spending increased by $124M. As a result, adjusted total operating costs and expenses declined $385M with adjusted earnings from operations declining $443M. Relative to the year-ago quarter, net revenues declined 2.8% and adjusted earnings from operations declined 16.2%. Adjusted earnings before taxes declined 14% as the interest expense was reduced by $85M. The adjusted net earnings involved more uncertainty than the adjusted earnings before taxes as the provision for taxes estimate increased the uncertainty of the adjustment. Adjusted net earnings decreased $669M, or 28%, to $1.7B, and basic EPS decreased $0.32, or 26.5%, to $0.89. So, an $828M decline in net revenue led to a $669M decline in adjusted net earnings, and a $358M decline in adjusted earnings before taxes.
Sequentially, net revenue increased $1.91B with adjusted total costs and expenses increasing $1.55B. Thus, adjusted earnings from operations increased $358M. HP increased investment in SG&A. Adjusted earnings before taxes increased $401M to $2.19B. Adjusted net earnings increased $247M to $1.7B. Adjusted EPS increased $0.13 to $0.89. So, the 7% sequential increase in net revenues led to an 18% increase in adjusted EPS as the share count declined 1%.
Relative to the year-ago period, annual net revenue declined $8.06B to $112.3B with adjusted total operating expenses declining $6.94B. Adjusted earnings from operations declined $1.12B to $8.12B. Earnings before taxes declined $868M to $7.5B. So, the 7% net revenue decline led to a 9% adjusted EPS decline as shares outstanding declined by 2%. Adjusted profitability declined slightly.
The decline in notebooks and total enterprise services net revenue was responsible for a large portion of the decline in total net revenue. Notebooks accounted for 33.6% of the decline in net revenue, and total personal systems accounted for 43.8% of net revenue. Total enterprise group represented 19.1% of the decline in total net revenue with networking being the only strong portion of the group. Total enterprise services represented 25% of the decline in total net revenue. Software, financial services, printing consumer hardware, and workstations represented relative bright spots during fiscal 2013.
The liquidity and solvency position improved at the end of FQ4 2013 relative to the end of FQ4 2012. The cash ratio increased from 0.24 to 0.27 while the current ratio increased from 1.09 to 1.11. The total debt to equity ratio declined from 1.27 to 0.83. And financial leverage decreased from 4.85 to 3.88. Readers are cautioned that the solvency position is not adjusted to include some, if not all, of the liabilities that credit rating agencies would include in their solvency analysis. Net debt was $10.4B at the end of fiscal 2013. Additionally, asset utilization was stable.
On an adjusted basis, HP created wealth for investors during fiscal 2012 and fiscal 2013.
Risks
The share price is likely to remain volatile and investors could lose a portion or all of their investment.
Investors should judge the suitability of an investment in HPQ in light of their own unique circumstances.
A decline in the global economic growth rate and/or a decline in the pace of economic growth in the United States could adversely impact the results of operations and the share price.
The technology industry is characterized by rapid technological change, which could materially adversely impact the results of operations.
Competition in product development and pricing could adversely impact performance.
Incorrect forecasts of customer demand could adversely impact the results of operations.
Higher interest rates may reduce demand for HPQ's offerings and negatively impact the results of operations and the share price.
This section does not discuss all risks related to an investment in HPQ.
Portfolio & Valuation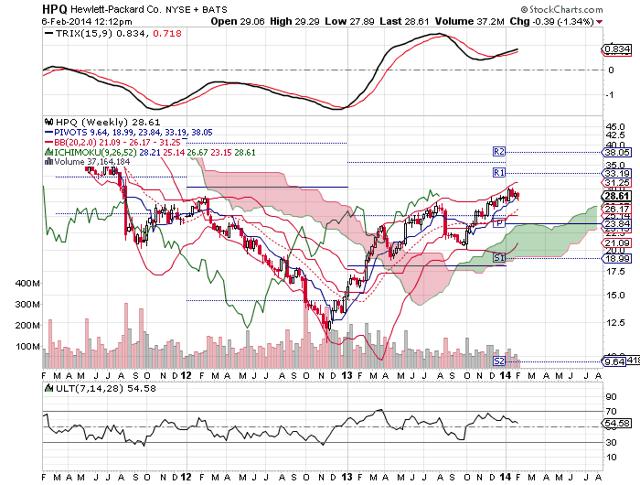 HPQ is in a bull market of primary degree. The share price is meeting resistance against the upper Bollinger band. The middle and lower Bollinger bands should act as support and so should the ultimate oscillator's 30 level.
Since 2009, HPQ has a negative correlation, -0.54, with the S&P 500 (NYSEARCA:SPY). The negative correlation is likely attributable to the goodwill impairment. Consequently, the 0.89 correlation since 2013 is, in my opinion, closer to HPQ's long-term correlation with SPY.
Since 2009, variations in the price of the broader market explained 29% of the variations in the price of HPQ. That number drops to 4% since 2011. And since 2013, variations in the price of the broader market explained 80% of the variations in the price of HPQ.
Linear trend analysis reveals a downtrend. Consequently, the 3-months, 6-months, and 12-months price targets are $17.37, $16.17, and $13.78. At $28.59, HPQ is trading above trend.
Using my model, HPQ is likely to outperform the broader market. I place the likelihood at 65%-70%. This is a 3-months to 6-months forecast.
Based on the fundamentals of the company, HPQ should be trading at a discount to the market on a P/B basis. Currently, the market is trading at a 23% premium to HP on a P/B basis, which is fair given the relative fundamentals. The P/B accumulation level is 1.43 and the distribution level is 2.86.
Disclosure: I have no positions in any stocks mentioned, and no plans to initiate any positions within the next 72 hours. I wrote this article myself, and it expresses my own opinions. I am not receiving compensation for it (other than from Seeking Alpha). I have no business relationship with any company whose stock is mentioned in this article.