The job numbers missed the mark this morning and we saw an initial pullback in the futures before investors decided that they could accept the weaker than forecast numbers due to weather issues that have been hitting most of the country. It is looking like we are through with the worst of this sell-off as most of the numbers that companies have reported for the past quarter have been quite strong. In fact, most of the sell-offs taking place are not due to disappointing quarters, but outlooks which are falling short of expectations.
Chart of the Day:
If one is bullish the market and thinks that the flight to safety is over, it stands to reason that the financial names might be a good buy as rates rise. We have seen many of the financial names we follow, as well as the ETFs, fall on the recent market weakness and strength in US Treasuries so positioning for a rebound right now might not be a bad move.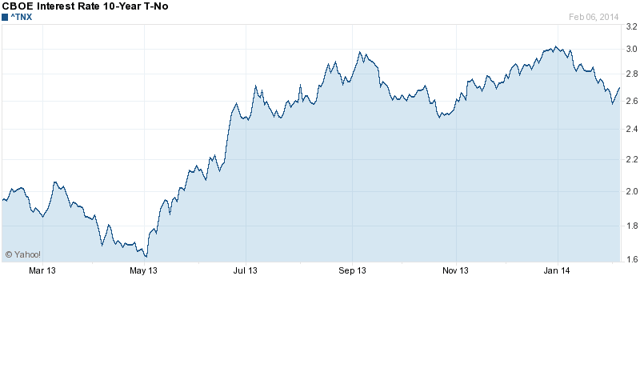 Source: Yahoo Finance
We have economic news today and it is as follows:
Nonfarm Payrolls (8:30 a.m. EST): Est: 175k Act: 113k
Nonfarm Private Payrolls (8:30 a.m. EST): Est: 161k Act: 142k
Unemployment Rate (8:30 a.m. EST): Est: 6.7% Act: 6.6%
Hourly Earnings (8:30 a.m. EST): Est: 0.2% Act: 0.2%
Average Workweek (8:30 a.m. EST): Est: 34.4 Act: 34.4
Consumer Credit (3:00 p.m. EST): Est: $11.5 Billion
Asian markets finished higher today:
All Ordinaries -- up 0.68%
Shanghai Composite -- up 0.56%
Nikkei 225 -- up 2.17%
NZSE 50 -- up 0.68%
Seoul Composite -- up 0.77%
In Europe, markets are trading higher this morning:
CAC 40 -- up 0.60%
DAX -- up 0.35%
FTSE 100 -- up 0.25%
OSE -- up 0.35%
Tech News
After an earnings report which disappointed many analysts and fast money investors, shares in Apple (NASDAQ:AAPL) fell about 10%. Carl Icahn stepped up his calls for the company to do a larger buyback plan and continues to announce through periodic tweets that buying Apple shares is a "no-brainer" right now as he adds to his position $500 million at a time. With a shareholder meeting coming up and Icahn now at odds with other prominent shareholders in Apple, we figured that there might be an issue with the company taking a more defensive posture towards Mr. Icahn and his demands, but apparently it is business as usual at the company.
We say this because Apple CEO Tim Cook stated in a recent interview that Apple management was surprised by the sell-off in the company's shares that took place after the quarterly earnings report and said that Apple had repurchased $14 billion in the last two weeks (there is a great article from The Wall Street Journal located here on the topic). Speeding up the buyback was to take advantage of what company insiders saw as a opportune buying window and today is providing strength to the stock. We think ultimately that the company will give the dividend a boost and announce a small boost to their buyback program, but nothing on the level that Mr. Icahn has proposed.
Apple made $14 billion in purchases after the big drop in its stock price, which today is looking like a decent trade. With Tim Cook's track record, he might think about launching a hedge fund.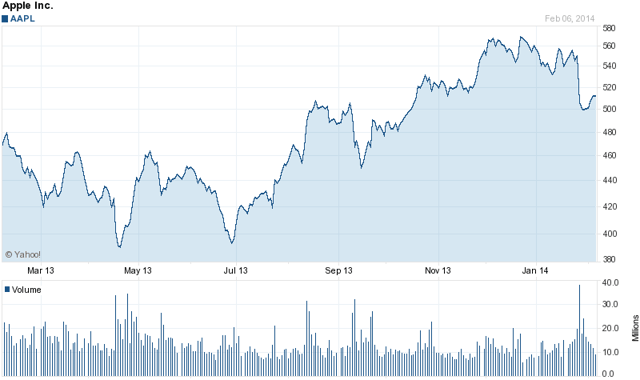 Source: Yahoo Finance
We have seen a flurry of deals completed by Google (NASDAQ:GOOG) in the past few months and the market received news today that adds to a recently announced deal which caught our attention. As most will remember, Google recently sold its Motorola handset division to Lenovo (OTCPK:LNVGF) for $2.91 billion in a move many analysts and investors cheered because it allows Google to get back to focusing on higher margin businesses. Google has now announced that after the Motorola deal closes that they will purchase $750 million in Lenovo shares on the Hong Kong exchange and own almost 6% of the company. It is not entirely clear how Google is viewing this stake at this time, but our guess is that they will use it as a means to introduce further software features for desktops in an attempt to continue to make inroads on Microsoft's (NASDAQ:MSFT) highly profitable software business. If this is in fact the plan, the new Microsoft CEO sure has their work cut out for them to protect their territory.
Disappointing Outlook
We highlighted LinkedIn (LNKD) as a name we wanted to watch as they reported quarterly results because we thought there was a strong possibility that we would see some good volatility surrounding the name. As we pointed out, the shares had been in a downtrend and we thought that the $200/share level would offer support on a disappointment, but if the outlook was bad enough that the level might give way to lower lows. Well thus far $200/share has held and with the market green on the back of jobs figures that the market was happy to accept we think the worst is probably over for those wanting to trade the shares in the short-term.
The downtrend remains intact here, and the $200/share support held, so maybe we shall see some sideways trading to allow a base to be built.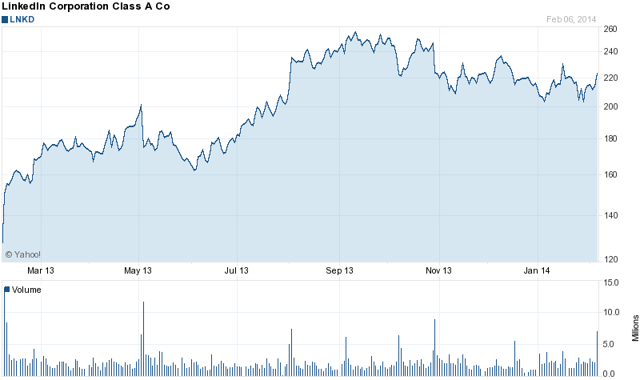 Source: Yahoo Finance
Based on the past history here, readers can put us in the camp that believes management is under promising in order to over deliver in later quarters. Long-term we think this name has a little bit more value than some of the other social media names out there so in the weeks ahead this could be a name to buy with risk capital.
Positive Retail Guidance
There are few names in the retail sector that are actually performing well at this time, but one name which continues to defy skeptics is Gap (NYSE:GPS). Many were expecting same store sales to see a decline of 1.3% for the most recent month, but instead the company reported an increase of 1% in the popular metric. The Gap branded stores saw sales up 1% for the month, with Old Navy seeing a rise of 4% and Banana Republic sales declining 10%. This continues the trend among the company's brands with the more expensive and less general Banana Republic weighing down the company's results.
Disclosure: I have no positions in any stocks mentioned, and no plans to initiate any positions within the next 72 hours. I wrote this article myself, and it expresses my own opinions. I am not receiving compensation for it (other than from Seeking Alpha). I have no business relationship with any company whose stock is mentioned in this article. AAPL has previously been recommended.