In the 9th issue of The Applied Finance Group's (AFG's) Market Forecast Project (MFP) Survey we asked our participants to provide their favorite long and short equity ideas to give insight into investment ideas from a large group of investors to tap into the "Wisdom of Crowds". This month MFP participants provided 117 long equity ideas and 64 short ideas as their favorite investment ideas.
The main purpose of the MFP survey is to help investors understand the thoughts and predictions of a large and diverse group of investment professionals on topics that affect the market and economy. Those who participate receive the results first before they are released to the public and benefit by better understanding trends in investor sentiment, incorporate MFP forecasts to better position your portfolio, enhance communication with clients and gain access to actionable long/short investment ideas to help you outperform.
Other topics that were covered in MFP #9 were -
• Is the level of systemic market risk increasing or decreasing?
• Would adding a VAT to our existing tax structure help or hurt the economy long term?
• Will Obama push for immigration reform in 2010?
• President Obama announced plans in early March to double the US exports in 5 years. Do you think it is feasible?
To view all of the results of MFP #9 click here.
The charts below contain the 117 long ideas and 64 short ideas collected in MFP #9. The companies highlighted in darker gray were suggested as both a long and a short.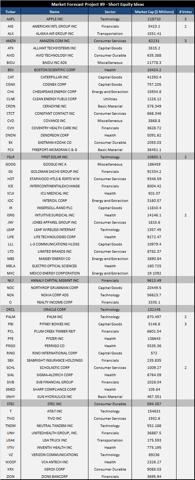 In the last MFP we polled professional investors as well as individual investors to compare/contrast the views of Investment Pros vs. Average Joes. Going forward any person who is actively following the markets/economy will be invited to participate and we will continue to track the differences in sentiment and highlight the topics where Pros & Joes have different opinions.