By Hilary Stingley
General Electric (NYSE: GE) recently showed off its LED light bulb - a light bulb that will fit into a regular light socket but consume far less power than an incandescent bulb.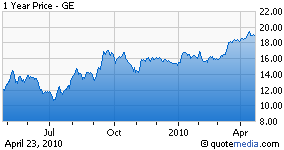 The Smart Energy LED bulb will put out the same amount of light as a 40-watt incandescent, but will only consume 9 watts.
GE's new LED bulb will last 25,000 hours, which is three times longer than a CFL and 25 times longer than an incandescent.
The bulb will be pricey, however, costing $40 to $50 when it hits stores later this year or early next year.
Fortunately, GE wields enormous mass manufacturing capabilities that are likely to lower the price of the bulb.
Philips, the largest light manufacturer in the world, topped GE's bulb with the announcement of its LED bulb-one that will consume about 12 watts but emit as much light as a 60-watt incandescent bulb.
Philips' bulb will also be dimmable.
The company hopes to release the bulb commercially towards the end of 2010, and will initially target its light at commercial customers.
If it meets this goal, Philips will one-up GE's bulb.
Regulations, declining prices, and the improved quality of LEDs, are ushering in a new era of solid-state lighting.
The U.S. Department of Energy announced yesterday that Seattle City Light, Seattle's publicly owned power utility, has been selected to lead a national effort to guide municipalities in evaluating LED street lights.
The Municipal Solid-State Street Lighting Consortium will facilitate activities that encourage cities to adopt LEDs in order to significantly reduce energy costs and greenhouse gas emissions.
In addition to GE and Philips, companies such as Osram, Toshiba, and Panasonic, hope to capitalize on the environmentally efficient trend by readying LED light bulbs for offices and homes.
Osram even plans to add color accents to upcoming home LED lights for an added aesthetic effect.
Lighting consumes 22% of the electricity in the U.S., much of which gets wasted.
If the LED trend becomes a way of life, waste from light could be greatly eliminated.