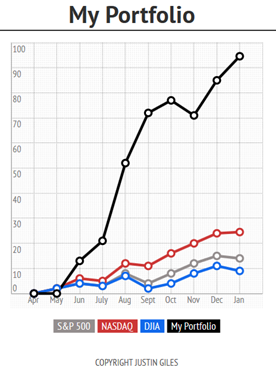 Yes, It's that time again. Last April, I started a portfolio consisting of ten tech stocks that I strongly believed would outperform the market over the next year or so. My conviction was right as my portfolio has grown over 94% in just a ten month span. That's more than 9% a month!
Whether you have a portfolio already set up or are looking to set one up, these ten tech stocks are definitely worth your time looking over. The chart to the right shows my portfolio's progress against the market indices.
As you can see, my portfolio continues to surge as it outperforms the market. So what does my portfolio include again you might ask? Well without further ado, here they are again.
My Performance
| | | | | | |
| --- | --- | --- | --- | --- | --- |
| Name | Current Price | Gain/Loss | My Original Target | My Revised Target | Revised Target Potential |
| Vipshop (VIPS) | $100.00 | +235.1% | $40.00 | $120.00 | +20% |
| Pandora (P) | $35.80 | +161.8% | $21.00 | $36.00 | N/A |
| Dangdang (DANG) | $9.17 | +121.5% | $10.00 | $12.00 | +31% |
| NQ Mobile (NQ) | $16.90 | +95.3% | $18.00 | $28.00 | +66% |
| Baidu (BIDU) | $155.82 | +79.0% | $125.00 | $170.00 | +10% |
| Youku Tudou (NYSE:YOKU) | $28.05 | +71.5% | $28.00 | $32.00 | +15% |
| Priceline (PCLN) | $1126.12 | +61.8% | $950.00 | $1,225 | +9% |
| Yandex (YNDX) | $36.28 | +58.7% | $35.00 | $40.00 | +11% |
| Vringo (VRNG) | $4.08 | +28.7% | $8.00 | $6.00 | +48% |
| Apple (AAPL) | $508.79 | +18.6% | $600.00 | $530.00 | +5% |
| My Portfolio Total = | | +94.6% | | | +21.5% Upside |
* Prices reflect closing prices of 2/4/14
** Revised price targets based on projected 2014 April closing prices
While I expected these stocks to outperform the market, I honestly didn't expect them to do it so fast and by such a huge margin.
Because we are coming down to the last quarter of the year for my portfolio, (before I make my picks for 2014-2015) I've revised most of my price targets based on the closing prices of April 1, 2014.
As you may have noticed, some of these companies are some of the biggest in the world, while others are some of the smallest. Some of them are known throughout the world while others are barely known. So why am I investing in these companies again? Here are the reasons why.
Apple
Apple posted record quarterly results last week. Nevertheless, that didn't stop shares from selling off. At the close of trading during after-hours, shares closed the day $506.27 or down 8.03%. So what caused the sell-off? Four words - iPhones and future guidance.
Even though Apple beat on both the top ($57.5B vs $57.4B) and bottom lines ($14.50 vs $14.07), analysts expected bigger iPhone sales over the holiday season. Apple said it sold 51M iPhones, fewer than the 55M-56M that analysts were expecting. It didn't help either that future guidance came in lower than expected ($42B-$44B). Analysts forecasted that revenues would be in the $46B range.
According to the report and conference call, Apple generated $22.7B in cash flow from operations and returned an additional $7.7B in cash to shareholders through dividends and its share repurchase program. So what do investors have to look forward to over the next year or so?
Dividend increase - Who doesn't like Dividends?
New products - iPhone, iWatch, or iTV's.
Mobile payment system - This would provide Apple with a new revenue stream in a trillion dollar industry. Who wouldn't want in on this market?
The China Mobile deal - During the earnings call with analysts and investors, Apple's Tim Cook mentioned that the iPhone is available in only 16 cities so far. Luckily for investors that number will rise close to 300 by year end.
Analyst Price Targets
Gene Munster, an analyst at Piper Jaffray, who is well-known for his sound insight on Apple, reiterated his Overweight rating on the stock and stuck with his $640 price target. However, Munster did cut his estimates for 2014 and 2015, despite the addition of China Mobile (CHL) as iPhone sales seem to be slowing down.
Here is what Munster had to say about Apple:
"The biggest issues with AAPL's Dec-13 report are that iPhone units missed Street estimates by 7% and the company implies iPhones may be close to flat y/y in March despite the addition of China Mobile. ...We believe the concept of maturing smartphone markets, particularly for high-end devices, is not a new idea for AAPL and will be an issue that returns to the forefront after it quieted following the iPhone 5C. We believe this may imply iPhone growth rates slower in CY14/CY15 than we previously expected and have adjusted our iPhone unit expectations for those two years by ~7%.
Analyst Brian Marshall of ISI Group reiterated a Strong Buy rating on Apple with a $600 price target. Marshall noted that Apple's problem was more to do with a slowdown in China rather than in North America. Marshall went to say that he thinks the China Mobile deal still stands to add a lot to Apple's results that aren't yet baked in.
...If we use a more conservative assumption that CHL sells half of that (i.e., ~20mil units in CY14), we estimate CHL could drive an incremental ~$11bil of revenue and nearly $4.00 of EPS power in CY14 (i.e., ~10% EPS accretion) currently not in Street estimates (or fully reflected in our current model)." - Brian Marshall
Timothy Arcuri, an analyst at Cowen & Co., reiterated his Outperform rating and $590 price target. Arcuri noted that fall in the aftermarket represents a unique buying opportunity as short-term investors playing in part for some capital return clear out ahead of a 2H:14 inflection.
We know that a lot of analysts still have high hopes for Apple, but investors should take a look under the hood, instead of relying on what analysts think. Below is a table comparing Apple to the industry average.
| | | |
| --- | --- | --- |
| The Fundamentals | Apple | Industry |
| Trailing P/E | 12.65 | 18.93 |
| Operating Margin | 0.29 | 0.03 |
| Price/Sales | 2.57 | 0.78 |
| Gross Margins | 0.38 | 0.23 |
| PEG | 0.60 | 1.71 |
| Cash | $158B | N/A |
| Debt | $16.9B | N/A |
Certainly Apple looks good under the hood and doesn't show any warning signs or problems. With shares falling on record quarterly revenues, I fully believe that investors are getting a gift under $500. I currently have a price target of $530 by April and see the potential for shares to reach up into the $650-$700 range by year end.
Baidu
Baidu, often called the Google of China, is one of China's top dogs. Baidu currently dominates China's search engine field with a market share close to 65%.
However, with competition rising, Baidu needed to make some moves if it wanted to stay ahead of the curve and boy did they answer the call. Over the last year, Baidu has went on a spending spree purchasing companies left and right. Below is a table depicting Baidu's latest acquisitions.
| | |
| --- | --- |
| Acquired Companies | Impact these companies will have on Baidu |
| PPS | The acquisition bolstered Baidu's video platform and puts it in a position to challenge market leader Youku-Tudou for China's biggest market share. |
| Nuomi | Baidu enters the online shopping world with flash deals, e-commerce, etc. |
| 91 Wireless | Helping transform Baidu from desktop to mobile |
Adding it all up I would say that Baidu spent close to $3B for its acquisitions within the last year. But in order to survive and stay relevant, Baidu needed to stay ahead.
Andy Yeung, an analyst at Oppenheimer, noted that Baidu was not well positioned in the mobile Internet space as in the desktop Internet space. The recent acquisitions helped complement and enhance Baidu's status in the mobile ecosystem.
Baidu purchased a 59% stake in Nuomi last August and just recently purchased the remaining 41% stake in the Company. Terms of the deal were not disclosed but I figure it is close to $300M for the total company.
Over the last couple of years, Baidu was a company that many wanted to become. Quarter after quarter Baidu continued to deliver stellar results. So what has Baidu done lately for investors? Baidu hasn't been its old self lately as the company has performed lackluster on its bottom line performance. Much of it has had to do with the Company's spending spree over the last year or so. However, Baidu is staying ahead of the curve which should help to continue to propel the stock over the coming years.
Dangdang
Dangdang is often times called the Amazon of China because of its marketplace program similar to that of Amazon.com (NASDAQ:AMZN). Even though Dangdang has similarities of Amazon, it is not a true representation of it.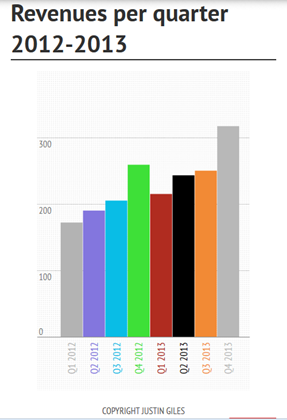 Over the last year, shares of Dangdang have produced big gains for shareholders as the stock has more than tripled. So what has caused shares to soar? Look no further then the graph on the right which shows Dangdang's growth.
Dangdang has focused more on serving the bottom line and getting gross margins higher. The results have been paying off as the bottom has significantly improved as the Company looks to break into positive territory relatively soon.
As earnings approach there seems to be a bullish theme on Dangdang as thousands of March 10 calls were purchased last week. Volume surpassed the previous open interest, indicating that new positions were being initiating, providing great leverage and cheap exposure for investors. It should be noted that Dangdang has beaten estimates 4 out of the last 5 times and looks to continue its winning ways. I like the stock and feel that it still offers a lot for investors.
Pandora
Pandora provides Internet radio services in the United States. The company allows listeners to create personalized stations to access unlimited hours of free music, as well as other paid subscription offers.
Wow! What a difference a year can make. After seeing its stock price fall into the single digits after its IPO, Pandora has made a remarkable comeback as shares are up more than 150% over the last year.
The news just keeps getting better for Pandora. Last week, Heath Terry, an analyst at Goldman Sachs, wrote a very bullish outlook for Pandora. In his letter he said that he believes that shares may top $60 next year if the Company doubles advertising, increases its mix of local commercials and leverages fixed content costs.
"The next two years are critical for the development of Pandora's long-term revenue trajectory and royalty rates." - Heath Terry
While I truly like Pandora as a company, the fact that shares have climbed this high means that unless earnings are more then spectacular (Which isn't likely) the stock looks ripe for a pullback. Over the next few months I believe the stock will consolidate and will be range bound until my new stock picks come out in April. Because of this I have a hold rating on Pandora with a revised price target of $36.00.
Priceline
What else is there to say about Priceline? The Company continues to grow at a rapid rate, rewarding investors with magnificent gains over the years. Over the last five years, shares have climbed more than 1,400%. Now who wouldn't want a return like that?
Just when some people think that Priceline's magnificent run is over, it just continues to keep climbing higher. Priceline continues to show why it's the leader in the travel industry as it posts blow-out numbers quarter after quarter. After breaking the magical $1,000 barrier a couple of months ago and becoming the S&P 500's first $1,000 stock, Priceline continues to keep chugging along. Is any company going to be able to catch it?
Even after breaking the $1,000 barrier, Priceline still has a reasonable valuation when compared to other growth companies. With a forward P/E ratio of just 22, I feel that Priceline is still undervalued for the type of growth that it has given investors. I still have a BUY rating on Priceline with a revised price target of $1,225.
NQ Mobile
One of the reasons why I like NQ Mobile is because of the services they provide (mobile security, gaming, etc). Mobile security is growing by leaps and bounds as the world shifts into the mobile world. NQ Mobile has positioned itself nicely and is not just limited to China, but is a worldwide company.
As many of you already know, shares of NQ Mobile were on the verge of more than tripling last year before the Muddy Waters short report came out with accusations of fraud. This caused shares to slide all the way into the single digits from the mid-twenties before the report came out.
While investors are still waiting to hear back on the audit results which should be announced sometime this month, hedge funds and institutions have taken the opportunity to increase their stakes and show their belief in the Company.
Big Money Won't Stop Buying NQ Mobile
In just the last two weeks, several funds (Morgan Stanley, Altimeter, Toro Investment Partners and Kylin Management) have increased their holdings in NQ Mobile. It appears now that many cannot get enough shares of the Company, as filings appear on a daily/weekly basis.
Toro was the latest to disclose that it had purchased more shares including the option to buy an additional 2.5M of common shares.
It seems like every week I'm adding funds to this list or increasing the number of shares that they own. Clearly, big money likes what they are seeing and are betting big on NQ Mobile. You don't have to take my word for it though, just take a look at the table below.
| | |
| --- | --- |
| Name | % of Shares |
| ChinaRock Capital Management | 5.49% |
| Oberweis Asset Management | 5.8% |
| Kylin Management | 6.2% |
| Morgan Stanley | 6.3% |
| Toro Investment Partners | 7.34% |
| Altimeter Capital Management | 17.3% |
What is really impressive to me is that most of this buying occurred after the short report cam out by Muddy Waters last October. Now, investors are starting to see the fruits of Muddy Waters' labor, as NQ Mobile has just broken a record for most institutional support since going public in 2011. I caught up with Matt Mathison, vice president of NQ Mobile, and talked with him about this matter. Here is what he had to say:
"A number of major investors have validated NQ Mobile by taking significant positions in the company. As important as this validation from investors is, it is the validation of customers and partners that prove the value of NQ Mobile.
Over the last year, NQ Mobile has signed partnerships and contracts with some of the biggest companies in the world (Sprint, China Mobile, etc). While seeing big money come into the stock is truly a great thing, seeing partnerships with some of the biggest companies in the world is equally as impressive. Because of these things, I feel that NQ Mobile will receive a very nice pop when the audit is finally released and investors who are in position now are capitalizing on this great opportunity.
Vipshop
I like to call Vipshop my Priceline junior stock. Why? Look no further than the gains it has given investors over the last two years. As of yesterday, shares are up over 1,600% since its IPO in March of 2012. So why are investors so eager to put their money on Vipshop?
Vipshop is China's leading online discount retailer. One of the reasons why Vipshop has done so well is because of the lack of competition they face. Not only is China a huge market, but it also helps when you don't have a lot of competition either. Because of this, shares have soared as revenues continue to break records quarter after quarter.
However, don't get too comfortable. China is a very competitive place. Once businesses smell a profit, they swoop in and overwhelm the market making it very hard to sustain future growth and profitability.
Just last year, a number e-commerce sites started carving their way into the online deals space. Companies such as JD.com, DangDang and Yihaodian among others have come to take those profits away from Vipshop. So should investors be concerned?
J.P. Morgan analyst Alex Yao doesn't seem worried or concerned saying, "We believe Vipshop's leading position in this niche market is unlikely to be challenged by the new entrants in the next 1-2 years." So what are his reasons?
1) Low brand overlapping. Our channel check revealed a very low brand overlapping rate (less than 10%) among the aforementioned flash sales platforms.
2) Brand coverage. Vipshop has the largest brand coverage.
3) Business model and user experience. Most of Vipshop's transactions are through a principal B2C business model. Dangdang is mostly on the marketplace model and Yihaodian is on a combination of principal and marketplace model. We believe the principal B2C model generally offers a better and more consistent user experience.
4) Pricing. Vipshop generally offers higher discounts compared to online retailing prices (as measured by Tmall prices). Although Dangdang and Yihaodian offer a comparable number of on-sale brands, their prices are not as attractive as even Tmall's.
I agree with Yao and feel that shares will continue to climb like they have the last couple of years. I have a BUY rating on the stock with a revised price target of $120 by April 1, 2014.
Vringo
Vringo is a small company that I'm sure many investors still really haven't noticed yet. But don't let that fool you as Vringo has been putting some nice pieces together as I've previously reported here and here.
Vringo along with its subsidiaries engages in the innovation, development and monetization of its intellectual property. If you have heard of Vringo before, you are probably aware of its pending lawsuit against Google (GOOG) or its settlement with Microsoft (NASDAQ:MSFT) last year.
Here is a quick recap for those that are still unaware about Vringo. On November 6, 2012, a jury ruled against Google and awarded Vringo not only damages of $30.5M, but also a running royalty of 3.5%. Vringo asked the court to raise the royalty rate to 7% from 3.5%, based on Google's willful infringement.
Google claimed to have worked around Vringo's patents in May of 2013. However, Judge Jackson ruled last month that Google's so called "work-around" is nothing more than a colorable variation and subsequently issued that I/P Engine (Vringo's subsidiary) is entitled to ongoing royalties as long as Google continues to use its "modified system."
Then the two parties were ordered into a settlement conference. The Court did so in order to give both parties the chance to come to a final agreement on the royalty rate decision, or to finally come to a settlement agreement.
After both parties could not come to an agreement, Judge Jackson made his decision to award Vringo a royalty rate of 6.5% through 2016. This rate comes out to more than a billion dollars in royalties for Vringo. Not bad for a small company that Wall Street currently values at just a couple hundred million. Not only that, but the Company has many other catalysts lined up that make the stock a must have in 2014.
The recent settlement with ADT
The value of Vringo's patent portfolios
The values of the ZTE, ASUS and TYCO cases
The value of a potential reversal of past damages and or laches
Microsoft paying 5% of whatever amount Google ends up paying, up to a certain cap.
Yandex
Yandex is commonly known by many as the Baidu and Google of Russia. However, unlike some of its peers, Yandex not only serves the local people of Russia, but internationally as well.
Yandex has a market share of around 62% and continues to fight off Google in the quest of staying the search king of Russia and surrounding areas. Yandex has made some moves as of late to keep itself ahead of the curve.
On January 14, 2014, Yandex teamed up with Facebook (NASDAQ:FB) in a non-cash deal that benefits both parties. Yandex will be able to better its search results while Facebook draws more traffic to its site.
Then last week, Yandex announced that it has invested in MultiShip, a logistics services provider for online stores, in a move to reinforce its e-commerce platform.
In a statement last Wednesday, Yandex said it would pay $1 million for a software platform which makes it easier for online retailers to deliver goods to customers in Russia's regions by connecting them with logistics providers.
Yandex will also invest several million dollars into new services and the expansion of MultiShip's client base. It added that MultiShip's software developers would join Yandex's team.
With earnings coming up this month, I feel that Yandex will surprise analysts with better then expected numbers which should lift shares higher. With a forward P/E ratio around 28, I feel that Yandex is still undervalued for the type of growth it has to give investors. I still have a BUY rating on Yandex with a revised price target of $40.00 by April 1, 2014.
Youku
Youku Tudou is often known by many as the YouTube of China. Youku is actually China's leading Internet television company with hundreds of millions of users. It's those hundred of millions of users that Companies like Baidu and Tencent among others are looking at right now.
According to Dick Wei, an analyst at Credit Suisse, there are three reasons why corporations will pursue acquisitions as corporate confidence returns and macro uncertainty wanes.
1) Cash financed M&A/buy-backs are earnings enhancing
2) Corporate balance sheets are under-leveraged
3) It's cheaper to buy than to build
"As competition within the Internet space continues to increase, we expect Internet leaders to drive growth and build market dominance via acquisitions. As mobile Internet is still in a particularly high-growth phase, we believe companies with high mobile traffic could be potential target companies. ...Youku, with around 50% of traffic from mobile, could become a mobile traffic source for Internet leaders."
Analysts expect revenue to jump nearly 40% this year. Not only that, but expectations have Youku finally breaking out of the red. With M/A activity lurking in 2014 a well, I feel that shares of Youku are a must have in 2014. I currently have a BUY rating with a revised price target at $32.00 by April 1, 2014.
Conclusion
Since starting my portfolio on April 1, 2013, it has grown more than 94%. Not bad for a ten month span. So what stocks do you like for 2014 and beyond? Do you have a top 10 list? If so, I would love to hear what your portfolio would look like and which stock's you're adding and which one's you're dropping.
As always, I'm providing you with my track record and other particular stocks that I recommend. The link provided will show you all of my picks, how they have fared, and where I think they will be going in the near future. I think you will find my track record to be very impressive as well as useful.
Disclaimer: Investors are always reminded that before making any investment, you should do your own proper diligence on any stock mentioned in this article. Have a great day and as always, I look forward to hearing your thoughts or questions that you might have.
Disclosure: I am long VRNG, NQ. I wrote this article myself, and it expresses my own opinions. I am not receiving compensation for it (other than from Seeking Alpha). I have no business relationship with any company whose stock is mentioned in this article.