The Manitowoc Company (NYSE:MTW) delivered a big bottom-line beat on January 30 as profit margins soared in its "Foodservice" segment.
Analysts have revised their estimates significantly higher for both 2014 and 2015 following the report, sending the stock to a Zacks Rank #1 (Strong Buy).
While shares of Manitowoc have jumped higher on the news, there is plenty of upside left considering its reasonable valuation and strong growth projections.
The Manitowoc Company, Inc. provides crawler cranes, tower cranes, and mobile cranes for the heavy construction industry and also manufactures commercial foodservice equipment. Its 'Crane' segment accounted for 62% of sales in 2013 while 'Foodservice' made up the other 38%. The company was founded in 1902 and is headquartered in Manitowoc, Wisconsin.
Fourth Quarter Results
Manitowoc delivered better-than-expected Q4 results on January 30. Adjusted earnings per share came in at 47 cents, crushing the Zacks Consensus Estimate by 42%. It was a 74% increase over the same quarter last year.
Sales actually declined 2% year-over-year to $1.104 billion, which was slightly below the consensus of $1.116 billion. Sales in the "Crane" segment slid 8%, but this was partially offset by a 10% jump in "Foodservice."
Profit margins expanded thanks to tight cost control and improved efficiencies. The operating margin in the "Foodservice" segment surged 350 basis points to 13.7%. Meanwhile, the "Crane" segment operating margin essentially held steady despite the sales decline.
Estimates Jump
Analysts have revised their estimates significantly higher for Manitowoc following the Q4 press release. It is a Zacks Rank #1 (Strong Buy) stock.
The Zacks Consensus Estimate for 2014 is now $1.65, up from $1.46 before the Q4 report. The 2015 consensus is currently $2.07, up from $1.76 over the same period.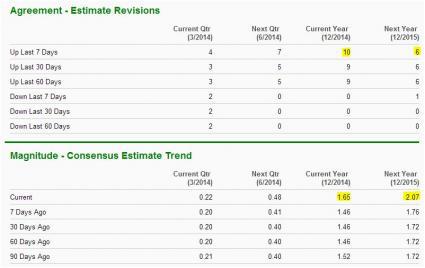 Based on current consensus estimates, analysts project 14% EPS growth from Manitowoc this year and 25% growth next year.
Valuation
Shares of Manitowoc are up more than 11% since the Q4 report, but there appears to be plenty of upside left. The stock trades around 18x 12-month forward earnings, which seems reasonable given its strong growth projections.
Its price to sales ratio also seems reasonable at 0.9, which is in-line with the industry median.
The Bottom Line
With expanding profit margins, rising estimates, strong growth projections and reasonable valuation, Manitowoc still offers investors attractive upside potential.