By Carla Fried
As noted previously, municipal bonds are off to a promising start in 2014, continuing to mend from a very rough 2013 in which the iShares S&P National AMT-Free Muni ETF (NYSEARCA:MUB) was down 9% at one juncture, and ended the year 3% lower.
That ETF could be marginally less volatile this year as S&P announced at the end of January that given that "Puerto Rico bonds are now trading at levels more appropriate for high yield taxable corporate bonds," it was kicking out all Puerto Rico bonds from the index that is the benchmark for the high-grade iShares muni ETF. (Puerto Rico represented less than 5% of portfolio assets.)
For income seekers with ample adjusted gross income, municipal bonds look especially interesting right now. Based on its trailing 12-month yield north of 2.5%, the income payout for the iShares S&P National AMT-Free Muni ETF works out to a taxable equivalent yield of more than 4% for anyone in the 35% federal tax bracket. And 4.5% for anyone in the 39.6% marginal tax bracket. Add in the 3.8% net investment income tax that can come into play for higher income earners (a new tax created by the Affordable Care Act that went into effect in 2013) and the current nominal yield of the iShares AMT-Free Muni ETF rises to a taxable equivalent yield of 4.8%. If you happen to live in a state with a high tax on investment income, that ETF's taxable equivalent yield could well be above 5%. And to be clear, that's a high-grade portfolio, not junk.
Which raises an interesting scenario for income investors who've been glomming onto dividend paying stocks the past few years. As noted, last year was rough for munis, but not because of systemic risk. The problem was more one of isolated problems and widespread (mis)perception. Detroit and Puerto Rico were in the headlines, and even though 99.9% of the high-grade muni market was under no such stress, retail investors headed for the exits. Add in the fact that interest rates in general were rising at the same time, and it was a bit of a perfect storm for muni bonds to take a licking.
Granted, the 9% haircut the iShares S&P National AMT Free Muni ETF had in mid 2013 isn't exactly ideal. But with taxable equivalent yields of 4% and higher, a diversified portfolio of high-grade muni bonds is going to expose you to a lot less volatility than some of the usual high-yielding suspects.
Starting with junk bonds, which have seen massive inflows in the past few years. Either everyone has forgotten what happens to junk in times of market stress, or investors have convinced themselves they will bail long before the next bear market/recession. Here's the 2008 total return performance of the SPDR Barclays High Yield ETF (NYSEARCA:JNK) next to the high quality iShares S&P National AMT Free ETF.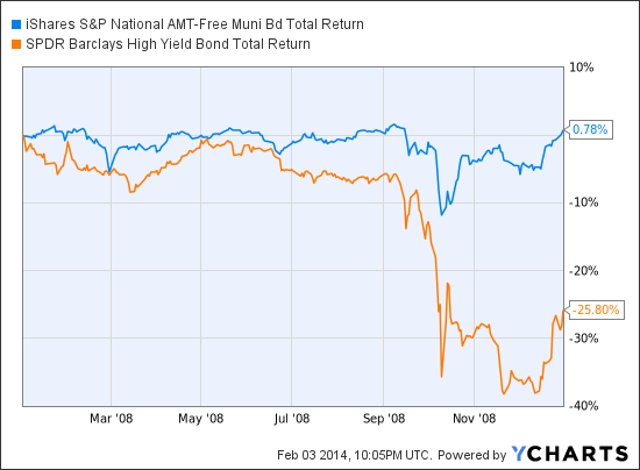 MUB Total Return Price data by YCharts
The PowerShares Senior Loan Portfolio (NYSEARCA:BKLN), which invests in below-investment grade bank loans, wasn't around in 2008, but the index it is tied to fell more than 25% in 2008. That's some serious capital volatility for portfolios that have paid out between 4.5% to 6% in income over the trailing 12 months.
Now onto income-generating stocks. Focusing our screener on S&P 500 constituents and then setting the filter to suss out stocks with yields greater than or equal to 4% narrows the 500 to 45 stocks.
While the S&P 500's total return is near 19% over the past year, the highest return among the 10 highest yielding S&P 500 stocks is Frontier Communications' (NYSE:FTR) 12% total return.
And as you should expect from any high yielder, it's typically because the price has taken a hit. Frontier's five-year performance can't even keep pace with muni bonds: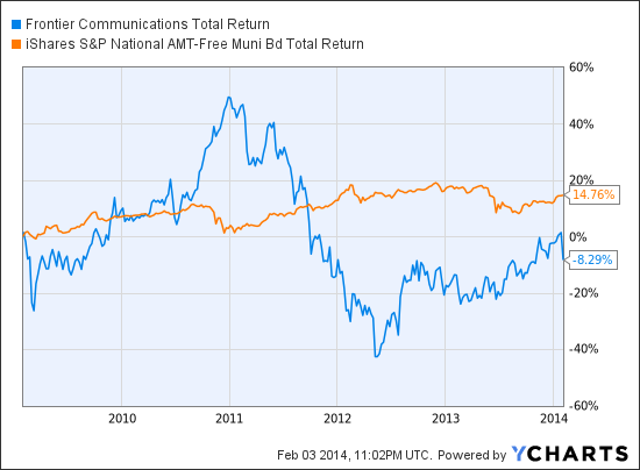 FTR Total Return Price data by YCharts
Among the 45 stocks, only Garmin (NASDAQ:GRMN), Lorillard (NYSE:LO) and People's United Financial (NASDAQ:PBCT) have yields of at least 4% and total returns over the past year of at least 20%. Just for some downside context: In 2008 Garmin fell more than 70% and Lorillard fell 30%. People's United was a rock star, rising nearly 7% that year. That said, over the past five years, it too has lagged the muni ETF.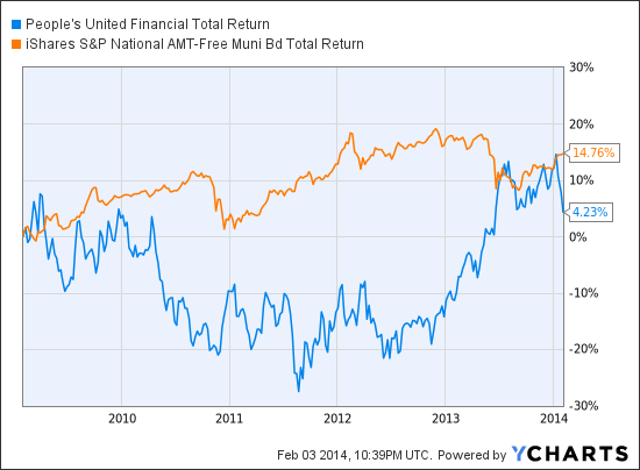 PBCT Total Return Price data by YCharts
Moving along to alternative yield classes: The $18 billion Vanguard REIT index ETF (NYSEARCA:VNQ) has a dividend yield of 4.3%. But if you thought 2013 was hard for munis, it was even rougher for this rate-sensitive segment of the market. Here's how the REIT ETF fared from May to September of last year when interest rates rose.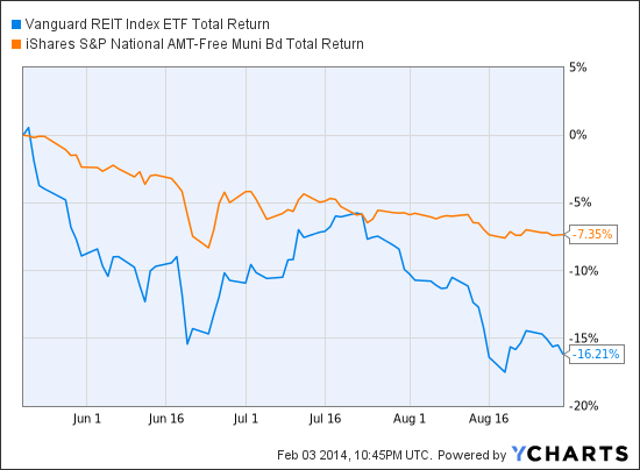 VNQ Total Return Price data by YCharts
To be clear, the Vanguard REIT has a total return above 150% over the past five years and the iShares S&P National AMT Free Muni ETF less than 15%. Clearly REITs offer far better capital appreciation potential, in the right rate environment. You just need to be aware what your potential volatility is in the wrong one. While it is a basic investing truth that stocks will always pack more volatility than high grade bonds, it's a bit of a head scratcher that money continues to flow out of high grade municipal bond portfolios, which not only offer limited downside risk when stacked up against stocks, but also taxable equivalent yields that for income seekers match or surpass many dividend payers these days.
Disclosure: None.