I recently discussed how the Baltic Dry Index has hidden bull markets in "smaller" dry bulk vessels, the Panamax, Supramax, and Handimax classes. The spot market for the larger Cape ships has been hammered to the point that Panamaxes and Supramaxes have commanded higher rates.
In my last article, I argued that the Baltic Dry Index is ready for a upturn . The gist of the argument was that the collapsing BDI flew in the face of a resurgence in oil shipping, commodities, and rail transport.
This time I would like to extend my predictions; let's look at the technicals. Below is a comparison chart of the three vessel categories: Capes, Panamaxes, and Supramaxes. These three make up the preponderance of the Baltic Dry Index. Capes, for instance, through C1 thru C12 routes, cover approximately 46% of the BDI. The Handimax routes figure in only about 9% of the BDI.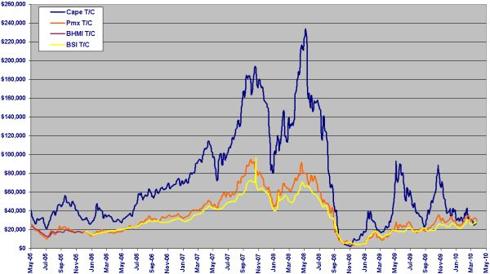 Capes historically lease for far higher rates than their smaller brethren, as evidenced by the 2006 thru 2008 data. This last year, Cape rates have expanded and contracted three times. In contrast, the Panamax and Supramax rates have steadily crept up, forming a rising underlying base. Each time the Cape market has crashed to the Panamax-Supramax base, the Cape index has bounced up as the fundamentals have taken over. After all, from an economic standpoint, leasing far smaller Supramaxes at higher rates than Capes cannot stand for long.
We are currently at a point on the time line at which Capes, Supramaxes, and Panamaxes rent for about the same. The technicals strongly favor a resurgence in the Cape market and, hence, the Baltic Dry Index, something that bodes well for Genco (NYSE:GNK), Diana (NYSE:DSX), Baltic (NYSE:BALT), Excel (NYSE:EXM), Safe Bulkers (NYSE:SB) and other dry bulkers.

Disclosure: Long GNK, BALT