On Thursday, February 6, Citigroup (NYSE:C) issued $480 million of Series L preferred stock. Here is an issue summary:
The prospectus can be found here.
Citigroup last tapped the preferred market in October 2013, issuing approximately $1.5 billion of a series K with the same dividend rate (although that is a fixed>float structure). Is the series L attractive? Let's take a look:
First, a comparison to other Citigroup preferreds is in order (my readers know the drill):

Looking at the outstanding preferreds, the new series L is the cheapest outside the Citigroup Capital XIII, which yields over 7%, but trades at a $2 stripped premium. (It is also a fixed>float issue, which yields 3m LIBOR + 637bps after October 2015). For all intents and purposes, the new issue trades 15bps cheap to the recently issued series K - and at a discount.
Is it cheap versus peers? Using bank of America (NYSE:BAC), Morgan Stanley (NYSE:MS), JPMorgan (NYSE:JPM), Zions (NASDAQ:ZION) and US Bancorp (NYSE:USB) as peers, let's take a look:
From the above table, the Citigroup Series L appears cheap to peers.
Many might notice that JPM is higher rated, so the two shouldn't trade at the same yield. This is indeed true. Let's look at the historical spread (stripped yield, mid Price) between the two: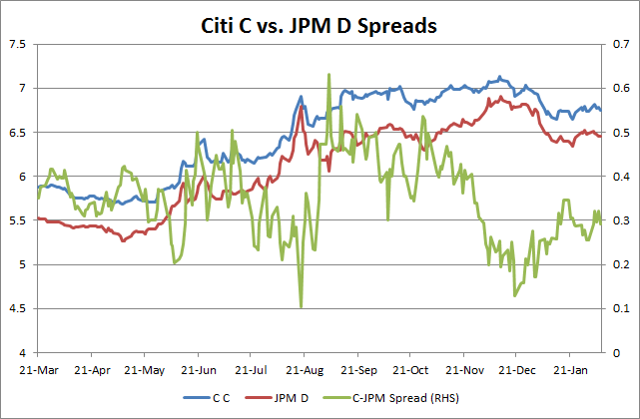 By this chart, we can see that Citi trades approximately 33bps wide (higher yield) than JPM. Applying this, Citi L's would trade at approximately 6.80%. This implies they are approximately 15bps cheap.
And what about the higher rated US Bancorp?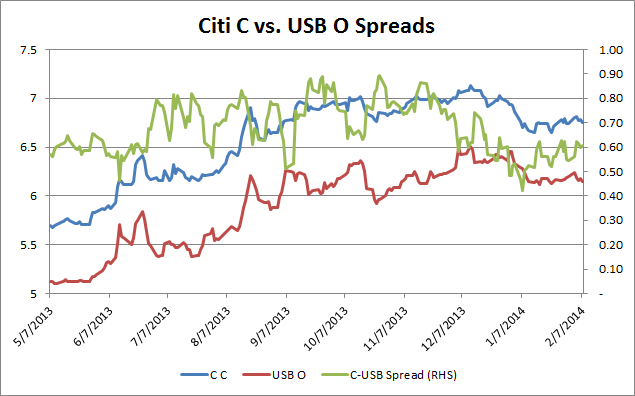 Citi has traded nearly 70bps wide to USB, making the new issue approximately 5bps cheap.
Bottom line: The new Citigroup preferred - Series L fixed for life - are cheap compared to their own preferred stock and the preferred stock of their peers. As this is the case, they warrant consideration for inclusion into an investors preferred/income portfolio.
Disclosure: I am long C, BAC. I wrote this article myself, and it expresses my own opinions. I am not receiving compensation for it (other than from Seeking Alpha). I have no business relationship with any company whose stock is mentioned in this article.