With the DOW down almost -5%, and the S&P 500 down nearly -3% in 2014, you may well be wondering where to hide - is there a safe corner of the market, where dividend paying stocks have at least not lost money this year?
As is often the case, it turns out that one of the most hated sub-industries has turned around, and becomes the "belle of the ball" so far in 2014.
The "mREIT" (Mortgage REITs) industry's stocks got pummeled in 2013, after the Fed started its "taper talk" in May. With interest rates going up, these companies' spreads declined, along with their quarterly dividends.
However, not all mREITS are created equal some work with US government agency securities, while others trade in non-Agency securities. In addition, some mREITs focus on shorter term securities, which is the case for Capstead Mortgage, (NYSE:CMO). Like some of the stocks in our recent articles, CMO offers high-yielding preferred shares in addition to common shares.
Profile: Capstead is a self-managed real estate investment trust, or REIT, for federal income tax purposes. It earns income from investing in a leveraged portfolio of residential adjustable-rate mortgage pass-through securities, referred to as ARM securities, issued and guaranteed by government-sponsored enterprises, either Fannie Mae or Freddie Mac, or by an agency of the federal government, Ginnie Mae.
This strategy of investing in agency-guaranteed ARM securities that reset to more current interest rates within a relatively short period of time positions the Company to benefit from a potential recovery of financing spreads diminished during periods of rising interest rates and can result in smaller fluctuations in portfolio values compared to portfolios containing a significant amount of fixed-rate mortgage securities. (Source: CMO website)
Unlike many of its peers, CMO held the line on dividends in 2013, and was rewarded by the market - although it trailed the market, CMO is up 12.56% over the past 52 weeks, while many of its peers declined significantly. CMO and its peers have beaten the market so far in 2014, as interest rates have stabilized, and even declined slightly, thanks in part to emerging market fears and a "flight to safety" into US Treasuries: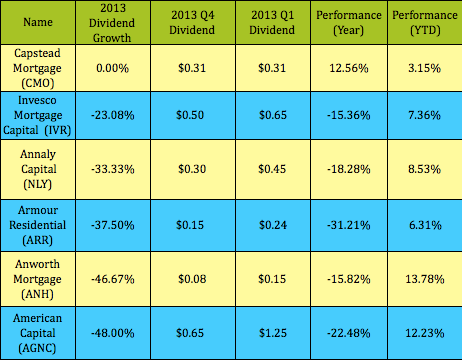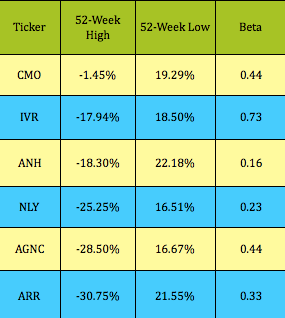 Dividends: CMO offers you 2 high yielding vehicles-
1. Its common shares, which are currently yielding nearly 10%.

2. Its preferred shares, which, like the common shares, are also listed in the Financials section of our High Dividend Stocks By Sector Tables.
CMO's preferred E shares have also outperformed the market in 2014, rising over 4%. They are also -4.44% below their $25 liquidation price, and can't be called/(bought back) by CMO until 2018, which gives you the right to collect 16 quarterly dividends, worth a total of $7.50/share, at least up until the May 2018 call date, since these shares are cumulative.
(Financial websites list CMO's preferred E shares in various ways: CMO-E, COM-PRE, CMOpE, etc.)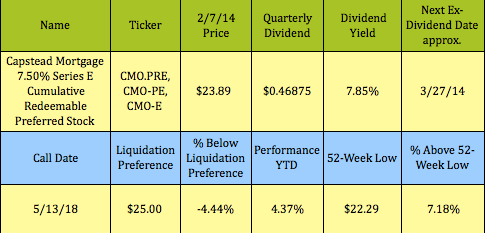 CEO Jacobs stated on CMO's recent Q4 2013 earnings release, "Given our current expectations for continued favorable mortgage prepayment rates and borrowing costs, we anticipate reporting earnings in 2014 sufficient to pay dividends at or above our 2013 quarterly dividend level."
Options: We've added this August CMO $12.50 put option to our Cash Secured Puts Table. This alternative shorter term strategy offers you an options premium that's a bit higher than CMO's next 2 projected quarterly dividends, in addition to a breakeven that's around 5.6% above CMO's 52-week low:

CMO's covered call options aren't very compelling currently, so we haven't added any yet to our Covered Calls Table.
Earnings: Although it's not a growth stock, CMO looks undervalued on a 2014 PEG basis. However, analysts are estimating flat earnings in 2015, most likely due to concerns about rising interest rates over the long term.

More Valuations: CMO also looks undervalued vs. its industry on an adjusted P/E basis, but not on a P/Book or P/Sales basis. (CMO's trailing P/E of 10.84 includes adjusted EPS of $.27 for Q2 2013, vs. $.04 net EPS. It was adjusted for Series A and B redemption preference premiums and accrued dividends paid, when CMO redeemed higher-yielding preferred shares, and issued its E Series preferred shares.)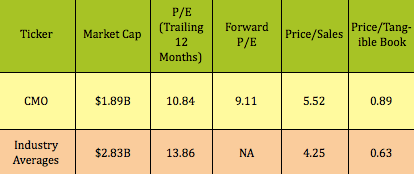 Financials: CMO's ROE improved in Q4 2013, and its Book Value increased $.12 to $12.47. It sports a higher Operating Margin than its industry, but it does carry a higher debt load.

Disclosure: Author was long CMO and CMO-E at the time of this writing.
Disclaimer: This article was written for informational purposes only.
Disclosure: I am long CMO. I wrote this article myself, and it expresses my own opinions. I am not receiving compensation for it (other than from Seeking Alpha). I have no business relationship with any company whose stock is mentioned in this article.
Additional disclosure: I'm also long CMO-E preferred shares.