All quotes used are from the conference call transcript.
American Capital Agency (NASDAQ:AGNC) hosted their conference call Tuesday morning, February 4th. If you missed it there is a webcast of the call until February 18th (here). The typical boring conference call became very interesting very quickly when Gary Kain announced they had been buying equity in their peers' common stock. This was the predominant topic for the call.
At first I thought it was comical and ridiculous for him to even try to justify owning common stock of other companies. Then I thought a little further on why he might do something so crazy, and I will share a couple of my thoughts on the topic.
Conference Call
In summary Gary Kain said the company is indirectly buying MBS assets at 20% off book value by purchasing other mortgage REITs' common stock. Gary rhetorically asked, "Does it make sense only to hold agency mortgage securities directly or should we sell some and buy similar MBS assets in REIT equity form at around 20% discount." He also asserted, "In asset price terms, that is like buying a highly liquid agency MBS 2.5 points in price lower than where you can sell them."
I would rebut that investing in mortgage REITs is not buying MBS assets. It is buying an extremely volatile and emotion driven equity that distributes income to investors, and I'll use AGNC's own presentation to prove it.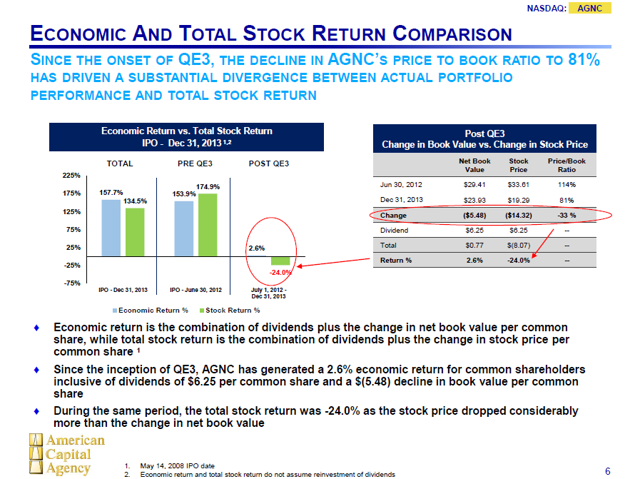 American Capital, like so many other companies, had significantly greater declines in stock price than in book value in 2013. This proves the equity trades with much more volatility than their underlying assets, which should be obvious to any mortgage REIT investor.
Q&A Session
I thought there were some amazing questions that the analysts brought forward in the call also, if anything you should go read just the Q&A session in the transcripts. Some key points were:
Even though the company has been buying other equities, AGNC did buy back 7% of the shares outstanding in the fourth quarter, which is tremendously respectable. There is apparently no tradeoff between repurchasing shares and buying common stock in the other mREITs.
AGNC has the capacity to do a "meaningful amount more" purchasing of common stock, but it will not be a "tremendously large" part of their portfolio.
The common stock is of agency mREITs only.
It will not be disclosed who the companies being invested in are, unless required by regulatory filings.
There is no AGNC in the pool of common stock holding.
Who Will Benefit
There was approximately $400 million invested in the other mortgage REIT stocks in December and January. According to their balance sheet, the equity position was valued at $237 million as of December 31. This shows that a larger portion was invested in January.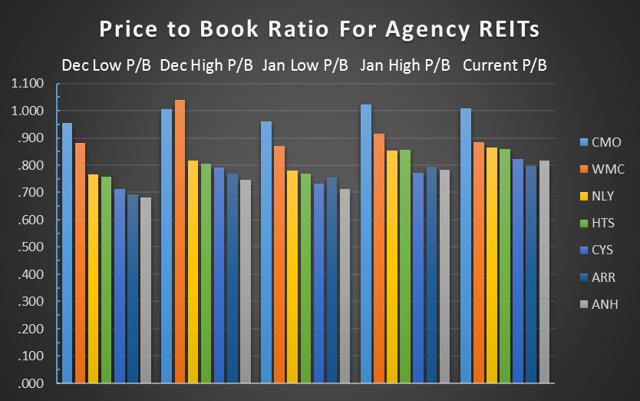 Multiple of these are companies I have traded in recently, and you can find my article on CYS [here]. I currently own CYS Investments, Inc. (NYSE:CYS) and Capstead Mortgage Corp. (NYSE:CMO). I previously owned Anworth Mortgage Asset Corporation (NYSE:ANH) and am thinking about investing in the company again in the future.
American Capital is likely to be purchasing all of the companies in the graph, companies like Annaly Capital Management, Inc. (NYSE:NLY), ARMOUR Residential REIT, Inc. (NYSE:ARR), CYS, and Anworth. However, if they are sticking to their 20% discount I doubt they will be buying, or would have bought, Capstead or Western Asset Mortgage Capital Corp. (NYSE:WMC). A company I left out is Ellington Residential Mortgage REIT (NYSE:EARN), because they only finished their IPO in 2013.
American Capital filed an SC 13G/A yesterday claiming the ownership of 7.3 million shares in Hatteras Financial Corp (NYSE:HTS). The current value puts that holding value a little over $135 million.
My theory
Gary Kain thinks that most of the pain is over in the space. He stressed throughout almost the entire conference call about how the entire industry is trading at discounts while they should not be: "We believe the current valuations in the mortgage REIT space are inconsistent with today's market landscape and with the tremendous liquidity and the transparent pricing of the underlying assets."
This move is completely and totally a publicity stunt, that will act as a catalyst to move the entire industry, including American Capital, higher.
So I mean look, we understood that this was going to be a discussion item. We are obviously transparent about it. We aren't doing this. We are doing this, checking our ego at the door. We are doing this because we think it's the right thing for shareholders. We absolutely expected lots of different opinions. - Gary Kain
Just looking at Seeking Alpha and other news sites, there was huge buzz about what American Capital is doing; making people aware of how underpriced the entire industry is by purchasing common stock in competitors. It'd be the same ol' same ol' conference call if he just stated that the industry is undervalued, but by purchasing common stock of competitors it shows the confidence they have.
Conclusion
Being an investor in other agency mREITs I love what Gary Kain did because he created a catalyst to push the industry higher. However, I wouldn't be a long-term buyer of AGNC. This move is questionable, and I really hope other companies don't follow suit. I think this strategy will pay off, though, as I'm bullish on the industry.
Disclosure: I am long CMO, CYS. I wrote this article myself, and it expresses my own opinions. I am not receiving compensation for it (other than from Seeking Alpha). I have no business relationship with any company whose stock is mentioned in this article.
Additional disclosure: Information in this article is my opinion only and shouldn't be construed as advice to buy or sell securities. Recommendations don't take into account individual reader's investment risk or return objectives and constraints. The article is for information purposes and you are encouraged to do your own research before making any investment decisions. All information here in this article is accurate to my knowledge.