As I mentioned on Monday, exchange-traded funds (ETFs) have experienced an explosion in popularity.
According to ETFdb, there are 70 dividend-focused ETFs (excluding leveraged and inverse funds), with even more offerings on the way.
So it's clear that the ETF arms race has escalated.
However, as I also mentioned before, there are many common pitfalls associated with ETFs that could be adversely affecting our performance.
With that in mind, today I want to discuss a few ETF opportunities with a ton of potential.
The Big Three
In the realm of dividend ETFs, there are three funds that garner the most attention: the Vanguard Dividend Appreciation ETF (NYSEARCA:VIG), the iShares Select Dividend ETF (NYSEARCA:DVY) and the SPDR S&P Dividend ETF (NYSEARCA:SDY).
These were some of the very first dividend ETFs, and they now have the highest assets under management.
But these funds are actually more different than many investors realize.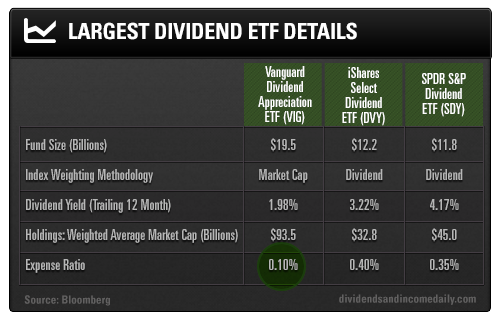 A simple, passive fund strategy should have a very low expense ratio, and that's one of the reasons why I favor VIG and its razor-thin, 0.10% management fee.
DVY's annual fee is four times larger, at 0.40%. This difference may not seem significant, but it adds up (and compounds!) over the long term.
Yield-hungry proponents of DVY may object to my criticism, but let's not forget that VIG has outperformed DVY on a total return basis (dividends reinvested) since VIG's inception in April 2006.
Then there's SDY, which holds the Dividend Aristocrats. It's the third-largest dividend ETF and has a 0.35% expense ratio.
Of course, it's also important to know what we're getting.
So let's take a closer look at the composition of these three funds: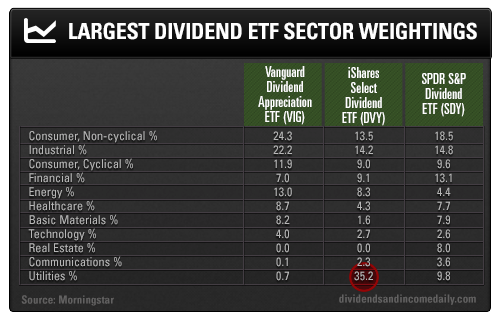 As you can see, their sector weightings are dissimilar in some key ways.
In 2007, DVY was loaded with financials, which proved to be disastrous. But now, its 35% weighting to utilities really jumps out at me.
There's certainly a time and a place for utilities. However, I'm uncomfortable with having a core portfolio ETF that has a high allocation to a defensive sector.
Ultimately, VIG is my favorite investment of the three, based on its dividend-grower focus, low management fees and favorable sector weightings.
But that's not the only dividend ETF you should be considering.
Proof (Once Again) That High Yield Isn't Everything
WisdomTree is a fund management company that certainly shouldn't be ignored right now.
The company prides itself on its active ETFs and fundamental indexing, or weighting companies by metrics like earnings growth or total dividends paid.
Let's look at two WisdomTree offerings.
The WisdomTree LargeCap Dividend Fund (NYSEARCA:DLN) yields 2.54%, and the WisdomTree Equity Income Fund (NYSEARCA:DHS) yields 3.27%. These funds were both launched in 2006.
Which would you choose?
Well, DHS has underperformed the Russell 1000 Value Index with higher risk (volatility) since inception. On the other hand, DLN has outperformed the Russell 1000 Value Index with lower risk.
Although past performance is no guarantee of future returns, here's yet another example of a lower-yielding fund besting a higher-yielding fund over the long term.
WisdomTree is doing something very right with DLN, so this fund is an excellent choice.
Despite the data, however, investors still seem to gravitate to the higher-yielding dividend ETFs like DVY and DHS.
It's important to have a mix of current income (yield) and capital appreciation. The optimal ratio seems to be more skewed towards growth than most dividend investors realize.
Now, since the dividend ETF arms race is heating up, it's important to take a look at the crop of recent fund launches.
As the following new contenders show, the battle for ETF supremacy is going to get very interesting.
So there you have it. The ETF arms race has certainly given us a lot of choices.
Bottom line: We can't think of dividend and income ETFs simply as tickers with yields. If fund companies are getting serious about giving us a dizzying array of choices, then we have to do some serious homework. (That's what we're here for!)
Disclosure: I have no positions in any stocks mentioned, and no plans to initiate any positions within the next 72 hours. I wrote this article myself, and it expresses my own opinions. I am not receiving compensation for it. I have no business relationship with any company whose stock is mentioned in this article.
Additional disclosure: Dividends & Income Daily is a team of financial researchers. This article was written by our Editor-in-Chief, Alan Gula, CFA. We did not receive compensation for this article (other than from Seeking Alpha), and we have no business relationship with any company whose stock is mentioned in this article.