AG Mortgage Investment Trust (NYSE:MITT), a mortgage real estate investment trust (mREIT), has a $475 million market cap with two preferred stocks currently trading on U.S. stock exchanges. These traditional preferred stocks, neither of which are rated by either Moody's or Standard & Poor's, are offering an average current yield of 8.78 percent (February 7, 2014).
(Source for preferred stock data: CDx3 Notification Service database, see Disclosure)
Description and history
Just three years old, MITT was founded in 2011 and is headquartered in New York City. Like all mREITs, MITT attempts to make money by using low-cost funds to buy securities that pay a higher return, the spread being referred to as Net Interest Margin (NIM).
The securities that mREITs favor are those that a U.S. government agency (such as Fannie Mae or Freddie Mac) guarantees, referred to as "agency" securities. Agency securities are backed by bundles of residential mortgages that, presumably, have a known level of risk and a known return. The market price of agency residential mortgage-backed securities (RMBS) is very sensitive to changes in interest rates.
Many mREITs also buy mortgage-backed securities issued by commercial lenders. These non-agency securities, referred to as "credit" securities, can be a mix of those backed by mortgages on commercial real estate and/or residential mortgages. The value of credit securities is very sensitive to the creditworthiness of the underlying mortgage holders.
At the end of Q3 2013 (MITT's most recently reported quarter), the funds that MITT used to build its agency portfolio was costing the company 0.4 percent while generating a yield of 3.1 percent, for a NIM of 2.7 percent. For its credit portfolio, MITT's cost of funds was 1.8 percent while bringing in 5.9 percent on the yield side, leaving a NIM of 4.1 percent.
As income investors know, during a period of increasing interest rates, value, as reflected by market price, of a previously issued, lower-rate security will tend to go down. Decreasing prices lower the "book value" of an mREIT's portfolio, eroding the company's ability to use their portfolio as leverage for new positions.
This chart illustrates the drop in book value per common share of MITT's portfolio when investors became certain that the Fed was going to start backing out of its QE rate-lowering program last September.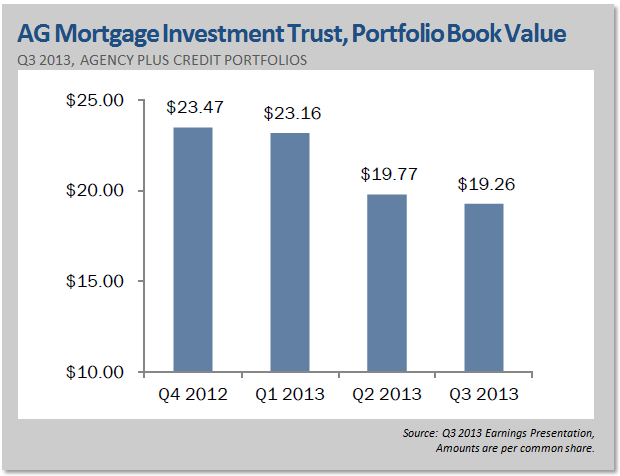 Knowing that increasing rates can lead to lower book value, value investors (common stock) will shy away from mREITs during a period of increasing rates since the big run-up in market price that value investors hope for is unlikely. Accordingly, MITT's common stock price has fallen to about $16 per share, down from about $26 per share a year ago.
But that is not to say that mREITs are without tools to minimize the negative effects of increasing rates. What is interesting about MITT, is that the company's leadership is probably more nimble at mitigating interest rate risk than many other mREITs.
As expectations of a Fed QE taper increased last year, the company immediately began selling securities backed by 30-year mortgages in favor of those with shorter durations. Shorter duration mortgages get paid off sooner, limiting the price erosion that increasing rates can cause.
Securities backed by adjustable-rate mortgages (ARMs) provide another tool since the average yield is going to increase along with prevailing rates. President and CIO Jonathan Lieberman explained during the Q3 2013 conference call with analysts that MITT
"…sold over $850 million of 30-year mortgages and added over $450 million of securities backed by ARMs."
That's about 30 percent of MITT's agency portfolio.
The positive effect of these and other nimble adjustments was immediately reflected in MITT's net income by the end of Q3, the course correction stemming the Q2 bleeding.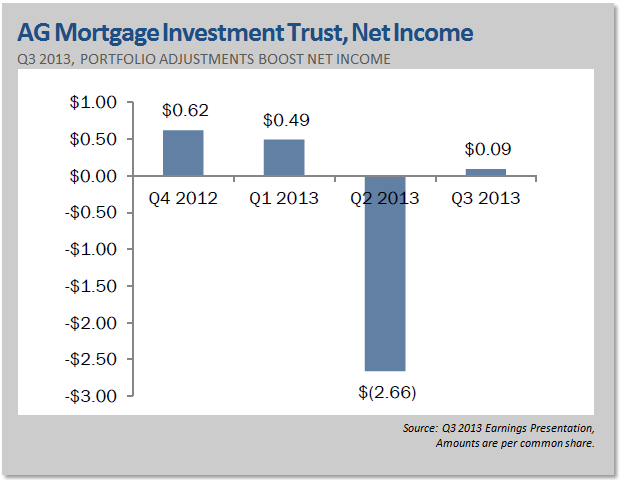 (Sources: AG Mortgage Investment Trust's CEO Discusses Q3 2013 Results, November 5, 2013 | Q3 2013 Earnings Presentation | company website | Yahoo Finance)
MITT's preferred stocks
Issued less than two months apart in 2012, MITT has two traditional preferred stocks trading under the symbols MITT-A and MITT-B.

Both have cumulative dividends with MITT-A offering an annual coupon of 8.25 percent ($0.52 per quarter) compared to MITT-B's 8.00 percent ($0.50 per quarter).
Given their generous dividends, most current shareholders are hesitant to sell, so volume can be fairly light with both issues (5k to 30k shares per day).
But the upward pressure on rates that we have seen over the last few months has pushed the market prices of these two issues below their $25 par values. On Friday, February 7, the A issue closed at $23.60, providing a current yield of 8.74 percent, while the B issue closed at $22.70, computing to a slightly higher current yield of 8.81 percent.
Since both of these securities have $25 par values, shareholders will earn a capital gain in the event of a call on top of the 8+ percent dividend income. Both are call-protected until 2017 but if redeemed after that, today's buyers will receive $25 per share in cash, generating a capital gain of $1.40 per share for A series holders and $2.30 per share for those holding the B series.
(Sources: CDx3 Notification Service database, February 7, 2014 | SEC Prospectuses: MITT-A, MITT-B)
What's next?
MITT should be filing its Q4 2013 and 2013 annual results within the next couple of weeks.
For value investors considering MITT's common stock, a pretty strong argument could be made that a big uptick in price is probably unlikely for at least another couple of years. At the end of Q3 2013, the company announced a quarterly dividend of $0.60 per share but the common, of course, comes with no guarantees whatsoever.
And as a REIT, MITT is required to distribute 90 percent of its taxable income to shareholders, beginning with preferred shareholders. If the company is able to meet that requirement without paying the common stock dividend, it will almost certainly do so.
Value investors are, by definition, less sensitive to risk than income investors. Given these uncertainties, value investors may want to consider MITT's preferred shares as the next best thing, generating similar returns for less risk (see also "A 9.2% Yielding Safer Alternative To AG Mortgage," Josh Arnold, January 14, 2014).
For risk-averse preferred stock investors, the considerations are a bit different with such a young company. The question for preferred stock investors is whether the lack of independent ratings and the price-reducing effects of an increasing rate environment can be overcome by this mREIT's demonstrated ability to maneuver its portfolio, these securities' 8+ percent, cumulative dividends and a nice capital gain in the event of a downstream redemption.
Disclosure: I have no positions in any stocks mentioned, and no plans to initiate any positions within the next 72 hours. I wrote this article myself, and it expresses my own opinions. I am not receiving compensation for it (other than from Seeking Alpha). I have no business relationship with any company whose stock is mentioned in this article.
Additional disclosure: The CDx3 Notification Service is my preferred stock email alert and research newsletter service and includes the database of all preferred stocks used for this article. Securities identified within this article are for illustration purposes only and are not to be taken as recommendations.