"With the economy clearly in growth mode, we continue to give this bull market the benefit of the doubt...it would be a mistake to take a negative stance just to be a contrarian." (Jim Stack, Editor, InvesTech Research, written sometime in December 2013).
Mark Hulbert's commentaries and his Financial Digest are consistently helpful and have served the investing public well. Hulbert is not a big fan of market forecasting, but he does appear to defer to the perspective that the stock market is more a market of stocks.
Hulbert also specializes in following the track records of stock advisory services in what many would call "The Investment Publishing Business." The editors and publishers of these advisory services have varying track records as stock pickers.
At the end of 2013 Hulbert revealed the forecasts of the advisors he ranks highest in his Hulbert Financial Digest's "Honor Roll of Advisors for 2014". He wrote about it in the Dec. 30, 2013 edition of Barron's.
Stocks Most Recommended by Honor Roll Advisors
In an attempt to keep this article brief, I'm going to take the liberty of narrowing down the list to 4 of the 13 stocks that were most recommended by 3 or more of the advisors on Hulbert's Honor Roll of advisors.
As Hulbert wrote, his Honor Roll rewards advisors list is "Based on performance dating back to early 2000, this year's [2014 choices, were chosen] ... less for overall returns than for performing well in both up and down markets."
So he suggests that these top advisors deserve our attention and respect. They include such well known names as Bob Brinker (Bob Brinker's Marketimer) and Jim Stack, quoted at the top of this article.
Names that were not as familiar to me included David Fried (The Buyback Letter) and Jim Lowell (Fidelity Investor). As of the end of 2013, 88% of these advisors' model portfolios were allocated to equities.
The advantage we have today is that we're past the first week of February and we've had about a 6% market correction so far. So almost all the stocks mentioned in the article have corrected.
(By the way, if you want to read the entire Barron's article, you'll need to subscribe. I'm obviously a subscriber and benefit greatly from reading the publication each weekend.)
The following stocks are 4 of the 13 and they each look to be the best-in-category with plenty of upside potential. I'll say a few words at the end as to why I chose these 4.
1.Berkshire Hathaway (BRK.A and BRK.B). Rather than spell out all the advantages of this legendary holding company that Buffett and Munger built I refer to a recent article by fellow contributor Don Dion. In many ways it could be the single most valuable stock to own from an investors viewpoint.
2. The Walt Disney Company (NYSE:DIS), an iconic entertainment and media empire whose movie unit recently grossed $870 million on the animated musical "Frozen". It helped Disney achieve a 75% increase in operating income for its movie division during the company's first fiscal quarter which ended Dec. 28, 2013.
On Dec. 30, 2013, the day Hulbert's article was published, DIS closed at $76.23. On Friday Feb. 7, 2014 shares closed at $75.67. So the Honor Roll's recommendation still has plenty of upside with a forward PE of about 16 and a price-to-earnings-to-growth (PEG) ratio of a modest 1.22 (5-year expected).
Here's a 1-year chart of these first two stock picks. Notice both recently appear to have bottomed for now and are moving higher.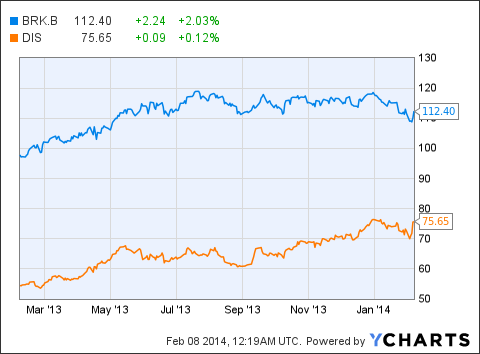 3. Johnson & Johnson (NYSE:JNJ). Thanks again to a recent correction this dominating dividend-growing giant of the healthcare products industry has a lower share price now than on Dec. 30th,when shares closed at $92.30.
At a price of $90 JNJ has a dividend yield of nearly 3% with a forward (1-year) PE ratio of slightly more than 14. Its PEG ratio is a higher 2.57, not quite the value of Disney but still attractive considering the company's blistering 27% trailing twelve month (TTM) operating margin. For more analysis on JNJ see this recent article.
4. PepisCo (NYSE:PEP) which is a global food and beverage leader with net revenues of more than $65 billion and a product portfolio that includes 22 brands that generate more than $1 billion each in annual retail sales.
Two major holders of the stock are the CEO, Indra Nooyi, who owns nearly $50 million worth of PEP stock and Trian Fund Management, the investment firm led by activist investor Nelson Peltz.
Early last year Pelt's Trian Fund amassed stakes of more than $1 billion in Pepsi and Mondelez International (NASDAQ:MDLZ), apparently with the hope of merging the snacks business of PepsiCo with the fast-growing spin-off of Kraft Foods (KRFT).
It appears Peltz has given up on that plan for now, but he recently stepped up his criticism of PepsiCo management. He has publicly stated that he will continue to push for PEP to spin-off its faster-growing snacks unit from its beverage business.
All this bodes well for PepsiCo shareholders, who in the meantime enjoy nearly a 2.9% dividend yield with the share price at $80.
The 1-year chart below again serves to illustrate that JNJ and PEP are still attractively priced in comparison to where they were back on Dec. 30th.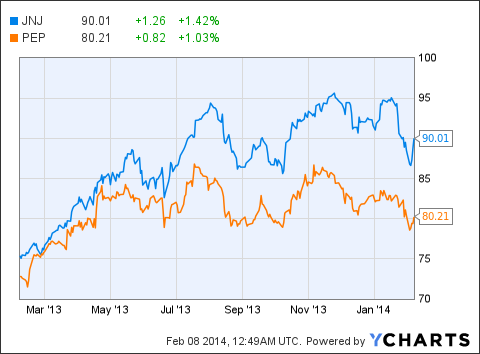 Final Thoughts to Ponder
With the recent stock market pullback and with investor sentiment much lower than at the end of 2013, investors have a chance to buy these top stock picks from the Honor Roll advisors at reduced prices.
As Mark Hulbert pointed out in the article, "Since there are only 12 [Honor Roll] advisors total, it [the list of stocks] represents a fairly strong consensus that each of these stocks is recommended by at least three of them -- or one out of every four on average."
As investors it's hard to go wrong with the best-of-the best, and that refers to both the Honor Roll of Advisors and the stocks they recommend.
Disclosure: I am long PEP, JNJ. I wrote this article myself, and it expresses my own opinions. I am not receiving compensation for it (other than from Seeking Alpha). I have no business relationship with any company whose stock is mentioned in this article.