Shares of Altria Group (NYSE:MO) have dropped by over 10% since reaching a 52-week high of $38.58 near the end of last year. At the current price per share of $34.71 the dividend yield stands at 5.53%, giving Altria a higher yield than its competitors. In its most recent quarterly report, Altria announced its earnings per share for fiscal year 2013 were $2.26, up 9.7% compared to the previous fiscal year. This means Altria is currently trading at only 15.3 times last year's earnings. What's even more impressive is the fact analysts expect Altria's EPS to be even higher this year, with an average estimate of $2.57, giving the company a forward P/E ratio of only 13.5.
In this article, I will be using several of Altria's competitors for comparison. The two graphs below clearly show that while Altria offers a current yield that's a lot higher than that of Lorillard (NYSE:LO), Phillip Morris (NYSE:PM) and Reynolds American (NYSE:RAI), it's still cheaper than those companies on a forward price to earnings ratio basis.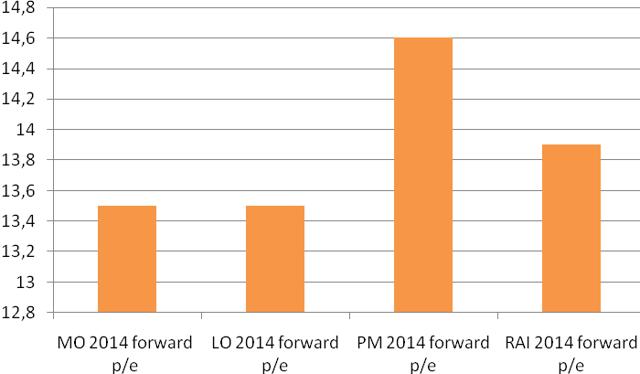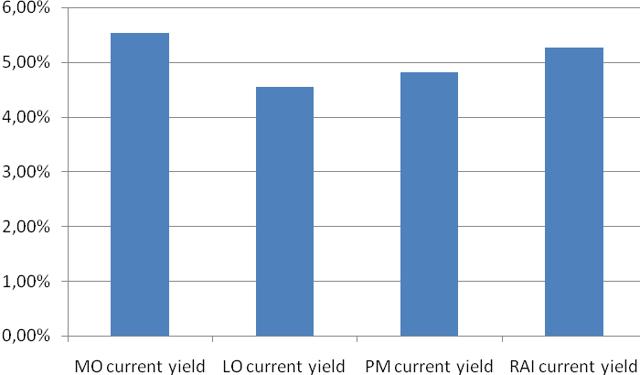 Even though a high current yield is a good thing for those looking to get some income from their stocks, for a long term investor like me, dividend sustainability is very important. Altria's dividend has been climbing up in recent years and currently stands at $0.48 per quarter. Considering the fact Altria usually increases its dividend by around 10% annually, I'd expect the dividend to increase to $0.51 or $0.52. This would put Altria's dividend payments for 2014 at around $2.00, giving it a payout ratio of just under 80%. A dividend increase to $0.52 per quarter would mean investors buying stocks now would be getting 1.5% of their investment back each quarter. Reinvesting these dividends should accelerate returns even more.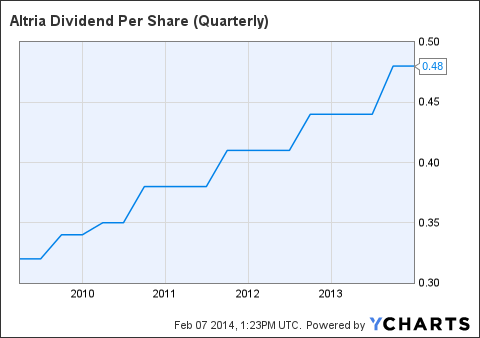 MO Dividend Per Share (Quarterly) data by YCharts
Altria currently has about $3.18 billion, or $1.59 per share in cash and cash equivalents, which is just over 3 quarters worth of dividends. Furthermore, the company has been slowly but surely lowering its long-term debt, as can be seen in the next graph.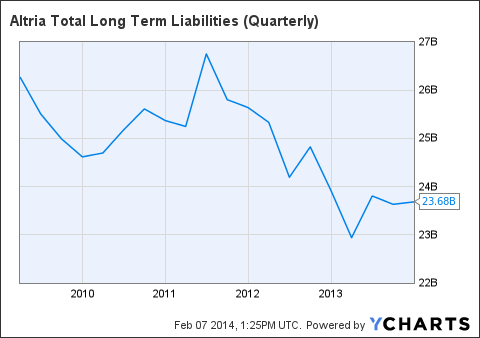 MO Total Long Term Liabilities (Quarterly) data by YCharts
Altria is more diversified than most tobacco companies as it also produces wine and cigars. Furthermore, the company owns part of SABMiller (OTCPK:SBMRY), the world's second-largest brewery. Altria recently announced it had acquired the e-vapor business of Green Smoke Inc. Diversification into e-cigarettes could be an opportunity for Altria to get additional streams of income. Choosing which tobacco stock to invest in can sometimes be difficult, but Altria's diversification, high current yield and strong growth have convinced me to invest in MO.
Disclaimer: I am not a registered investment advisor and do not provide specific investment advice. The information contained herein is for informational purposes only. Nothing in this article should be taken as a solicitation to purchase or sell securities. Before buying or selling any stock you should do your own research and reach your own conclusion. It is up to investors to make the correct decision after necessary research. Investing includes risks, including loss of principal.
Disclosure: I am long MO. I wrote this article myself, and it expresses my own opinions. I am not receiving compensation for it (other than from Seeking Alpha). I have no business relationship with any company whose stock is mentioned in this article.