Penn West Petroleum (PWE) is executing its plan methodically restructuring the giant exploration and development company just as management set out to do not that long ago. The recently announced sale of $175 million of non-core assets scheduled to close in March follows a $486 million asset disposal that closed in the fourth quarter of 2013.
The combined sales should bring Penn West debt down to the $2.4 billion range from about $3.0 billion as at September 30, 2013.
Penn West's 2014 capital budget of $900 million is concentrated on drilling 210 wells with 175 of them plumbing oil rich targets in the prolific Cardium and Viking plays.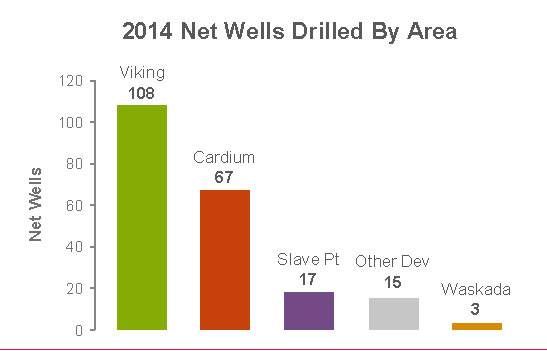 Source: Penn West corporate presentation February 2014
Drilling in these areas promises internal rates of returns in the 30% to 75% range which in my judgment well exceeds Penn West's cost of capital and holds out the prospect of recycle ratios in the range of 1.5 to 2.0 times at today's oil prices.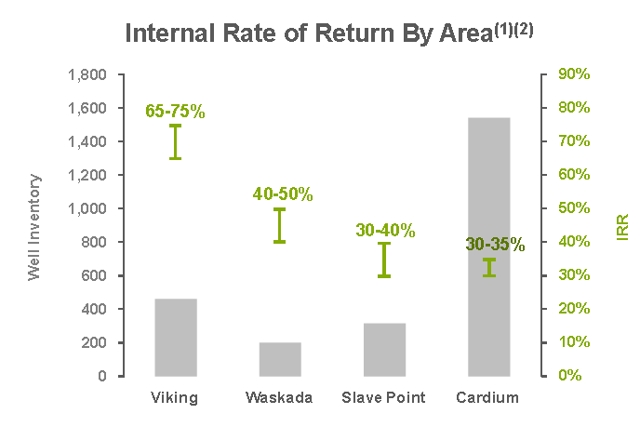 Source: Penn West corporate presentation February 2014
Another tailwind for Penn West in the short term is the burgeoning natural gas price, a reflection of a very cold winter. Penn West plans for 2014 assume an AECO gas price of $3.61 per mcf and Penn West has hedged 90,000 mcf/d at $3.90 per mcf and 50,000 mcf/d at whatever the AECO price is between a floor of $3.41 per mcf and a cap of $4.17 per mcf, according to Penn West's corporate presentation.

Gas Alberta reports that AECO prices averaged $3.69 in January and are currently in the $5.00 range.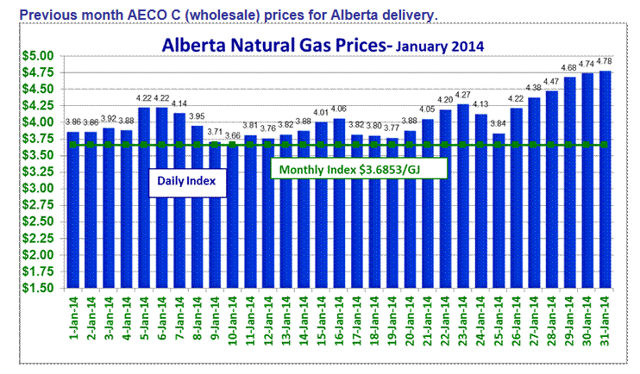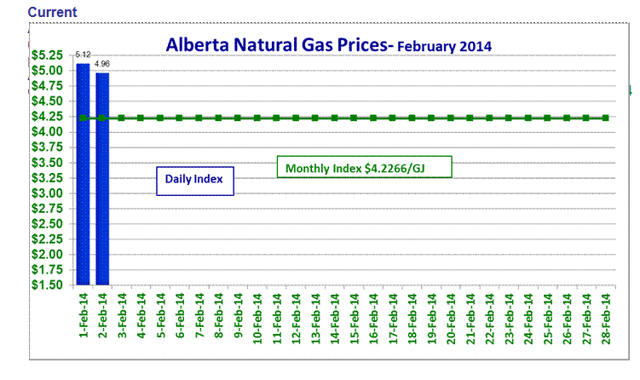 Source: Gas Alberta
Penn West natural gas production should average 219 million cubic feet a day in 2014 by my estimation and the average price Penn West is receiving should be perhaps 10% to 15% above its planned level which has the potential to add about $15 to $20 million to cash flow other things being equal. The benefit of the higher gas price is considerably muted by the hedging program. The other tailwind for Penn West is the decline in the exchange rate of the Canadian dollar versus the U.S. The Canadian currency has dropped about $0.04 versus the U.S. dollar since year end. Each $0.01 adds about $18 million to Penn West cash flows so the current exchange rate would add about $72 million. Together, the higher natural gas prices and lower Canadian currency should improve Penn West's 2014 results by $100 to $150 million in round numbers compared to 2012 and something like $90 to $100 million ahead of its plan.
Of course, commodity prices and exchange rates are well beyond Penn West management's control except to the extent they actively hedge both. More directly under their control is their capital allocation and capital efficiency. Both have been questionable at best and downright poor at worst over the past several years right up until the senior management changes last year. Since that time, we haven't got enough data to draw a conclusion so the jury is still out.
I am a big fan of Chairman Rick George and I think that Penn West has a first class board of directors. We will see in due course if the management changes achieve the intended results.
Investors have every right to be wary of Penn West given the weak performance for quite some time. I am willing to bet they deliver so I have added to my long time holding of 15,000 shares by purchasing long-term options on another 30,000 shares, 10,000 of which mature this August and the remaining 20,000 in January 2016, all at a $5.00 strike price. I have a short position of 5,000 shares in U.S. dollars offsetting my long holdings in a Canadian dollar account simply to hedge out some of the currency risk since I expect the Canadian dollar to fall further. If I am right the Canadian dollar value of the stock will rise in relation to the U.S. dollar price and I will benefit from the spread between the two currencies.
Time will tell of course. Penn West is a risky investment and I certainly do not recommend the shares to anyone. That is something each investor should decide for themselves in the context of their own investment goals and portfolio, hopefully with the help of a professional.
Good luck with your investments.
Disclosure: I am long PWE. I wrote this article myself, and it expresses my own opinions. I am not receiving compensation for it (other than from Seeking Alpha). I have no business relationship with any company whose stock is mentioned in this article.