Coal and coal stocks have been down for a long time. Fundamentals on coal have been poor as supply has outpaced demand keeping prices low in turn causing problems for the companies that focus on the space. But in recent earnings releases (EPS) two companies, ACI and BTU, have made comments that indicate things may be improving which struck us as very interesting. Additionally, natural gas prices have spiked substantially of late which has led to increased coal use in generating power.
Below are the comments from ACI and BTU from their EPS:
· BTU:
We look for continued record coal use in 2014 as developing nations increase coal imports and developed nations capitalize on coal's cost and reliability advantage over natural gas and renewables… coal demand growth is expected to exceed supply increases, leading to improved fundamentals as the year proceeds. U.S. coal demand is rising and now accounts for over 40 percent of electricity generation as utilities switch back to coal due to higher natural gas prices…Last year, coal inventories declined at the fastest pace in 13 years and are now approaching normal levels in our key markets. Source: BTU EPS
· ACI:
Domestic thermal coal market fundamentals improved over the course of 2013. According to internal estimates, U.S. coal consumption for power generation rose by more than 35 million tons in 2013, while U.S. coal production totaled 984 million tons, the first time since 1993 that domestic coal supplies fell below the 1-billion-ton mark. As a result, U.S. power generator coal stockpiles fell meaningfully over the course of the year, and reached the lowest year-end level since 2006 of approximately 148 million tons. Arch expects U.S. thermal coal markets to tighten further in 2014, with favorable weather trends and healthier economic activity driving increased power demand. In addition, elevated natural gas prices compared with prior years should ensure that western coals - as well as most eastern coals - are competitively priced for power generation. Even with growth in U.S. coal supply, Arch projects additional drawdown on coal stockpiles during 2014. Source: ACI EPS
It is hard to say if things materialize as the companies expect or if the space continues to stay down but we think their comments are worth considering given the amount of time the space has been down.
Natural gas prices have risen substantially as energy demand has gone up in conjunction with inadequate supply. Coal is said to be picking up the slack left by natural gas while the pricing differential between coal and nat gas should cause demand for coal to grow (see BTU comments above). Logically if gas prices stay up coal prices should move higher as coal begins to replace natural gas where possible to reduce costs.
The following chart displays the relationship between coal futures and natural gas futures since 2001 (coal blue, nat gas red).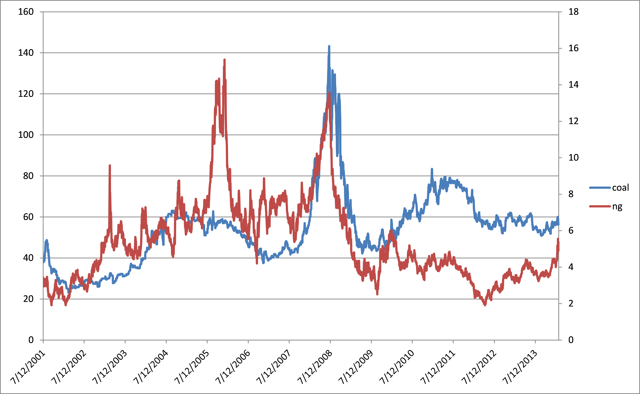 Data Source: Bloomberg
We see they generally follow each other with some minor exceptions in the mid-2000s when natural gas experienced price spikes. We found the correlation between the simple monthly returns of the two back to 2001 to be +34%. While hardly amazing, this correlation demonstrates the positive relationship.
We also notice from the chart above that coal has not experienced the move upward that natural gas has in recent months. More specifically, natural gas futures rallied over 38% from the end of October 2013 to the end of January 2014 while Coal futures were only up +4.3% in the same period. Traditionally, when natural gas goes up over +15% in a 3 month period, coal goes up +8% on average in the same period while coal tends to be up +2.4% the following month and +7.8% in the following three months (we used >+15% at the natural gas qualifier to get a reasonable sample size). Point being, history tells us that based on natural gas moves coal should start rallying in the coming months. At the same time, the coal companies are telling us the fundamentals are improving, a good combination.
From our analysis, volume in coal futures appears to be very minimal, besides futures often aren't good investment vehicles for a host of reasons. Stocks are often a better investment vehicle as they don't suffer the same problems and they can pay dividends. In light of this and in combination with all of the above, we examined how various coal equities respond to changes in natural gas and coal futures. ACI and BTU were the primary stocks we chose to focus on given their optimistic commentary above. We also looked at CNX because it is big (market cap) and trades good volume ($/day).
No real genius went into looking at the stocks; the premise was essentially the same as that between coal and natural gas futures above. But we wanted to look at the stocks independently to see if they followed coal and natural gas as well.
To start, we found the monthly correlations of the coal stocks to coal futures since 7/2001. The correlations were: CNX +37%, ACI +43%, and BTU +35%. We also looked at the stock correlations to natural gas which were: CNX +44%, ACI +43%, and BTU +36%. Essentially, the correlations were the same for BTU and ACI while CNX had a higher correlation to natural gas. Given this we also calculated the move in the stocks after a move like we just witnessed in nat gas. Since stocks are more investment oriented we looked at the return over the following three and six months.
CNX tends to be up +2.58% on average in the three months after a move up of 15% or more in natural gas futures in the prior three months. ACI tends to be up +3.59% on average while BTU is up +5.44% on average. We extended the stock holding period to 6 months which resulted in the following average expected returns: CNX +4.81%, ACI +2.82%, and BTU +8.97%. The message is clear, big moves up in natural gas tend to result in the coal stocks moving higher in the subsequent three and six months.
In addition to the individual equities, there is the KOL ETF which is comprised of a diversified collection of global coal companies. Holdings can be found here. History only goes back to 2008 so we didn't run the full analyses above instead opting to find the correlation of KOL to ACI, BTU, and CNX. The correlations based on weekly simple returns were: ACI +86%, BTU +87%, and CNX +86%. So KOL could be a more diversified alternative to pursue a long investment or trade.
In aggregate, coal stocks look interesting on the long side. The nearby 1 year low prices could serve as a reasonable stop loss as a violation would likely indicate the timing is not yet right. Monitoring coal company comments and natural gas prices could provide clues about how the concept is progressing.
Disclosure: I have no positions in any stocks mentioned, and no plans to initiate any positions within the next 72 hours. I wrote this article myself, and it expresses my own opinions. I am not receiving compensation for it. I have no business relationship with any company whose stock is mentioned in this article.