Quick Overview
With interest rates set to rise in 2014, we are looking for positive exposure to increasing interest rates. Below I will discuss a few names in the Financial sector that could benefit from rising rates and/or continued strength in the equity markets due to decreasing appeal in the fixed income space.
The above chart shows the S&P 500 and the names discussed below, with the exception of Calamos which was eliminated from consideration due to several reasons: namely price, valuation, and under-performance relative to peers.
Competitive Advantages in Asset Managers
Publicly traded asset managers typically benefit from a narrow to wide 'moat' when it comes to competitive advantages. For larger, established players, this moat comes from established distribution channels (financial advisors that sell funds), high switching costs (unknown benefits from changing financial advisors, time, and costs), and intangible assets (brand value of funds).
Barriers to entry are not particularly high within the industry, however, in order to attract assets that create beneficial scale, experience, returns, and skill must be acquired first.
Lastly, companies that have long track records and shown the ability to gather assets during market boom and busts show credibility and increased probability of long term success over smaller players in the market.
Waddell & Reed (NYSE:WDR)

Valuation based on 5 year EPS growth rate of 17.8%, 10 year future revenue growth rate of 8% and discount rate of 10.5%. Note: DCF Model much lower than other Multiples.
Waddell & Reed benefits from a brokerage force of approximately 1800 financial advisors, that allow the company to scale easily its large distribution channel, where most of its peers must pay to have funds distributed. As of the end of Q3 2013, WDR had just over 80% of its total AUM in equity-driven strategies according to company filings, with Fixed Income and Money Market strategies comprising the remaining 20%. This lack of diversification can pose a risk during volatile equity markets, but close to 2/3 of the products sold through its advisors are held in retirement vehicles.
WDR does have concentration risk due to the fact that 25% of its AUM is under the Ivy Asset Strategy family. The Ivy strategy also comprises ~30% of total sales. However, management has been working hard to diversify the revenue base, as evidenced by products other than Ivy Asset Strategy comprising more than 60% of total sales, up from 40% a few years ago.
Additional risks stem from the fact that 50% of annual revenue is derived from management fees on AUM. This could be problematic during market downswings and net outflows. WDR also generates significant income from distribution fees collected through brokerage distribution platforms, that has come under SEC scrutiny recently. Lastly, the increased use of third-party distribution, which has fueled much of WDR's organic growth over the past several years, has led to material increased in client redemptions, reducing the asset stickiness moat. Redemptions over the past 5 years has averaged 30%, compared to 10% from its own advisor channels.
SEI Investments Company (NASDAQ:SEIC)

Valuation based on 5 year EPS growth rate of 12%, 10 year future revenue growth rate of 8%, and discount rate of 10%.
SEI benefits from high switching costs but has risk in its high exposure to capital market movements. Over the past several years, this positive correlation has bode well for SEI as it operates a single style manager model. This, however, can lead more easily to investor flights and performance issues.
The future of SEI appears to rely on the success of its turnaround efforts in its private banking sector. With much of SEI's revenue tied to AUM, there is not much in control for a management's standpoint. The SEI Wealth Platform development, however, is. This accounts for roughly 37% of sales and management believes this new private banking platform will give SEI an end-to-end, full suite product line to better keep in line with client demand.
Over the past five to six years, SEI has invested heavily in this platform that has been met with mixed results. Expectations are certainly high, but have not yet been met with the segment operating close to break even. The focus on long term growth is a positive initiative from management, but execution must be had. If the segment can become a material contributor to revenue, which is not expected in the near term, perhaps the value of the company will increase prior to stock appreciation.
According to ValueLine, revenues and income both advanced at double-digit growth rates for the third quarter of 2013 largely supported by growth in assets and fees. The previously mentioned investment in the Wealth Platform, ValueLine states that the Private Wealth platform has hit some short term snags with delayed contracts signings, but the plan to further automate operations in the US and UK, primarily with larger clients, should yield future revenue opportunities.
Federated Investors, Inc. (NYSE:FII)

Valuation based on 5 year EPS growth of 3.17%, 10 year revenue growth rate of 6% and discount rate of 11%.
Probably the most interesting name of the three, Federated Investors is perhaps the best play on rising rates we have come across thus far. Federated is not as diversified as most other asset managers with 75% of its total AUM in Money Market funds. This, however, is the primary reason for increased expectations in the future.
Despite the heavy exposure to low yielding money market funds, FII has been able to run a highly profitable operations during this time. FII benefits from scale, with approximately 270 billion dollars in money market assets, according to Morningstar. This makes FII ones of the largest players in the US.
There is no doubt the equity market rally has helped support FII's revenue base during the low yield environment for the large majority of its portfolio. However, the firm cannot support reliance on equity market appreciation in entirety over the long term. Fortunately, expectations are nearly consensus that interest rates will rise in the next 12 months, which will greatly benefit FII.
One of the most intriguing aspects to this investment is the lack of performance in the company that is driven by short term problems: money market fee waivers. According to company filings, Federated had to waive $105 million in money market fees in the fourth quarter, which totals $389 million for the full year. Fourth quarter revenue declined 12% partly as a result. Additionally, full year revenue declined 7%, to the lowest in nearly a decade.
This should come as no surprise given the declining rates to historic lows.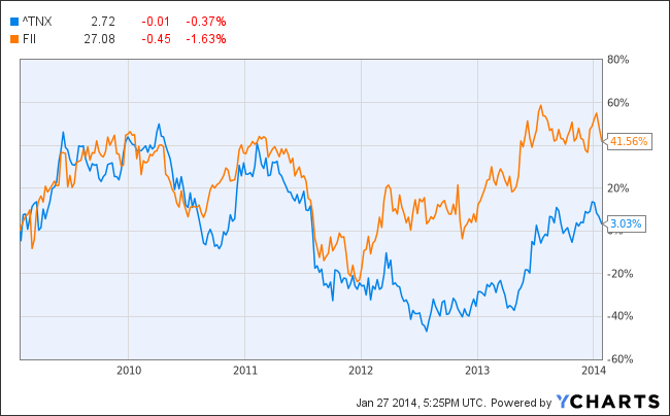 Following the negative revenue trend in 2013, 2014 should be a better year for FII. The climb will not be linear however, as expectations about rates could proceed increases, pushing valuation higher than normal levels or rates could grow more slowly than anticipated. Much still hinges on the Federal Reserve's plans to taper it's QE program that has a transmission mechanism on interest rates. However, given the overall financial health of the company, strong management and brighter future, we are very high on FII.
Please note that all valuations are considered to conservative in that growth rates are typically discounted relative to Wall Street consensus and if presented with multiple rates, the lower is chosen, for example.
Disclosure: I have no positions in any stocks mentioned, but may initiate a long position in FII over the next 72 hours. I wrote this article myself, and it expresses my own opinions. I am not receiving compensation for it. I have no business relationship with any company whose stock is mentioned in this article.