In December, Teva Pharmaceuticals Industries' (NYSE:TEVA) 2014 Outlook Conference Call was very depressing for the company. Teva had recently parted ways with its former CEO Dr. Jeremy Levin and it presented a very dour outlook for its investors. Teva projected that it would earn $4.80-$5.10 on a non-GAAP EPS basis if it assumed that none of its competitors would be able to make a generic Copaxone in 2014. Teva also projected $4.20-$4.50 if its competitors were able to get FDA approval on June 1, 2014, when Copaxone goes off patent. Fortunately, for Teva's long-suffering shareholders, Teva was able to hire a new CEO recently (Erez Vigodman of Makhteshim Agan Industries). Vigodman gained a reputation as a turnaround specialist at Makhteshim Agan Industries and is currently a member of Teva's Board of Directors. Teva also announced the following additional pieces of good news:
Teva's New CEO:
Teva's New CEO Erez Vigodman served as the CEO of Makhteshim Agan Industries, a leading global agrichemical concern, from 2010 to 2014. Vigodman earned a reputation as a turnaround specialist, as he was able to improve the company's revenues (+37.5% estimated FY 2013 versus FY 2009), adjusted EBITDA (+88%) and operating margin (+406bp) while serving as Makhteshim Agan Industries' CEO. Prior to this role, Erez served as President and Chief Executive Officer of Strauss Group Ltd.; Chief Executive officer of Elite Israel; and a partner at KPMG Somekh Chaikin. Mr. Vigodman is a member of the Advisory committee to the National Economic Council, a member of Teva's Board of Directors since 2009, and a chairman of the Be'atzmi fellowship association. I hope that Vigodman's relationship with Teva's other board members will enable him to keep the board from micromanaging Teva's affairs. One caveat about Vigodman's hire is that he came from the same company that former Teva CEO Shlomo Yanai came from (Makhteshim-Agan Industries Ltd.)
Longtime Teva shareholder activist Benny Landa even expressed his approval of Teva hiring Vigodman as its CEO. After Levin's departure, Landa urged institutional investors to call for a special meeting to propose governance changes. He sought a reduction in the size of the 16-member board, the addition of pharmaceutical industry veterans as directors and changes to the company's articles of association to make it easier to oust directors and to amend the articles, according to letters he sent to investors that Bloomberg reviewed.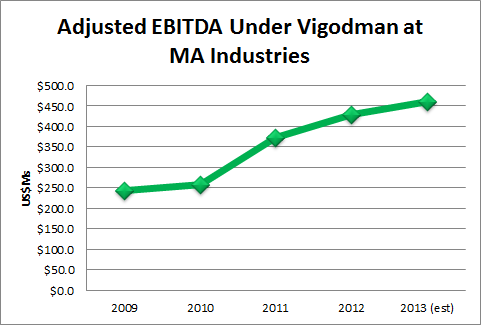 Source: Makhteshim Agan Industries Investor Relations
Teva's Administration and Finance
Teva announced a deal with the Israel Tax Authority to pay NIS 2.54B (~US$718M) to for the release of trapped profits, settling tax assessments for the years 2005-2007, and applying similar principles through 2011. This includes the payment of NIS 336M ($95M) made in May 2013. Teva expects to incur a charge of approximately $235M to be reported in the fourth quarter of 2013, which will be reflected in its non-GAAP results. I am encouraged by this deal as it settles TEVA's tax disputes with the government and potentially enables it to maintain its strong dividend growth record.
Teva FY 2014 Non-GAAP EPS target of $4.80-$5.10 (likely scenario) and $4.20-$4.50 (worst case scenario) depending on the ability of competitors to get FDA approval for a version of Copaxone once it goes generic on June 1, 2014. In this analyst's opinion, the $4.80-$5.10 was the more likely scenario and this thesis was confirmed when Teva announced that differences in biological and immunological effects between Copaxone (glatiramer acetate, GA) and a purported generic glatiramer acetate (NYSE:GA), marketed in India, (Glatiramer®, Natco Pharma, Ltd., Hyderabad, India), with potential clinical ramifications. This confirmed that Copaxone was not a drug that could be easily replicated, which would help Teva preserve its level of revenues and cash flows.
Teva is targeting $2B in annualized cost savings by 2017 relative to its 2012 annualized expense run rate. Teva's management estimates that $1B or 50% of the $2 billion annual cost saving will be realized by the end of 2014 and 70% by the end of 2015. I expect the majority of the savings to come from the reduction in Teva's cost of goods, procurement and people and Teva will partially reinvest these savings into high potential R&D programs. Here are some of the areas of budgetary bloat that TEVA is targeting for cost savings:
Shifting drug manufacturing from the U.S. to Eastern Europe and Asia.
Reducing hiring of outside consultants
Scrapping 20 of its least promising R&D programs and reducing its R&D headcount by 25% versus 20 months ago
Support operations are being consolidated into five shared service centers globally. Until now, finance and accounting were handled within any of 62 countries.
The company is whittling down 15 IT systems with 20 modes of data submission in different countries to a single system.
The most significant savings for Teva, Oberman said, will come from efficiencies to its process of purchasing goods and services from some 25,000 suppliers.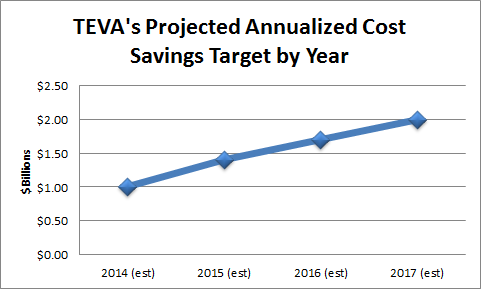 Source: Genetic Engineering & Biotechnology News
Finally, Teva offered to buy NuPathe (PATH) for $3.65/share, well above the $2.85/share bid from Endo Health Solutions (NASDAQ:ENDP). Teva would pay another $3.15 a share depending on sales of Nupathe's Zecuity treatment, the only FDA-approved prescription migraine patch. Endo also offered that amount in milestone payments. Nupathe's board believes that Teva's offer "is reasonably expected to lead to a superior proposal" and will hold talks with the Israeli company.
Teva's Drug Related Operations:
Teva settled its patent litigation with Pfizer regarding Teva's generic version of Pfizer's Viagra tablets. Under the terms of the agreement, Teva will be able to launch its Abbreviated New Drug Application (ANDA) products pursuant to a royalty-bearing license on December 11, 2017, or earlier under certain circumstances. Viagra had $1.2B in annualized revenues in the US as of Q3 2013 based on IMS sales data.
Teva received FDA approval of the generic equivalent to TOBI (Tobramycin Inhalation Solution USP) in the United States. Pursuant to an agreement with Novartis on this product, Teva launched this product in late November. Marketed by Novartis, TOBI® had annual sales of approximately $350M in the United States, according to IMS data as of Q2 2013.
Teva announced the launch of the generic equivalent to Zemplar (paricalcitol) tablets in the United States as of September 30, 2013. Teva was first to file, making the product eligible for 180 days of marketing exclusivity. Zemplar (paricalcitol) Capsules are an active form of vitamin D used to prevent and treat secondary hyperparathyroidism (increased parathyroid hormone levels) in patients with Stage 3 or Stage 4 chronic kidney disease and in Stage 5 patients on dialysis. It is an active form of vitamin D. Marketed by AbbVie Inc., Zemplar® had annual sales of approximately $115M in the United States, according to IMS data as of Q2 2013.
Earlier in the month, Teva announced the launch of the Authorized Generic of Detrol* LA (tolterodine tartrate extended-release capsules) 2 mg and 4 mg in the U.S. market. Detrol LA had annual sales of approximately $571.5M in the U.S., according to IMS data as of Q3 2013.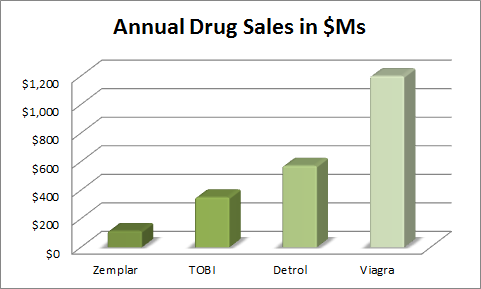 Source: Teva Pharmaceuticals Industries News
Next year, Teva plans to defend its Copaxone/MS franchise with the launch of Copaxone 40mg in the US and NERVENTRA (brand name for Laquinimod) in Europe
Teva and Takeda announced a deal where licensed to Takeda the right to commercialize Teva's innovative glatiramer acetate (active ingredient) formulation for the treatment of multiple sclerosis, in Japan. Teva and Takeda are currently working on further agreements in connection with the implementation of this license.
In 2012, Teva spelled out its NTE (New Therapeutic Entity) strategy and achieved significant progress towards its development in 2013. Teva provided a target of 10 to 15 new products from the NTE program of 2013. Teva currently has 15 products including 14 products under development, the majority of which it will submit for approval in the next three years. In addition Teva licensed ADASUVE, an approved product that will be launched in early 2014. ADASUVE is used for the acute treatment of agitation associated with schizophrenia or bipolar I disorder in adults. Teva created a sustainable platform to enabling it to generate approximately 10 new NTE programs each year. I believe that the NTE process will be an important growth driver for Teva and generate between $1B to $1.5B in 2018 and $3B by the end of this decade.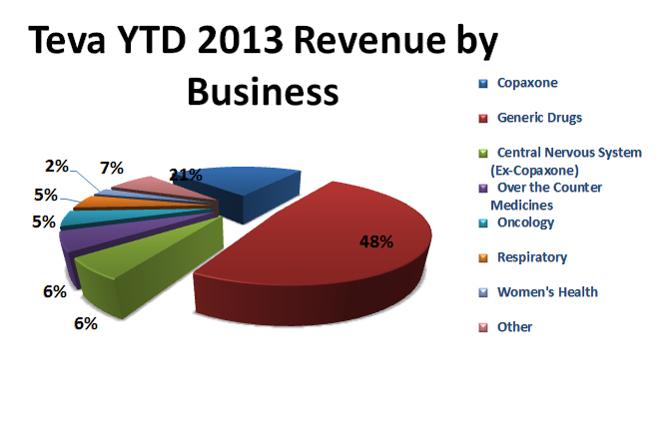 Source: Teva Pharmaceuticals Industries Q3 2013 Report
Conclusion:
In conclusion, Teva is starting to turn a corner. Teva's stakeholders have not had much to cheer about since Teva's shares hit its peak of $64.95 in March 2010. Investors have been disappointed in Teva because its turnaround is taking longer than anticipated. However, Teva's operating results appear to be stabilizing and I expect it to make progress in cutting costs and getting back to focusing on its core operations rather than engaging in the acquisition binge that was the hallmark of the Shlomo Yanai era. Investors can see that Teva's Copaxone is not a drug that is easily replicable by other generic drugs and Teva is coming to market with new products in order to wean itself off its dependence on Copaxone. Teva's efforts are bearing fruit as it has generated solid, double-digit revenue growth from its Over-The-Counter (+27%), Respiratory (+11%), Oncology (+15%) and Other Specialty (13%) product lines in the first nine months of 2013 and I expect Teva to continue this in Q4 2013 and FY 2014.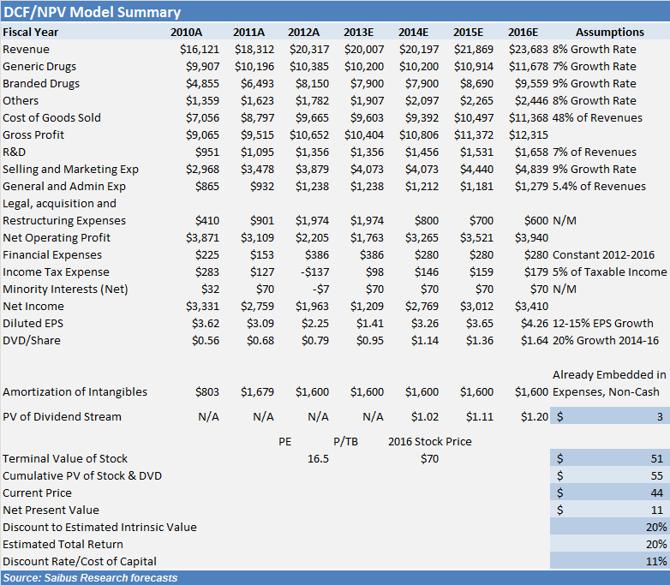 Disclosure: I am long TEVA. I wrote this article myself, and it expresses my own opinions. I am not receiving compensation for it (other than from Seeking Alpha). I have no business relationship with any company whose stock is mentioned in this article.