On January 31, toy maker Mattel (NASDAQ:MAT) reported disappointing fourth-quarter financial results that sent tremors through much of the physical toy industry. The firm noted that worldwide net sales fell 6% from the prior-year quarter, with North American gross sales down 10% and 'International' sales roughly flat with the same quarter a year ago. Weakness across its core brand portfolio was startling: Barbie down 13%, Hot Wheels down 8% and Fisher Price down 13%. The only core brand that advanced was American Girl, which nudged just 3% higher. Adjusted earnings per share came in at $1.07 versus the $1.12 mark in last year's quarter. Though the bottom-line results missed expectations by $0.13, it didn't stop the board from raising the dividend 6%, to $1.52 per share on an annualized basis.
The demand for physical toys has been under pressure for some time as younger children continue to prefer digital games and other electronic learning tools. Mattel had expected 2013 to be a "challenging and transformative year," but fourth-quarter performance stunted what otherwise would have been a solid year in the wake of a global toy industry that has held up pretty well. Vicious winter storms across much of the US may have impeded traffic and physical-toy buying to a degree, but this was only partly to blame. Given the performance of Mattel's tried-and-true core brands during the period, it's difficult to deny that mobile devices and electronics are stealing share from the physical toy market. Many youngsters are also finding 'apps' (games) on Apple's iPad/iPhone to be compelling alternative to traditional toys, and parents don't mind that the 'apps' are free to download in many instances.
Still, we think concerns about the obsolescence of physical toys are overblown. We also cannot lose sight of the fact that Mattel's full-year results were flat versus the prior year on an adjusted basis (both on the top- and adjusted operating-income lines), despite the weak performance in the fourth quarter. Though net cash flows from operations dropped versus the prior year due to higher working capital usage, cash flow from financing activities fell by a greater amount. In any case, we're keeping a close eye on inventory levels, which may cause Mattel to engage in some relatively large discounting to clear an abnormal working-capital build.
Valuentum's Take
Mattel's peer and Dividend Growth portfolio holding Hasbro (NASDAQ:HAS) will report its fourth quarter February 10. Mattel's results indicate that performance won't be very rosy for Hasbro either, but expectations have now been reset lower for Hasbro and we'll wait until we have more information to evaluate our position. For now, we're very happy with Hasbro's substantial 50%+ gain in the Dividend Growth portfolio (since inception) and the company's 12 percentage points of relative outperformance versus the S&P 500's return over the same time horizon.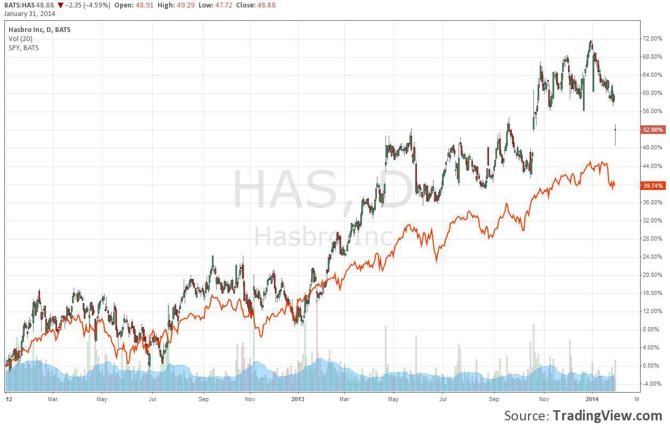 Image Source: HAS vs. S&P 500 (NYSEARCA:SPY)
Disclosure: I have no positions in any stocks mentioned, and no plans to initiate any positions within the next 72 hours. I wrote this article myself, and it expresses my own opinions. I am not receiving compensation for it (other than from Seeking Alpha). I have no business relationship with any company whose stock is mentioned in this article.
Additional disclosure: HAS is included in the portfolio of our Dividend Growth Newsletter.