The stock market continues to behave in an orderly way. Following the recent -6% peak to trough correction on the S&P 500 Index (NYSEARCA:SPY), it appears the worst of the pullback may be behind us for now following a sharp upside reversal late last week that has characterized so many bounces in the post crisis period. But just because the market looks like it is once again on the mend does not mean that all is well. Investors were notably rattled during what was otherwise a mild correction over the last few weeks for good reason, as significant structural imbalances continue to fester underneath the global economic surface. And the latest warning shot across the market bow has provided important lessons for what we should expect and how we might position if and when these mounting pressures finally boil over into crisis.
Stocks were overdue for a bounce having fallen too far, too fast. And once they arrived at two key support levels in the form of the 150-day moving average and the upward sloping trend line on the S&P 500 Index in recent days, the reversal higher quickly followed.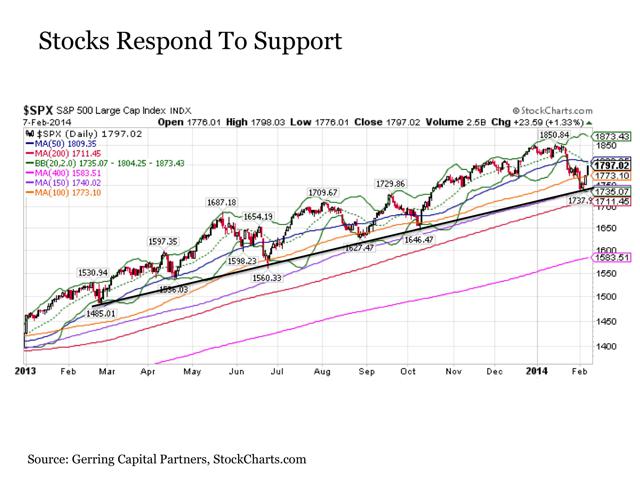 The stock market's latest response to key technical levels demonstrated once again how orderly the recent correction has been. Just before 10:30AM on Wednesday, the S&P 500 Index briefly touched its 150-day moving average. And from that moment on for the remainder of the week, stocks suddenly reversed into virtually uninterrupted rally mode.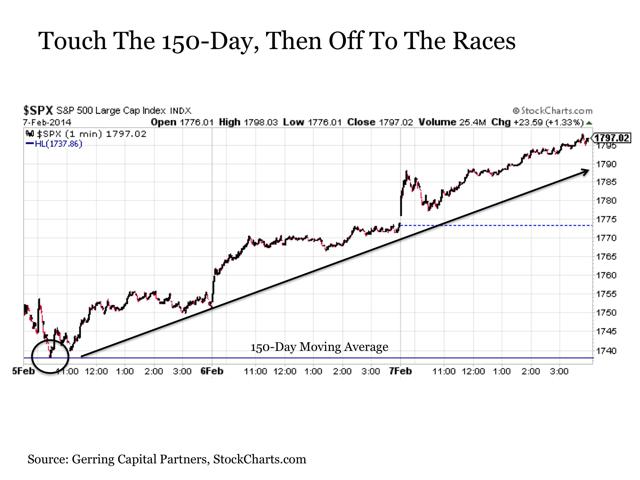 The Volatility Index (NYSEARCA:VXX) further supported the notion that a stock market bounce was imminent once it had reached the high end of its recent range at levels that had marked the late June and early October lows.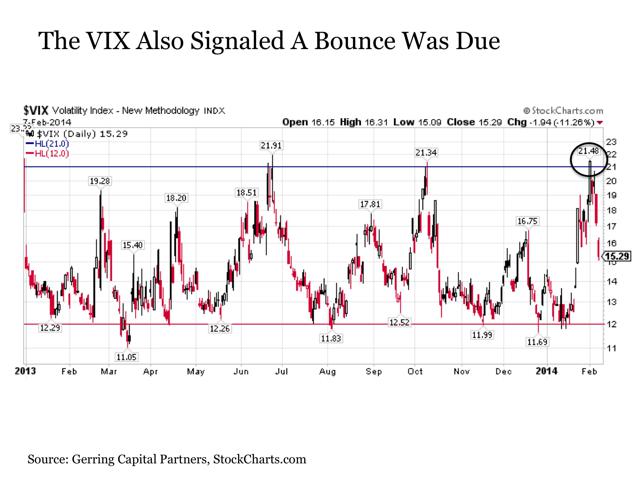 So despite the hand wringing in the headlines about markets in panic and descending into crisis, the latest pullback was generally well behaved and organized. In fact, all of the worries about a developing meltdown in emerging markets were nothing more than talk (at least at this point). For example, emerging market currencies (NYSEARCA:CEW) in aggregate responded well to support.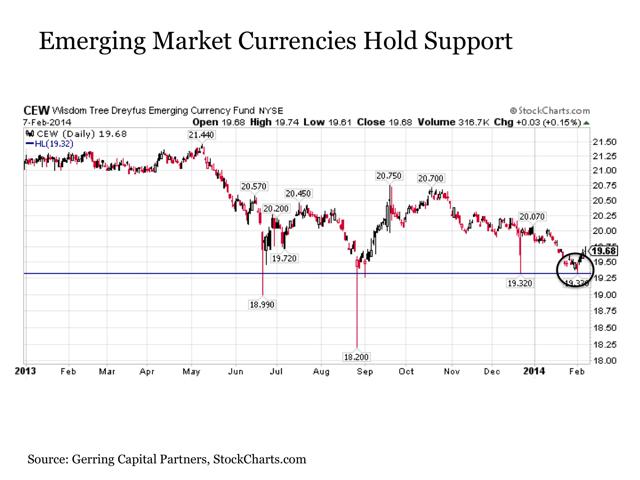 And in probably the single best example of how much the concerns over emerging markets were being overblown (once again, at least for now), the iShares JP Morgan USD Emerging Markets Bond (NYSEARCA:EMB) moved above its 200-day moving average for the first time since May 2013 on Friday. Such are not the price movements of a market that is in chaos.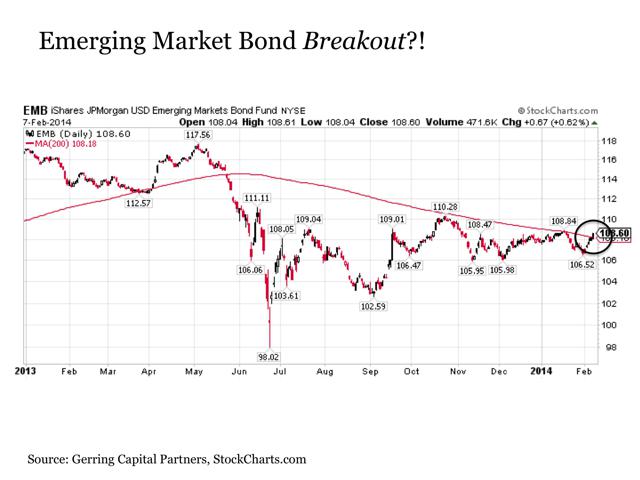 So clearly all must be well then, right? Stock investors can simply go back to their 2013 ways of staying long and making sure their buy orders are in before 10:30AM to catch the daily Fed stimulus train higher for the rest of the trading day, right? The answer? No. While we are likely to see the market rally at least for the next few weeks into the March/April time frame and we may even set a new all-time high in the process, the market is likely on borrowed time at this point. Not only are stocks long overdue for a correction, particularly at stretched valuations, but the market is facing increasing risks from the various pressures that continue to build under the surface.
The recent market correction represented the latest warning shot across the bow for the market. And it has provided a number of important clues about where exactly the pain is most likely to be felt and what categories if any may not only escape largely unscathed but may also actually thrive once the pressures that have been increasingly dogging the global economy and its financial markets finally boil over.
The following are the key takeaways from the latest correction as we look out over the months ahead.
First, we now essentially know where the epicenter of the next crisis will likely reside. In early 2000, it was overvalued technology stocks. In early 2007, it was financials. Today, it is emerging markets. In particular, it is specific major emerging markets with current account deficits such as Turkey (NYSEARCA:TUR), Brazil (NYSEARCA:EWZ), South Africa (NYSEARCA:EZA), Indonesia (NYSEARCA:IDX) and India (NYSEARCA:EPI) that are struggling to varying degrees with the prospects of destabilizing capital outflows as global central banks including the Fed continue to withdraw from applying further stimulus. It is never a good or stable situation when an independent central bank like Turkey's is compelled to raise interest rates by 4.25 percentage points all at once. Nor is it a positive when a 0.50 percentage point hike in rates like we saw in South Africa is considered an unimpressive policy response. As recent history has taught us, the notion of deploying "shock and awe" and "bazookas" often end up being duds in the end. Beyond these at risk markets, the situation that continues to unfold in China (NYSEARCA:FXI) has the potential to make anything developing from these other emerging markets to appear minimal in comparison.
Second, we also know that the impact of any emerging market ddestabilization will likely have spillover effects on all global markets. As has been confirmed in the past, we live in a globally interconnected marketplace. Thus, any notion of decoupling or the benefit of capital inflows back into developed markets is likely to go unrewarded in the end given the magnitude of leverage in the financial system, as all stock markets are likely to suffer in varying ways.
Third, the fuel of central bank asset purchases that have fueled markets higher for so many years appears to be finally going away. While the initial application of quantitative easing found great success in rescuing the global financial system, it has failed in the years since in generating anything resembling a sustainable economic recovery. When the Fed announced QE3 in late 2012, it was done with the implicit intent to effectively fire the full policy bazooka with the shock and awe of unbounded asset purchases to finally ignite a sustained economic recovery. But instead of achieving this goal, it did little more than inflate stock prices as the global economy continued to sputter. As a result, the Fed has been left with a still struggling economy that is now at greater risk due to the artificial inflation of global asset prices, hence the current dilemma in emerging markets. Moreover, the Fed quickly found itself in the most uncomfortable spot by the spring of 2013 of being trapped by the markets and unable to withdraw from its extraordinarily aggressive stimulus, as they essentially spent the remainder of the year trying to begin extracting themselves from the program. The only thing worse than needing to fire the bazooka is losing control of the weapon as your firing it. It is for this reason that the Fed was out almost within minutes after the lousy jobs report on Friday stating that they plan to continue tapering as scheduled in the months ahead, for now that they have finally found the path to extract themselves from further stimulus, they are likely to stay the course barring something absolutely catastrophic along the way.
Fourth, Fed stimulus is likely to continue to have an inflating impact on stock prices as long as the slowly fading QE3 is still in operation. Although tapering is tightening, monetary conditions still remain sufficiently loose to juice stock prices on a daily basis and continue to push them even further away from their true equilibrium price. One has to look no further than the stock market on any given morning between 10:15 and 11:00AM for evidence of this Fed influence. For the market has shown the propensity on so many trading days to reverse an initial downtrend and explode higher for the remainder of the session once we have entered this time window, which happens to correspond to when the Fed is carrying out its daily Treasury purchases as part of its stimulus program.
Fifth, uncorrelated to negatively correlated asset classes such as U.S. Treasuries and precious metals are likely to perform well when stock market declines are orderly as they were during the latest market decline. For example, long-term U.S. Treasuries (NYSEARCA:TLT) gained over +4% during the recent stock market decline, while gold (NYSEARCA:GLD) is up around +2.5%. Even the more positively correlated categories such as high yield bonds (NYSEARCA:HYG), preferred stocks (NYSEARCA:PFF), REITs (NYSEARCA:VNQ), utilities (NYSEARCA:XLU) and even emerging market debt have performed particularly well during the latest stock correction. And low volatility stocks (NYSEARCA:SPLV) outperformed their high beta (NYSEARCA:SPHB) counterparts by nearly three percentage points. Thus, broad asset class diversification should be rewarded as long as the stock market correction is orderly.
Lastly, cash and short-term Treasuries will likely be the only asset classes to own in the event that the stock market decline becomes disorderly or even chaotic. Unfortunately, this is a distinct possibility in the coming months given the amount of leverage that currently exists in the financial system. For when one needs to deleverage, recent history has shown that investors will sell any and all asset classes to raise cash if necessary. This was clearly demonstrated in May and June of 2013, for as orderly as the recent correction has been to date was as unruly the pullback was last spring. During that -7% stock correction, Treasuries and Gold were down more than -7% over the same time period. And unlike today where higher yielding categories were outperforming with positive returns in many cases, they were falling just as much if not more last spring including a double-digit decline in emerging market bonds. Thus, if it turns out that suddenly things start to get really out of hand for capital markets, there will likely be little if any place to hide other than cash once these forces take hold.
So now that stocks appear to be on the mend, the understandable next question is what investors should do now? First, use the market pullbacks to add selected positions that can not only benefit if stocks continue higher beyond all comprehension once again in 2014 but can also be comfortably owned if the market were to enter into a sustained and prolonged bear market. Higher quality large cap names with relatively low price volatility tend to fit this bill the best. And use market rallies to trim stock positions that are less equipped to hold up well during a major market correction while also using the opportunity to strategically add to uncorrelated to negatively correlated categories such as bonds and precious metals that are likely to be sold off as the stock market rallies. For example, we have already seen long-term Treasuries decline by over -2% in recent days as stocks started to bounce. In addition, investors may be well served to hold a higher than normal allocation to cash and cash equivalents in the event that market conditions suddenly become chaotic, which is a distinct risk on any given trading day given where circumstances have evolved to this point. Lastly, those more assertive investors with higher risk tolerances may even consider adding inverse positions or using options directly if it appears that we are either on the brink or in the very early stages of a new bear market phase in the coming months.
It promises to be an interesting year for the markets as we move through 2014. We are no longer in a phase where one can simply enjoy the ride higher in stocks, as volatility is likely to play a greater role in markets as the year progresses. Thus, investors will need to stay on guard for potential action if necessary in the event that what was once a warning shot finally evolves into a full blown engagement.
Disclosure: This article is for information purposes only. There are risks involved with investing including loss of principal. Gerring Capital Partners makes no explicit or implicit guarantee with respect to performance or the outcome of any investment or projections made. There is no guarantee that the goals of the strategies discussed by Gerring Capital Partners will be met.
Disclosure: I am long SPLV, XLU, PFF. I wrote this article myself, and it expresses my own opinions. I am not receiving compensation for it (other than from Seeking Alpha). I have no business relationship with any company whose stock is mentioned in this article.
Additional disclosure: I am also long selected individual stock names.