Salesforce.com (NYSE:CRM) is the world's largest provider of customer relationship management software. CRM generates most of its revenue from subscription and support fees. But a portion of revenue is generated from professional services. CRM is still in the growth phase and is set to report its latest quarterly and annual results later this quarter.
Fiscal 2014 revenue is forecasted to be in the $4.05-$4.055B range with a GAAP EPS in the range of ($0.45) to ($0.44). Fourth quarter revenue is projected to be in the $1.124B to $1.129B range, which is a 35% y/y increase; the GAAP net loss per share is expected to be in the range of ($0.25) to ($0.24). Also, CRM is forecasting FY15 revenue of $5.15-$5.20B, which would be about 28% above FY14 revenue.
The company's products expansion into marketing, service and platform could drive double digits revenue growth over the coming 3 years to 5 years. Also, there is plenty of room for international expansion. But CRM is priced to perfection. There is substantial scope for a share price decline of 9% to 25%, from the $61.60 per share level, following the release of fiscal fourth quarter results. To be fair, the share price could rise to $72, following the report.
Recent Developments
CRM announced soaring adoption of Salesforce1, which is the new social, mobile, and cloud customer platform built to transform how companies sell, service and market for the "Internet of Customers."
Oracle acquired Responsys (NASDAQ:MKTG), which provides enterprise-scale software used to orchestrate marketing interactions across email, mobile, social, display, and the web.
CRM unveiled Salesforce ExactTarget Marketing Cloud, the customer platform for 1:1 marketing.
CRM delivered the new Salesforce1 Service Cloud, which is built to transform how companies deliver amazing customer service.
Business Summary
Salesforce.com is a provider of enterprise cloud computing services. CRM is dedicated to helping customers of all sizes and industries worldwide transform themselves into "customer companies" by empowering them to connect with their customers, partners, employees and products in entirely new ways. CRM provides customers with the solutions they need to build a next generation social front office with social and mobile cloud technologies. Most of CRM's revenue is generated from subscription and support with professional services and other comprising about 7% of revenue.
Total revenues during the fiscal third quarter increased to $1.08B with 91.7% of the increase, relative to the year-ago quarter, attributable to the increase in revenue from subscription and support. The percentage of total revenues attributable to subscription and support declined from 94% to 93%. Total cost of revenue increased 751 basis points faster than total revenue, and the gross profit margin declined from 76.4% to 75.1%. CRM increased the relative investment in R&D. The loss from operations, which is before non-operating income and expenses, grew from 7% of total revenues to 9% of total revenues. But the loss per diluted share decreased as a result of a substantial decrease in the provision for income taxes.
The income statement was adjusted for company lifecycle stage. Net income during 2012's fiscal third quarter would have been $246.1M, which would have increased to $314M during fiscal Q3 2013. Earnings per share would have increased from $0.43 to $0.52. Net income would have increased 27.6%, and earnings per share would have increased 20.9%. Adjusted net income could exceed $500M in the fiscal third quarter of 2016.
The liquidity is ample and the solvency position is durable. The cash ratio, omitting the current portion of deferred revenue, was 0.50, at the end of the fiscal third quarter. The current ratio, excluding the current portion of deferred revenue, was 1.28. Total debt to equity was 0.54, and financial leverage was 2.78. The tangible book value remained negative and was a reported $-582.7M. CRM will probably rebuild its cash balance in the coming quarters, in my opinion, which would increase tangible book value.
The key cash flow measures increased in fiscal Q3 2013, relative to the year-ago period. Cash flow from operations increased 30%, but capital expenditure increased 42%. Free cash flow to the firm increased 35% to $82.9M, and free cash flow to equity increased 5% to $57.7M as $7.5M of debt was repaid during the most recent quarter. The growth rates are considered relatively sustainable in the near term.
To be best of my knowledge, CRM is the only major corporation that is known as "The Customer Company." For example, Oracle Corporation is known for its databases. I think that provides CRM with a competitive advantage and consequently reduces the risk premium that I charge. CRM should be able to generate earnings of more than $0.41 per share during the next twelve months; that assumption adjusts forecasted EPS to account for the company's lifecycle stage.
Risks
The share price is likely to remain volatile and investors could lose a portion or all of their investment.
Investors should judge the suitability of an investment in CRM in light of their own unique circumstances.
A decline in the global economic growth rate and/or a decline in the pace of economic growth in the United States could adversely impact the results of operations and the share price.
The technology industry is characterized by rapid technological change, which could materially adversely impact the results of operations.
Competition in product development and pricing could adversely impact performance.
Incorrect forecasts of customer demand could adversely impact the results of operations.
Higher interest rates may reduce demand for CRM's offerings and negatively impact the results of operations and the share price.
This section does not discuss all risks related to an investment in CRM.
Portfolio & Valuation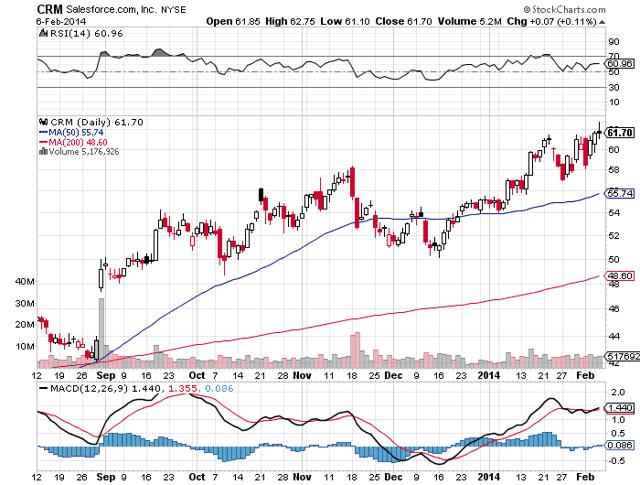 CRM is in a bull market of primary and intermediate degree. Right now, the share price is making a new minor high for the uptrend as it re-tests the $61.50 level. At this point, I would have to forecast a continuation of the uptrend with potential resistance coming in at $65 per share.
There isn't much of a diversification benefit from investing in CRM. While the correlation with the S&P 500 (NYSEARCA:SPY) has declined recently, since 2013 the correlation is 0.80. Since 2009, the correlation is 0.96.
It follows that variations in the price of the broader market explain a substantial amount of the variations of CRM. Since 2009, 91% of CRM's price variations are explained by the variations in the price of S&P 500. Since 2011, 64% of the variations of CRM are explained by the variations of the broader market. Currently, forecasts for CRM should include forecasts for the broader market.
CRM is trading above trend. The 3-months, 6-months, and 12-months price targets are $55.19, $57.33, and $61.62. The current share price is $61.70. Thus, CRM could face a bout of short-term profit taking.
Based on the fundamentals of the company, it should be trading at a premium to the market, on a price/book value basis. But at 12.7 times book value relative to the market's 2.6 times book value pricing, CRM is overvalued, in my opinion. In my model $46.56 per share is the distribution level with the intrinsic value of CRM being $32 per share. To be fair, I can understand why the market is pricing the company at $61.60 per share, but those assumptions are too aggressive for me, at this point. Granted, CRM is in the "aggressive growth" category.
Disclosure: I have no positions in any stocks mentioned, and no plans to initiate any positions within the next 72 hours. I wrote this article myself, and it expresses my own opinions. I am not receiving compensation for it (other than from Seeking Alpha). I have no business relationship with any company whose stock is mentioned in this article.