Pandora (NYSE:P), the internet music service, reported its results for 2013 and audience metrics for January, which confirmed that a sharp slowdown in Pandora's growth rates continues: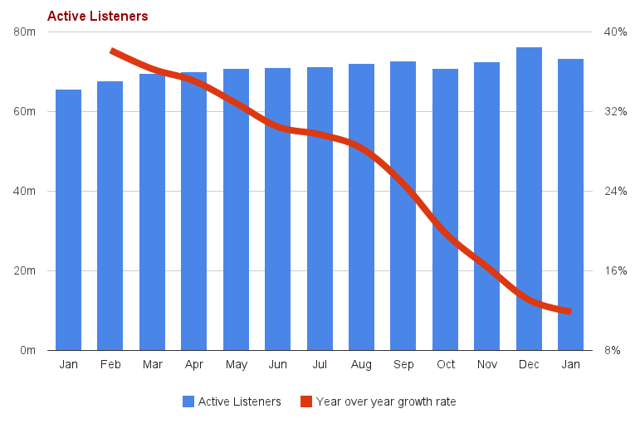 Growth in total listener hours followed the same downward path from 49% year-over-year increase in March of 2013 to just 13% last month.
Pandora lost 2.8 million active listeners in January. While January is traditionally a weaker month for Pandora, this year it lost 3.7% of its users, compared to a loss of 2.2% a year earlier.
When growth rates slow down so quickly, they usually do not stop at zero. While I do not think that Pandora is going to fade away, it would be lucky to hold its ground going forward considering the existing and emerging competition:
iTunes Radio launched in September. Now it's available on 42% of all smartphones in the U.S., not to mention iPads and Mac computers.
In November Nokia updated its free MixRadio app with a new PlayMe feature, which received good reviews.
In December Spotify expanded its free streaming option to mobile devices.
In January Beats Music launched its own streaming service. It counts AT&T and Target among its partners. The company is not shy about promoting its new service with the help of many A-List celebrities.
Deezer, which operates in 80 countries and has over 5 million paying subscribers, is coming to the U.S. this year. The company is backed by $130 million investment from Access Industries. Why is this significant? The owners of Access Industries also own Warner Music Group, one of the largest record and music publishing companies in the world. Its representatives will sit across the table from Pandora's executives in licensing negotiations.
YouTube plans to launch a music streaming service very soon. Note that music accounts for 38% of all views on YouTube. YouTube already paid more than $1 billion to the music labels, so their support is a given. Obviously, the new music service from Google (NASDAQ:GOOG) will be prominently featured on all Android devices, i.e. on 80% of all smartphones.
Why do investors ignore this obvious slowdown in growth and rising competition? Pandora shareholders and Wall Street analysts prefer to talk about the improvements in monetization, namely the increase in rates that Pandora charges advertisers (RPM - rate per thousand listener hours).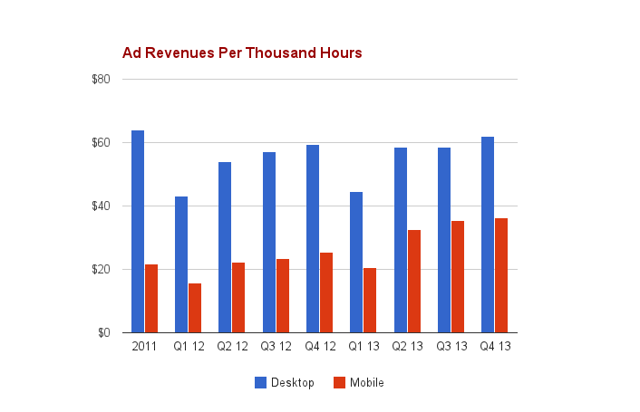 You can see from this chart that desktop RPM is basically flat over the past two years, while mobile RPM is growing. Investors hope that at some point mobile RPM will catch up with the desktop rates. I see several problems with this line of thought:
First, mobile rates are lower than desktop rates everywhere, not just at Pandora. As Claire Cain Miller notes in the New York Times:
the price advertisers pay when people click on smartphone ads is still about a third of the price of desktop ads, in part because people make purchases from mobile ads a quarter as often as they do on computers.
Second, ad rates are falling across the board. Google reports declining ad rates since 2011. As a shift to mobile devices accelerates, the ad inventory grows exponentially. There are simply too many companies going after the same ad dollars.
Pandora was able to defy this trend by brute force: in 2013 the company increased its revenues by 56%, while the number of employees grew by 53%. Sales and marketing expenses increased by 80% - outpacing the growth in revenues. In 2013 the company spent a quarter of its revenues on sales and marketing (all data from the conference call).
These numbers indicate that the company did not benefit from the improving market conditions - it simply spent its way into more revenues. As a result, Pandora recorded a larger loss in 2013 than a year ago, and expects to show a loss in 2014 as well.
Finally, users do not like ads, especially when they are in a mood for music. It is not a coincidence that Pandora's growth rates started to slow down sharply when the company decided to increase the number of ads in each hour of music. While advertisers probably like the fact that it's hard to ignore audio ads, users are more likely to consider ad-free options as mobile ad load grows.
Pandora remains one of the best shorting opportunities. The company has no defensible competitive advantages amid toughening competition. Usage growth rates are approaching single digits, and may get down to zero soon. The latest earnings release confirmed what I was saying before: Pandora cannot produce any profits, and there is no way to justify its valuation. I remain convinced that this bubble will burst, and we will see Pandora share price below $10 this year.
Disclosure: I am short P. I wrote this article myself, and it expresses my own opinions. I am not receiving compensation for it (other than from Seeking Alpha). I have no business relationship with any company whose stock is mentioned in this article.