Flotek Industries Inc. (NYSE:FTK) is a global supplier within the oil field servicing and consumer staple markets; an interesting mix, given the recent evolution of the company. It was December 2009, when Flotek stood on the edge - $600,000 in cash and cash equivalents, and a stock price hovering near $1. Over the past four years, John Chisholm, President and CEO, has transformed Flotek into a premier supplier for oilfields across the United States oil and gas basins. Adaptation of CnF, and other innovative Flotek products, has been expanding with the advent of hydraulic fracturing, horizontal drilling, artificial lift, and other methods of enhanced oil recovery. At the time of writing, Flotek is priced at $22.14.
Flotek focuses on delivering innovative products for oil and gas well stimulation, drilling, and other production activities. The key driver of Flotek's success domestically has been their Complex Nano Fluid, or simply CnF. CnF is a patented, biodegradable stimulation fluid used for enhanced hydrocarbon production. According to a 2012, Society of Petroleum Engineers conference letter, CNF "resulted in lower pressures to displace injected frac fluids over conventional surfactants, and led to greater enhancement of gas and water production. These findings were also confirmed by several recent statistical analyses that took into consideration differences in the properties of treated wells. Many field case studies and supplementary laboratory data have illustrated benefits of complex nanofluid treatment over conventional surfactants."
In November 2013, Flotek entered into a joint venture with Tasneea Oil and Gas Technologies, a subsidiary of Gulf Energy. The two companies plan to construct a new manufacturing and blending plant in Oman, allowing greater access to the Middle Eastern and North African markets. In May 2013, Flotek announced the acquisition of Florida Chemical Company Inc., the world's largest processor of citrus oils. Founded in 1942, Florida Chemical provides citrus oils used for chemical synthesis, solvents, and flavor/fragrance applications. Cold pressed orange oil and high quality d-limonene are key components for a suite of "green" chemicals, including CnF. In January 2014, Flotek acquired Eclipse IOR Services, a provider of enhanced oil recovery technologies.
A further review of Flotek's financials will be reviewed after the Q4 results are officially released on February 10th. Today, we learned that fully diluted EPS for Q4 may exceed $.18 on revenue somewhere over $100 million. My estimate is for $.22 EPS with revenue of $105 million for Q4, and $.68 diluted EPS on close to $375 million in revenue for the full year.
In my opinion, Flotek has some of the most innovative product offerings within the oil servicing industry. CnF and other custom drilling fluids are the key to future cash flows. The growth I model below is under the assumption that Flotek continues to succeed in penetrating the various hydrocarbon basins across the globe.
I intended to write further pieces that dive deeper into Flotek's financials, product offerings and potential future. Below is an initial, projected breakdown of free cash flow. My intermediate price target for Flotek stands at $30. My current estimate of Flotek's WACC is 7.75%.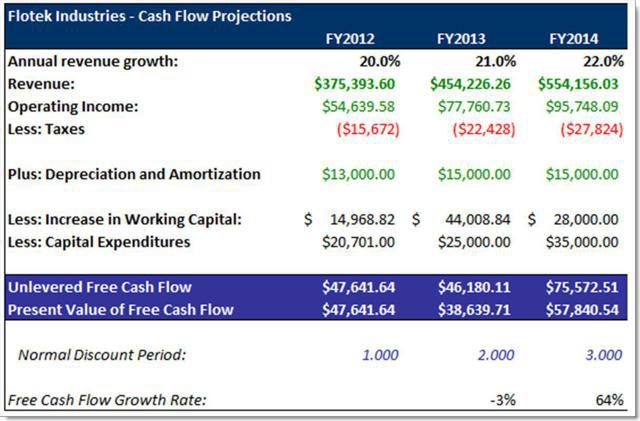 Personal due diligence is recommended. Please visit flotekind.com
Disclosure: I am long FTK. I wrote this article myself, and it expresses my own opinions. I am not receiving compensation for it. I have no business relationship with any company whose stock is mentioned in this article.