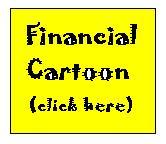 Outlook: With US stocks at 17 month highs and the good economic news continuing to be rolled-out (housing, employment, durable goods, etc.), professional investors seem to be squaring off for a game of "chicken" pitting positive investor sentiment against stock valuations.
The S&P 500 P/E ratio on a "bottoms-up" basis is approximately 16.3 times estimated 2010 year-end EPS versus an average of 15.3 times since 1942. So, with the market seemingly fully-priced, it's no wonder traders are disappointed when higher "whisper numbers" are not met.
"Banking" on Human Nature: While it's human nature to be able to tolerate other peoples' sufferings, it's painfully difficult to tolerate their successes.
Retail investors who have been sitting on the sidelines can't help but notice that stock prices have been rising in a fairly steady fashion. Eying their non-existent returns on money market funds, retail investors are edging ever closer to pulling the trigger on stocks. Recent increases in volume may indicate their foot print.
Barring a catastrophe, retail investors will become re-engaged in the stock market stock. If that's the case, stock valuations will be riding in the back of the bus.
CEF Weekly Review: The 13 closed-end fund (CEF) types on average posted a 1.1% increase for the week ending 4/23/10. The high-low spread was 3.3% vs. 2.2%. On an aggregate, unweighted basis the weekly average price change for the 500 plus CEFs was up 0.9%.
The PowerShares CEF Income Composite (NYSEARCA:PCEF), an ETF that invests in taxable income CEFs, increased 1.0% for the week. The S&P 500 advanced 2.1% for the week; up 9.2% YTD.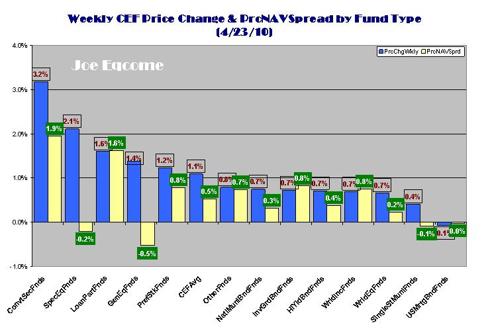 (Click here [1] for YTD CEF Performance. The table is based on a smaller CEF sample size as all the data fields are not available for the CEF universe.)
The Eqcome CEF Fear Index eased for the week with the average price increasing 0.9% versus a 0.6% increase in the NAV. The CBOE Volatility Index (VIX), which typically moves inversely with the stock market—eased 9.5% for the week after spiking 13.8% last week on the Goldman news.
The S&P 500 average daily trading volume remained robust at 5.8 billion shares this week, a decline of only 2.9% from the previous week which featured an 8.1 billion share option-expiration Friday. Excluding last week's options expirations Friday, the average volume was up 8% over last week.
CEF Weekly Fund Type Performance: The weekly performance of the fund types were biased to the equity-oriented funds but not uniformly so. The best performing fund type by far was ConvtSecFnds, up 3.2%. The fund type was uniformly strong. This may reflect investors wanting to participate in equities but taking a cautious approach.
WrldEqFnds and WrldIncFnds were rejoined in terms of performance after weeks of separation each tracking below the fund type average—a likely expression of trepidation regarding the resolution of the Greece debt crisis as it enters a new phase.
There remains a bifurcation between NatlMuniBndFnds and SingleStMuniFnds as the latter lags in performance reflecting the States' budget crises.
The PrcNAVSprds[1], which typically move in the direction of stock prices, registered two notable exceptions. SpecEqFnds registered a 2.1% price increase while NAV fell 0.2% generating a PrcNAVSprd of 2.3%. Many of the real estate funds produced strong price gains. This was consistent with the real estate ETF Vanguard REIT Index (NYSEARCA:VNQ) that was up 6.9%. Real estate is getting a "pop" on the better economic news and the strength of the public REITs that previous accomplished refinancing of their balance sheets.
GenEqFnds demonstrated similar characteristics as SpecEqFnds on the strength of CEFs that focused on micro, small and mid-cap stocks.
CEF Winners and Losers: Putnam High Income Securities (NYSE:PCF) was one of the CEFs with the greatest positive PrcNAVSprd. For the week PCF's price appreciated 5.5% while its NAV expanded 0.6% generating a positive PrcNAVSprd of 4.9%. PCF is a CEF with a large percentage of its portfolio in convertible bonds which was the leading fund type last week. The CEF yields 6.3% and is trading at a slight premium. In the absence of a corporate event, I think this stock may roll over next week.
The CEF having one of greatest negative PrcNAVSprd for the week was the same as the previous week: First Trust Active Dividend Income Fund (NYSE:FAV). FAV share price dropped an additional 7.4% on top on last week's decline of 8.9% versus a 1.2% decline in its NAV generating a negative PrcNAVSprd of 6.2%
Last week FAV reduced its quarterly distribution 30.4% from $.46 per share to $.32 per share. Its premium has further narrowed to 11% from last week's 16.7% premium and at a 9.8% distribution yield.
Economic & Earnings Outlook: (Click here [2] for next week's economic calendar; click here [3] for earnings announcements and estimates.)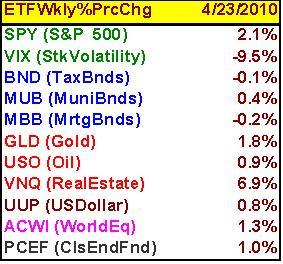 ETFs:
Insider Trading: There was only modest insider activity this week. The Horejsi Group (Horejsi) added additional 6,000 shares to its position in Boulder Total Return Fund (BTF) at a cost of $89,720 for a cumulative monthly total of $500,898. Horejsi owns 24.2% of the outstanding shares of BTF.
Conspicuously absent with regards to Horejsi insider buying has been an old favorite, Boulder Growth & Income Fund (NYSE:BIF). The cessation of buying may be a function of a derivative lawsuit filed April 14, 2010 in the US District Court (Colorado) against the Fund and its board of directors for breach in its fiduciary duty. (See "Significant CEF Corporate Events" below)
The only other meaningful insider transactions for the week was TCW Strategic Income Trust (NYSE:TSI) where two officers and portfolio managers (Bryan Whalen and Tad Rivelle) accumulated almost 100,000 shares at an average price of $4.80 per share. There's been significant accumulation since the beginning of the year by Steve Kane, another officer and portfolio manager.
TSI is trading at a 7.5% discount and at a 7% yield. This deserves further investigation. (Click here for a hyperlink to the Joe Eqcome's CEF Weekly Insider Report.)
CEF Distribution Announcements This Week: The following is a link to a table of CEF distribution announcements this week as well as the previous week's with yet expired ex-dividend dates. The list is not intended to be inclusive. (Click here for Joe Eqcome's Weekly CEF Distribution Announcements.)
Significant CEF Corporate Events: Boulder Growth & Income Fund (BIF), announced on Wednesday that a derivative lawsuit was filed on April 14, 2010 in the United States District Court for the District of Colorado against the Fund and its board of directors.
The complaint alleges, among other things, that the Board breached its fiduciary duty when, after the Fund conducted a successful rights offering in June of 2008, it suspended the Fund's level-rate distribution policy in early November 2008. As in the case of Goldman Sachs, BIF and the Board believe the "claims are without merit and they will defend the case vigorously".
For background on this litigation, in May of last year, I authored an article entitled, "Insider Buying at BIF: A Case of Manipulation or Hallucination?"[4] which analyzed the series of curious corporate events and insider buying activities at BIF. (As a disclosure item, I am not involved nor have I been contacted regarding this litigation.)
The Central Europe and Russia Fund (CEE) announced an increase in the maximum number of shares to be repurchased under its previously announced repurchase program. CEE repurchased 1,140,652 shares during the period, August 1, 2009 – April 16, 2010. In addition to the shares remaining under the previously announced program, the Board has authorized the repurchase of an additional 500,000 shares between the date hereof and July 31, 2010.
CEFs Focus for the Week: The focus stock of the week is Special Opportunities Fund (NYSE:SPE) which was formerly known as Insured Municipal Income Fund (NASDAQ:PFI). This week Special Opportunities Fund changed its symbol from PFI to SPE.
In a proxy contest concluded in August of last year, the dissident shareholders' board slate, led by recognized CEF activist investor, Phil Goldstein, was elected.
"A Whole Lot of Shaking Going On": This change led to the following actions taken by the new board: 1) the replacement of the fund's advisor, UBS Global Asset Management, in October '09, with a newly formed investment advisor, Brooklyn Capital Management, of which Mr. Goldstein is a principal; 2) a self-tender offer for approximately 2/3's of the outstanding shares; 3) a material change in the investment objectives from investing in insured muni bonds for tax-exempted income to one of opportunistic investments in the CEF market segment; 4) a liquidation of its municipal bond portfolio; 5) a change in the name; 6) a change in the accounting firm.
Opportunity Funds? Essentially, the portfolio has gone to cash to fund the self-tender and its new investment strategy. In the case of the latter, less than 10% of the assets have currently been deployed. SPE is selling at a 9% discount well above the industry's average of 3% but in line with Cohen and Steers Closed-End Opportunity fund (FOF). However, the concept of "opportunity" in SPE appears to imply more activists' investing; in the case of FOF, opportunity is more of a portfolio manager's strategy of buying mispriced securities.
Ponder: There are a couple of items to ponder with regards to this new entity. Mr. Goldstein is a principal in Bulldog Investors, a general partnership of six private partnerships in the Bulldog Investors group of funds that have made activist investment in the CEF space.
Potential Conflict of Interest: Is SPE an opportunity for retail investors to "piggy-back" on Mr. Goldstein's seemingly successful track record of CEF activist investing through a public vehicle? Or will SPE end up being a "stalking horse" for its private partnerships? Will SPE also invest in "target" CEFs of the partnership? Will this create a conflict of interest? If so, how does it get resolved? Will Bulldog Group use SPE as a liquidity fund for its partners swapping partnership interest for shares of SPE providing the partners a liquidity event?
Late to the Party: As a general rule, successful private investment strategies that are "taken public" usually signal a top of the market for that strategy. While SPE isn't an IPO, investors should take note of some of the very sexy "private-equity" advisors that went public signaling the top of the market for that investment strategy: KKR Financial Holdings, LLC (KFN), priced at $25 and currently trading at $9, Blackstone Group (NYSE:BX), priced at $30 and currently trading at $15.
Benefit of the Doubt: Shareholders should be willing to give the benefit of the doubt to SPE if it can clearly articulate the potential area of conflict of interest and how they'll be resolved. For example, will SPE participate in target CEFs with Bulldog's private partnership investors? If so, then how will SPE interest be structured? If there are common targets for both SPE and private partnerships, then such an investment should be structured as a separate partnership where SPE's interest is pari passu with the private investors.
Additionally, I'm not crazy about the idea of firing a nationally recognized account firm like Ernst & Young, LLC for Tait, Weller & Baker LLP out of Philly. Are they accountants for any of Bulldog's related entities?
This is by no means meant to cast dispersion on Mr. Goldstein's character or his associates as I am unacquainted with them. These are just due diligence questions. The irony of the situation is that Mr. Goldstein, as critic of CEF advisors, has now joined the fray as potential target of such criticism. I love irony—it's a form of cosmic justice.

---
[1] All things being equal, price and NAV should move in tandem. A price movement greater than the NAV generates a positive PrcNAVSprd and may be interpreted as negative on a near-term basis and indicate the stock is overvalued relative to its NAV which in theory is the stock's intrinsic value. The opposite would be true for a negative PrcNAVSprd.
---
[1] here

[2] here
[3] here
[4] here
Disclosure: Author owns a diverse portfolio of CEFs