I'm sure that I will, it's when that's the question. I'll give you a hint - it has to do with shipping rates, and right now, shipping rates continue to fall off.
DryShips, Inc. (NASDAQ:DRYS) is a company which provides mostly water-based transportation for all kinds of cargo. From DryShips' website:
DryShips Inc. is an owner of drybulk carriers and tankers that operate worldwide.

Through its majority owned subsidiary, Ocean Rig UDW Inc., DryShips owns and operates 10 offshore ultra deepwater drilling units, comprising of 2 ultra deepwater semisubmersible drilling rigs and 8 ultra deepwater drillships, 3 of which remain to be delivered to Ocean Rig during 2013 and 1 during 2015.

DryShips owns a fleet of 42 drybulk carriers (including newbuildings), comprising 10 Capesize, 28 Panamax, 2 Supramax and 2 newbuilding Very Large Ore Carriers (VLOC) with a combined deadweight tonnage of approximately 4.4 million tons, and 10 tankers, comprising 4 Suezmax and 6 Aframax, with a combined deadweight tonnage of over 1.3 million tons
After recommending DryShips for a buy in late 2013 and then quickly turning bearish on the company, I set my price target for a buy around the $2.80 region in my last article.
Since then, DRYS has recovered some of its 2014 losses - but the Baltic Dry Shipping index still isn't showing any signs of life.
Shipping rates that started off 2014 looking like this:

...got worse to end January...

...and are still on their way down.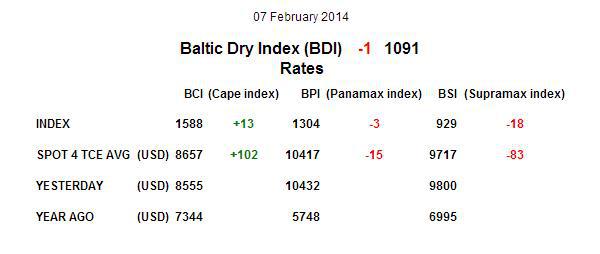 The industry, by its nature, is cyclical. So, there's no doubt to me that rates will eventually rebound - the question is when?
An issue is that dry shippers don't have the opportunity to tailor their fleet according to the rates due to the lengthy amount of time it takes to commission a new ship. Many dry shippers, including DryShips, have been wary of expanding the amount of ships they have after 2007-2008. This leads to anomalies like I pointed out in my last article:
And look at another anomaly - the cape rates are actually less than the panamax rates. That's like walking into a public storage facility and having them offer you a 10 foot storage locker for $100/month and a 20 foot storage locker for $75/month. It speaks to the current lack of demand in dry shipping.
- source Bloomberg)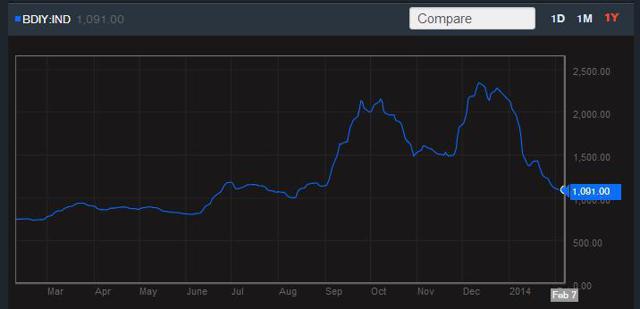 Additionally, Market Realist author Yanyu Mao points out that although China is forecasted to pick up shipping and trade, their economic growth is forecasted to slow in the coming year.
China has always been one of the most important players in world trade, especially after the U.S. and EU's financial crisis. On January 10, 2014, China's Custom Administration declared that China had surpassed the U.S. as the world's largest trading nation, since China's annual trade in goods passed the $4 trillion mark for the first time. So, the demand for major commodities in China is crucial to the prosperity of the dry bulk shipping industry.

Even though China's economic growth is estimated to slow down in 2014 because of the ongoing reform implemented by the new central government, trade will become more important to China's economy.

The economic reform and relaxation of the "one-child" policy indicate ongoing urbanization and infrastructure construction along with more demand for major commodities, which domestic production can't meet. Also, Chinese companies and consumers are more likely to purchase imported goods rather than domestic products that are more expensive and lower in quality.
So, I staked my claim in my last article that I wasn't going to buy DryShips until it hit $2.80. That was the price target, albeit a low one, that I had in my head. It doesn't look like DRYS is going to be heading in that direction anytime soon, as the stock surged nearly 7% alone on Friday.
While I still remain skeptical on DRYS until shipping rates cycle around, I'm happy for the bulls that had the foresight to buy at the low $3 levels. With a bit more dilution on its way from DryShips' recent offering, I can't find myself chasing to buy this stock, so I'm going to remain on the sidelines for the time being.
Best of luck to all investors.
Other Shippers Effected by the Baltic Dry Index:4
Disclosure: I have no positions in any stocks mentioned, and no plans to initiate any positions within the next 72 hours. I wrote this article myself, and it expresses my own opinions. I am not receiving compensation for it (other than from Seeking Alpha). I have no business relationship with any company whose stock is mentioned in this article.