On February 6, it was reported that Kinder Morgan Inc (NYSE:KMI) was being sued by a unitholder in Kinder Morgan Energy Partners (NYSE:KMP) over alleged improper distributions of profits. Do note that Kinder Morgan Inc is the General Partner, or GP, of Kinder Morgan Energy Partners.
Basically, the suit argues that for years, Kinder Morgan Inc has been inflating distributions paid by Kinder Morgan Energy Partners in order to boost distribution to itself via incentive distribution rights, or IDRs.
Due to these IDRs, Kinder Morgan Energy Partners must pay 50% of its incremental distributable cash flow ("DCF") increases to Kinder Morgan Inc while the other 50% goes to its limited partner unitholders.
The suit claims that Kinder Morgan Inc has been understating its maintenance expenses while overstating its growth, or expansion, capex spending. The net result is that Kinder Morgan Energy Partners funds this growth via equity offerings and debt, therefore diluting unitholders while also inflating payments to Kinder Morgan Inc.
As many have already pointed out, this argument is basically a rehash of the one used by Hedgeye in its short attack on the Kinder Morgan group back in September 2013.
The simple fact of the matter is that Hedgeye's arguments have already been largely debunked. Indeed, Kinder Morgan even held an impromptu mid-quarter conference call to refute the claims made by Hedgeye.
As was noted by the company during the conference call, if maintenance capex was really being replaced with expansion capex, Kinder Morgan's ROIC would be meaningfully lower. However, the numbers clearly do not show this as this metric has held steady at 13% to 14%.
The company also noted that this action would also result in ever increasing debt to EBITDA levels, something which has also not been the case.
Unfortunately, IDRs payments are a fact of life for most MLPs as they are often written directly into the partnership agreement. However, there are solutions to this problem. Investors may choose to invest in both the GP and MLP and hence directly benefit from the IDR payments. In addition, some MLPs, such as Enterprise Products Partners (NYSE:EPD) have actually bought out their GPs, though often at quite a high premium.
Obviously, a critical argument for this lawsuit would be if Kinder Morgan Inc's stock were surging while units of Kinder Morgan Energy Partners were lagging. However, this really has not been the case, with Kinder Morgan Inc actually underperforming the MLP over the past twelve months.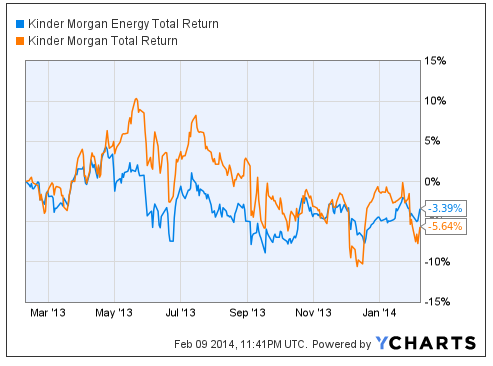 Indeed, since its 1996 IPO, Kinder Morgan Energy Partners has posted an incredible CATR of 23% when reinvesting distributions, trouncing both the benchmark Alerian MLP index and the broader S&P 500.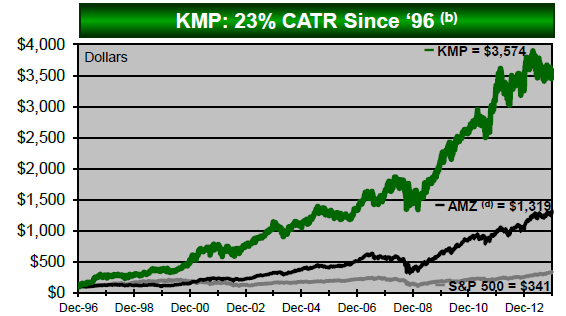 Conclusion
Overall, I think this lawsuit may be a bit short-sighted. Yes Kinder Morgan Energy Partners has underperformed this year. However, this performance was likely more a result of a shift in market sentiment towards higher risk investments and away from safe stocks such as midstream MLPs.
Kinder Morgan Energy Partners is clearly a stock worth owning for both current income and modest annual growth. For 2014 alone, the company expects to grow its distribution 5% to $5.58 per unit. How many stocks with a nearly 7% yield can claim the same?
Disclaimer: The opinions in this article are for informational purposes only and should not be construed as a recommendation to buy or sell the stocks mentioned. Please do your own due diligence before making any investment decision.
Disclosure: I am long KMI. I wrote this article myself, and it expresses my own opinions. I am not receiving compensation for it (other than from Seeking Alpha). I have no business relationship with any company whose stock is mentioned in this article.