Magellan Midstream Partners L.P. (NYSE:MMP) reported its results of operations for 4Q 2013 on February 5, 2014. This article focuses on some of the key facts and trends revealed by this report. Given the significant quarterly fluctuations in important business parameters, full year results are also reviewed, in addition to the quarterly numbers.
MMP is engaged in the transportation, storage and distribution of refined petroleum products and crude oil. Its 3 operating segments are:
Refined products: this segment primarily transports gasoline and diesel fuels and includes an 9,600-mile refined products pipeline system with 53 terminals, 41 million barrels of storage, as well as 27 independent terminals not connected to MMP's pipeline system, and its 1,100-mile ammonia pipeline system;
Crude oil: this segment is comprised of ~800 miles of crude oil pipelines and storage facilities with an aggregate storage capacity of approximately 15 million barrels; and
Marine storage: this segment consists of 5 marine terminals located along coastal waterways with an aggregate storage capacity of approximately 26 million barrels.
As noted in a prior article, 4Q13 performance was expected to be significantly better than 3Q13 for seasonal reasons (limited butane blending takes place in the third quarter vs. significant butane blending that takes place in the fourth quarter; blending margins on butane are strong) and due to the 4Q13 ramp up of the Longhorn crude oil pipeline. Indeed it was.
Revenues grew significantly in 4Q13, as shown in Table 1 below:

Table 1: Figures in $ Millions (except % change); source: company 10-Q, 10-K and 8-K filings
Gross operating margin, the key metric used by management to evaluate performance of its business segments, also showed substantial growth as shown in Table 2 below:

Table 2: Figures in $ Millions (except % change); source: company 10-Q, 10-K and 8-K filings
In 4Q13 and 2013, higher shipment volumes and increases in average tariffs per barrel shipped favorably impacted operating margins for the Refined Products and Crude Oil segments. For the Marine Storage segment, lower storage utilization rates led to decreased operating margins in 4Q13 and 2013 vs. the prior year periods. Operating margin by segment and total operating income for the periods under review are shown in Table 3 below: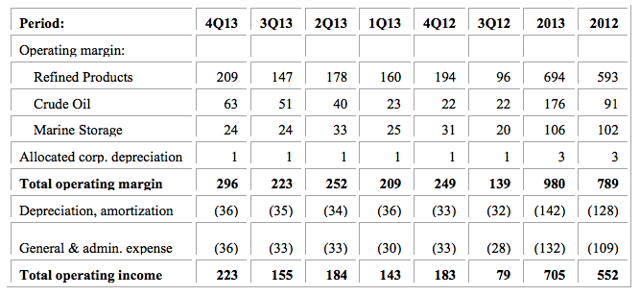 Table 3: Figures in $ Millions; source: company 10-Q, 10-K and 8-K filings
The bulk of the operating margins seen in Table 3 are generated by fee-based transportation and terminals services, with commodity-related activities contributing ~17% of MMP's operating margin in 2013 (vs. ~18% in 2012).
Total operating margin in 4Q13 would have shown an even greater increase over 4Q12 but for a $15.6 million decline in product margin (a non-GAAP measure calculated as product sales revenues less cost of product sales) between these periods resulting, in part, from MMP's accounting for hedges. When MMP physically sells products that it has economically hedged, and when such hedges are designated as hedges for accounting purposes, MMP includes in its calculations of operating margin the full amount of the change in fair value of the associated derivative agreement. In 4Q13 there was a $20.3 million unfavorable variance vs. 4Q12 causing product margin to decline between the periods.
Higher gross operating margin drove improvements in operating income (operating margin differs from operating income in that it excludes expense items, such as depreciation and amortization and general and administrative expenses) as well as in earnings before interest, depreciation & amortization and income tax expenses (EBITDA), as shown in Table 4 below:

Table 4: Figures in $ Millions (except % change); source: company 10-Q, 10-K and 8-K filings
EBITDA in 4Q13 would have shown an even greater increase over 4Q12 but for the decline in product margin discussed above.
Distributable cash flow ("DCF") reported by MMP and distributions for the periods under review are presented in Table 5 below. DCF in 4Q13 would have shown an even greater increase over 4Q12 but for the decline in product margin discussed above.

Table 5: Figures in $ Millions (except per unit amounts and % change); source: company 10-Q, 10-K and 8-K filings
In an article titled "Distributable Cash Flow" I present MMP's definition of DCF and also provide definitions used by other master limited partnerships ("MLPs"). Based on this definition, MMP's DCF for 2013 was $670 million ($2.18 per unit), up from $540 million ($1.88 per unit) in 2012. The generic reasons why DCF as reported by an MLP may differ from what I call sustainable DCF are reviewed in an article titled "Estimating sustainable DCF-why and how". I will calculate sustainable DCF and sustainable DCF coverage, as I define those terms, once MMP provides additional data as part of its Form 10-K for 2013. I expect the 2013 numbers will show an increase over 2012 in terms of MMP's sustainable DCF per unit.
MMP exceeded its latest 2013 DCF guidance by $30 million. As a reminder, management increased 2013 guidance by $10 million to $640 million on 10/31/13, after having previously increased it by $50 million on 8/1/13. MMP exceeded its goal of increasing cash distributions to investors by 16% in 2013 and did so while maintaining a very strong coverage ratio of 1.35x distributions.
MMP expended a record $561 million on organic growth construction projects and a further $215 million on acquisitions during 2013. It plans to spend approximately $550 million during 2014 to complete its current construction projects, the bulk of which is related to the BridgeTex Pipeline joint venture. Management expects benefits from growth projects commissioned during 2013 as well as those that will commence operations this year will drive strong performance in 2014.
Management set 2014 DCF guidance at $730 million (up ~9% from 2013) and its distribution growth guidance at 20% (up from 15% previously projected). Net income per limited partner unit is estimated to be $2.90 for 2014 (up ~13% from $2.56 in 2013), with first-quarter guidance of $0.70 (up ~40% from 1Q13). Guidance numbers exclude adjustments related to MMP's accounting for hedges.
In over three years (since 3Q 2010), MMP has not issued additional partnership units (excluding units issued in connection with compensation arrangements), a significant accomplishment and rare achievement in the MLP universe. This is all the more so given that MMP has done this while keeping its leverage much lower than most MLPs. Another impressive performance metric is MMP's net income per unit. It exceeded distributions per unit in 2013 ($2.95 vs. $2.56 per unit), an unusual feat for an MLP.
MMP trades at a premium (in terms of enterprise value to EBITDA) relative to other MLPs I follow. Table 6 below presents a comparison based on the latest available trailing twelve months ("TTM") results:
As of 02/07/14:

Price

Enterprise Value (EV)

TTM

EBITDA

EV / TTM EBITDA

EBITDA data as of

El Paso Pipeline Partners (NYSE:EPB)

$31.57

10,985

1,113

9.9

Dec-13

Energy Transfer Partners (NYSE:ETP)

$54.27

35,960

3,587

10.0

Sep-13

Kinder Morgan Energy Partners (NYSE:KMP)

$80.17

54,983

5,165

10.6

Dec-13

Plains All American Pipeline (NYSE:PAA)

$52.65

25,756

2,168

11.9

Dec-13

Boardwalk Pipeline Partners (NYSE:BWP)

$24.09

9,168

757

12.1

Sep-13

Suburban Propane Partners (NYSE:SPH)

$44.24

3,810

307

12.4

Dec-13

Williams Partners (NYSE:WPZ)

$49.92

29,399

2,290

12.8

Sep-13

Targa Resources Partners (NYSE:NGLS)

$53.20

8,418

562

15.0

Sep-13

Enterprise Products Partners (NYSE:EPD)

$65.72

78,770

4,685

16.8

Dec-13

Regency Energy Partners (NYSE:RGP)

$26.93

8,645

444

19.5

Sep-13

Magellan Midstream Partners

$68.32

18,045

845

21.4

Dec-13

Buckeye Partners (NYSE:BPL)

$73.03

11,039

440

25.1

Dec-13
Table 6: EV and TTM EBITDA figures in $ Millions; source: company 10-Q, 10-K, 8-K filings and author calculations
It would be more meaningful to use 2014 EBITDA estimates rather than TTM numbers, but not all MLPs provide guidance for this year. So far, the ones that I have seen do so have been MMP (at $936 million) and PAA (at $$2,150 million).
MMP currently yields 3.43%, significantly below other MLPs I follow. Factors that offset this and the high EV/EBITDA multiple include the performance track record, a management team that is disciplined and unwilling to pay the premiums that other MLPs have been paying for acquisitions, an impressive portfolio of growth projects, advantageous structure (no general partner incentive distributions), ability to generate significant excess cash from operations, and proven ability to minimize limited partner dilution. I consider MMP to be a high quality MLP and would continue to accumulate on weakness.
Disclosure: I am long EPB, EPD, ETP, MMP, PAA, SPH. I wrote this article myself, and it expresses my own opinions. I am not receiving compensation for it (other than from Seeking Alpha). I have no business relationship with any company whose stock is mentioned in this article.