EMC is a Top-25 Purple Chip and a leading provider of data storage solutions for enterprises and governments all around the globe. EMC's products and services are used in combination with a variety of computing platforms to support key business processes like processing transactions, data warehousing, content management and e-commerce. EMC aids clients in managing and safely securing large quantities of increasingly complex information. EMC helps clients to automate their data centers and also to substantially reduce operating costs.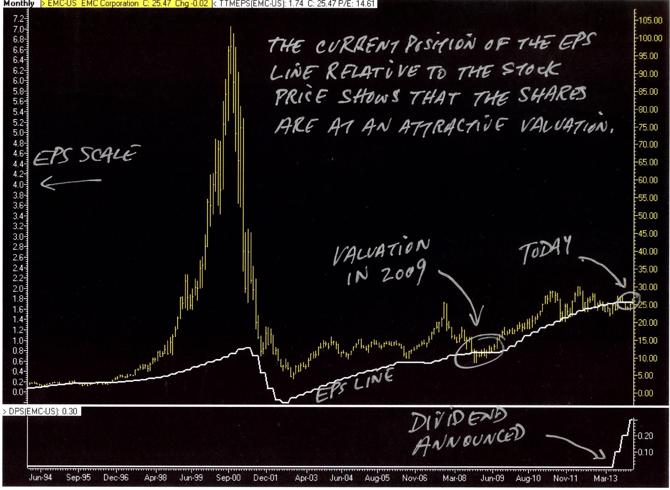 (Source: ThomsonOne & John Schwinghamer)
Dividend Policy
Previously, EMC wasn't paying dividends. At the end of May 2013, the company announced the initiation of a long-awaited cash dividend of $0.40 per year representing a 1.5% yield and a payout ratio of 23%. Given EMC's substantial amount of cash flow, this dividend rate is bound to rise over time. EMC is currently adopting a long-term strategy to return more cash to the shareholders. In addition, the Board at EMC approved the increase in its share repurchase program from $1 billion to $6 billion through the year 2015. The core, intrinsic stock value of EMC is much higher than what it may seem.
Some valuable considerations
Company has over $3 billion of available cash and no debt.
Trading at 14.4X adjusted earnings.
Net income has been growing at an average rate of 10.4% for the last 5 years.
EMC currently earns $1.74 per share and is expected to earn $2.05 per share in 2014 and $2.29 per share in 2015, maintaining this growth trend.
Based on historical valuation ranges, the Purple Chips for EMC is $31.00. The average analyst target for EMC is currently $29.58.
The Demand For Data Storage
There is a consistent growth trend in the demand for data storage, which is driven by higher use of video and other electronic data. The growing interest in cloud computing and automation software programs should benefit EMC. Adding to the company's growth is its 80% ownership of VMware (NYSE:VMW). EMC is also gaining a substantial amount of market share among small and medium growing businesses with new products and data backup.
Revenues Expected To Rise In 2014
EMC's revenues are expected to rise 6.5% in 2014 and 5.9% in 2015. These expected revenue growths are based on the increased adoption of cloud computing by clients. EMC is also projected to increase its market share due to its wide array of hardware and software offerings.
The Pivotal Initiative
In 2013, EMC announced the Pivotal Initiative which combines assets from both EMC and VMware. EMC describes the Pivotal Initiative as a platform designed to target next-generation cloud and big data applications. The new initiative will take assets and employees from both the companies (EMC and VMware) to form a new platform. The total investments to Pivotal are expected to be $400 million, most of which will be coming from this year, 2014. Pivotal is predicted to see exceptional growth with potential to exceed revenue of $1 billion by the year 2017.
As the chart above represents, EMC is at a low valuation, similar to that of 2009. Provided the steps taken towards growth and progress, EMC stocks are a great investment option in the long term.
The Purple Chips model distinguishes Purple Chip stocks as the royalty of blue chips due to the steady and predictable nature of their earnings. There is a considerable amount of research that shows that these types of equities have been able to deliver superior long-term returns with less risk. We identify these stocks with simple visual examinations of their earnings profile over a long period of time. At present, based on Purple Chips criteria, EMC (symbol EMC) is at a low valuation.
Disclosure: I am long EMC. I wrote this article myself, and it expresses my own opinions. I am not receiving compensation for it. I have no business relationship with any company whose stock is mentioned in this article.