Summary
The market started to show some signs of a bottom last week after a rough start to the year. Despite a weak jobs number on Friday from non-farm payrolls, decent earnings and some technically overbought conditions helped to bring about some support to the markets. Now, the question is whether we can continue up, consolidate, or got a false rally and move lower. Many analysts were claiming the 200-day MA on the S&P 500 (NYSEARCA:SPY), Nasdaq (NASDAQ:QQQ), and Dow Jones (NYSEARCA:DIA) was the place where the market would bottom, so we could see another push lower as well. The keys for the market will be developments in Asia, economic data highlighted by Retail Sales, earnings highlighted by Cisco (NASDAQ:CSCO), and Janet Yellen's first testimony to the House as Fed Chair. The market looked strong to end the week, and we are leaning somewhat bullish right now, but we need to see continued data/news that is better to see follow through.
Chart Overview
The S&P got support at 1740 but has seen resistance at 1800 area where the 50-day and 20-day MAs are sitting. Beyond that, the index has resistance at 1850. Things are looking up but need to break the 1800 level to move higher.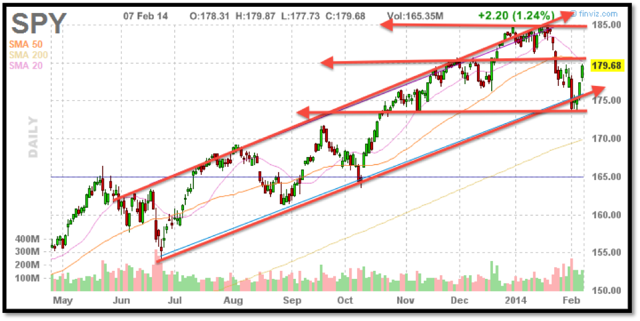 The Dow Jones has resistance at 16000 right now and rallied back over the 200-day MA as well as key mental resistance at 15500. It needs to get over the 16000 level, however, where the 20-day and 50-day MAs sit to keep moving higher.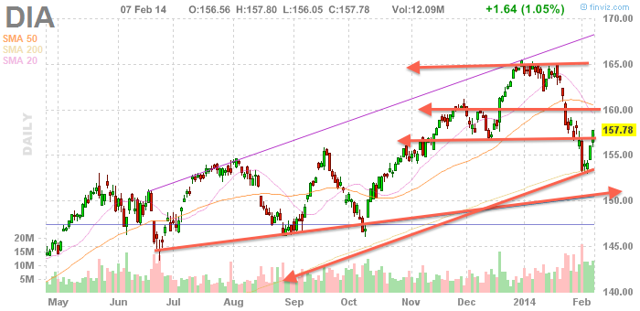 Economic Data
| | | | |
| --- | --- | --- | --- |
| Date | Data Report | Market Expectations | Previous Report |
| February 11 | JOLTS - Job Openings - December | N/A | 4.0M |
| February 11 | Wholesale Inventories - December | 0.6% | 0.5% |
| February 12 | Crude Inventories - 02/08 | N/A | 440K |
| February 13 | Jobless Claims - 02/08 | 335K | 331K |
| February 13 | Retail Sales - January | 0.0% | 0.2% |
| February 13 | Business Inventories - December | 0.4% | 0.4% |
| February 14 | Export/Import Prices - January | N/A | 0.3% / 0.1% |
| February 14 | Industrial Production - January | 0.3% | 0.3% |
| February 14 | Michigan Sentiment - February | 80.2 | 81.2 |
The economic data this week is not quite as crucial as the prior week, and it's important that this week's data comes in solid. Some of the key reports this week will be JOLTS Job Openings on Tuesday as well as a busy Thursday that includes jobless claims, retails sales, and business inventories. These reports are very important to the market, as employment information will be very important as well as retail. January retail is not expected to be solid due to weather, so the expectations are quite low. That could set up an "easy" beat. Finally, we wrap up the week with import/export prices as well as Industrial Production for January. Michigan Consumer Sentiment, though, really wraps up the week as the important report with expectations of a drop from a very solid February number.
Foreign Markets
Outside of the USA, Europe and Asia are going to remain very important. After a couple weeks of a lull in Asia data, China will get a chance to crack the recent weakness it has seen. During this week, China will report on New Loans on Monday, its trade balance on Wednesday, and its CPI/PPI on Friday. The middle report is the most important to give an idea on their current economic situation. It is expected to have dropped from a surplus of $25.6B to $24.1B. In Europe, we get the Euro-Zone Sentix Investor Confidence on Monday with the Euro-Zone Industrial Production on Wednesday. That report is expected to show a 2% growth, and its important for Europe to continue to perform well. On Thursday, the ECB published its monthly economic report and finishes the week off on a big note with Q4 GDPs from France, Germany, Italy, the Euro-Zone and others. Those reports will be heavily watched and key to the market's finish to the week as Europe's comeback is an important storyline this year.
Earnings
| | |
| --- | --- |
| Date | Key Company |
| February 11 | CVS (NYSE:CVS) |
| February 11 | Sprint Nextel (NYSE:S) |
| February 12 | Cisco |
| February 12 | Mondelez (NASDAQ:MDLZ) |
| February 12 | CBS (NYSE:CBS) |
| February 12 | Deere (NYSE:DE) |
| February 13 | PepsiCo (NYSE:PEP) |
| February 13 | AIG (NYSE:AIG) |
| February 13 | McDonalds (NYSE:MCD) |
| February 14 | Liberty Global (NASDAQ:LBTYA) |
Earnings season has really already been decided as a whole - good earnings, weaker top line, so-so guidance. Nothing was outstanding enough to stem downside, but things are still decent enough to keep the market interested. As we end the last couple weeks of earnings, the amount of importance on it grows weaker, but the individual stories and industries start to develop importance. We start to move industries to retail this month as well as more consumer-based companies. Those reports could be weaker overall due to a bad weather spell in January. This week, we get important reports from a number of companies like Cisco, PepsiCo, CVS, AIG, CBS, Kraft, and Sprint.
The report that will definitely attract the interest of the market the most will be Cisco. Another key report will be Sprint as the company will likely get questions about the T-Mobile merger and might update on that. Right now, the merger looks like it is not going well, so that will be key to watch. Cisco, though, definitely steals the headlines. The company reports on Tuesday after the market close, and they are expected to report EPS at 0.46 versus 0.51 one-year prior in addition to a 9% drop in revenue.
The last report for CSCO was a disappointing one as the company guided weakly after the stock had seen a tremendous run for a couple years. The company warned in their last report that both sales were going to drop to as much as 10% as well as see some "challenging" months. CEO John Chambers noted that CEOs were being cautious into 2014, and the company needs companies spending money to see growth. Their last report showed some light growth in revenue to $12.1B from $11.9B as well as EPS up to 0.53 from 0.48. The company beat on earnings and missed on revenue.
Weakness in business expansion in China, domestically, and other emerging markets was the highlight of the last report. Orders were down in China by 18%, 30% in Russia, and 25% in Brazil. Sales to service providers was also down 14% after TV set-box sales were down and a new router had just been released. Overall, it was a weak quarter that could set up for an even weaker follow through. The last month or two has seen weakening data in Latin America and China that could signal even more tough times for a company that relies a lot on technology spend from companies outside of the USA.
So, what to watch for in this report?
The #1 part of the report to watch is obviously how emerging markets are moving for the company. Did they perform at, better, or worse than Chambers expected? One thing Chambers did in the last report was set the bar very low for the company with the slash in expectations, which means that beating or even meeting expectations will bring about a lot of cheers. Comments like this one from Chambers are setting up for an easier beat:
Across every geography, the impact of emerging market weakness was pronounced and accelerated to the backend of the quarter. Our top five emerging markets declined 21% with Brazil down 25%, Mexico down 18%, India down 18%, China down 18% and Russia down 30%. As we always had, we will continue to focus on emerging markets, investing through the challenges and expect to see return to growth in few quarters with all the appropriate caveats.
Yet, a lot of this weakness appears near-term and maybe overdone in fear. One of the big moves for the company moving forward will be their "Internet of everything" push. Everything in the globe will be optimized with online features and controlled through networks. The push for Cisco's Application Centric Infrastructure that works with Cisco switches and is already adopting new competition's software data networks that competitors are building. The positive is that CSCO can leverage their top-notch hardware. While this earnings report won't cover that specifically since it's a few years out, conversation about the developments surrounding it will remain a big storyline.
Analysts at Cantor Fitzgerald and ISI Group are positive on the report:
Cantor Fitzgerald's White says Cisco is "killing it" in servers, with a No. 2 share in blade servers after entering the market five years ago. He sees potential for a similar move into storage. Brian Marshall at ISI Group has a Hold recommendation but says he's warming to the shares. "They've already kitchen-sinked the guidance and expectations are low," he says. "The financial model remains strong, and the new products could add upside. At this price, the stock has more upside potential than downside."
Overall, things are setting up for a potential pop we believe unless the company really underperforms and warns of year long troubles. Overall, though, the market has set the bar low and now CSCO can easily jump it.
Fed Outlook
It is also a key week for the Federal Reserve as it is Janet Yellen's first comments as the Fed Chair this week. She will testify in front of the House on Tuesday and Senate on Thursday. Expectations are that she will talk quite a bit about the recent decision to continue to pull back and should provide some candid responses into what the Fed is thinking as far as continuing to cut QE moving forward as well as recent economic weakness. Her comments will be crucial to the market, but she did a great job in her last testimony that got the market moving.
Conclusion
This week, the market could see a follow through in its bounce back to end last week. So far, 2014 has been forgettable, and we need positive earnings from Cisco, good comments from Yellen, and decent data to get back on track. We are likely to get a mix of good/bad, which will likely keep us moving slightly higher. Yet, if we do get some weak earnings and very weak data, it could push us back to support levels. Yellen's comments are definitely the wild card this week, so make sure to pay attention on Tuesday.
Disclosure: I have no positions in any stocks mentioned, and no plans to initiate any positions within the next 72 hours.
Business relationship disclosure: Business relationship disclosure: I have no business relationship with any company whose stock is mentioned in this article. The Oxen Group is a team of analysts. This article was written by David Ristau, one of our writers. We did not receive compensation for this article (other than from Seeking Alpha), and we have no business relationship with any company whose stock is mentioned in this article.