The market is awash with opportunities to buy, sell, and trade bitcoins, but the opportunity to invest in the latest payment craze is very limited. Both Overstock.com (NASDAQ:OSTK) and Zynga (NASDAQ:ZNGA) made recent news about accepting the new coin for payments, but on initial glance it wouldn't appear that these offer a way to invest in this craze. The Winklevoss Bitcoin Trust ETF (BITCN) is a proposed ETF that will hold bitcoins, but its registration with the SEC hasn't been approved yet.
Before we get too far into the weeds on bitcoins, lets review the concept. According to Bitcoin.org, Bitcoin is an innovative payment network and a new kind of money. The website defines it as following:
Bitcoin uses peer-to-peer technology to operate with no central authority or banks; managing transactions and the issuing of bitcoins is carried out collectively by the network. Bitcoin is open-source; its design is public, nobody owns or controls Bitcoin and everyone can take part. Through many of its unique properties, Bitcoin allows exciting uses that could not be covered by any previous payment system.
Bitcoin works as a digital currency and a payment method allowing for safe and secure transactions around the world with low fees and a protected identity. The initial users were all tech enthusiasts, but the use of the currency is spreading into more mainstream operations including a Subway restaurant profiled on CNBC.
Currency Valuation
The valuation of the Bitcoin has been incredibly volatile making it a vehicle for investors and traders to play the new digital currency when other suitable investment options are lacking. According to CoinDesk, the currency's price in US dollars soared from $13.30 on January 1 to $757.50 by the end of 2013. The service averages Bitcoin prices across multiple exchanges to derive the price used in the below chart.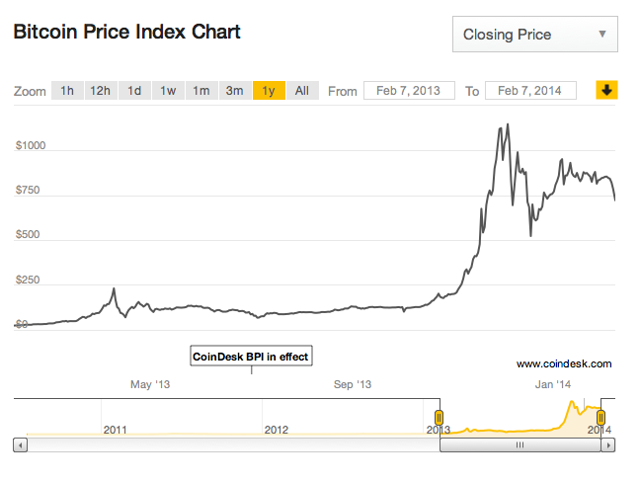 Overstock.com's Big Start
Being typically controversial and led by a CEO that believes in limited government, it might not be a huge shock that Overstock.com make a big announcement to accept bitcoins for payments. It operates a website that sells over one million discounted goods. Overstock.com is working with Coinbase.com to process the payments and handle the conversion of Bitcoin into US dollars.
The interesting part to the story is that the company processed $126K worth of sales in the first day of accepting the digital currency. At this point, it isn't clear whether the novelty brought some one-time buyers to the site or if the digital currency has a real staying power with shoppers at the site.
In the retailer world, Overstock.com is a small participant with only $1.3 billion in sales for 2013 and a stock worth around $450 million. At that size though, it might make for an interesting study to see if the acceptance of Bitcoin has a meaningful impact to business. First, the potential to grow revenues is possible. Second, the ability to save on credit card transaction fees of 2-3% could be significant when talking about revenue of a billion. A real key will be whether converting the digital currency to US dollars averts the savings from credit card processing fees.
The company only started accepting bitcoins in Q1 so Overstock.com has yet to report results reflecting the move.
Zynga Test
The social game developer started a test in early January to allow gamers on Zynga.com to use bitcoins to make in-game purchases to a limited game list. Zynga is using BitPay, a leading Bitcoin service provider, to test the digital currency in FarmVille 2, CastleVille, ChefVille, CoasterVille, Hidden Chronicles, Hidden Shawdows and CityVille. Of interesting note, the entire casino related games such as Zynga Poker aren't included in the test.
Similar to Overstock, Zynga isn't a small company with revenue expectations of nearly $800 million this year. Allowing bitcoins might help revenues at the margin especially in this early stage where enthusiasts are eager to try out the process and further the cause. Ultimately though, gamers are likely to only pay using bitcoins if Zynga creates better games.
Bitcoin Shop Goes Public
The Wall Street Journal reported on a recent publicly traded company that focuses on using the Bitcoin currency. Bitcoin Shop, Inc. (TUCND) that runs Bitcoinshop.us went public in a merger with TouchIT Technologies Inc. The company might be little known, but even John Stossel of Fox Business News fame blogged about successfully buying Christmas gifts from the site.
As Business Insider described the shop back in September, it's like a Bitcoin-only Amazon.com. Entrepreneurs Michal Handerhan and Tim Sidie that spent several years working at NASA before starting Bitcoin Shop run the site. The company provides the following details about itself:
BitcoinShop, Inc. offers a wide variety of merchandise for purchase with virtual currencies, primarily Bitcoin. Similar to other online retailers with solely an online presence, such as Amazon, eBay, or Rakuten, we aim to present a traditional browse and checkout process to our customers, the major difference being able to pay with virtual currencies at checkout instead of Fiat Currency. We serve as a medium between consumers wishing to spend Bitcoin and sellers wishing to receive sales driven by Bitcoin.

We have developed core technology that allows us to interface with vendors in order to display up-to-date inventory, and present prices in Bitcoin according to the Bitcoin Best Bid (BBB) exchange rate from US Dollars, updated every 15 minutes.
Bitcoin Shop trades under the symbol of TUCND, but on March 5 its ticker will change to "BTCS". For now, the stock has a limited float and is a risky investment, but it does have the notoriety of being the first publicly traded stock with Bitcoin in the name.
The company offered around 100,000 items across 400 categories for holiday shoppers. Investors should look for the first Bitcoin online megastore to continue expanding the options available to consumers wanting to spend bitcoins.
Winklevoss Bitcoin ETF
According to an interview with Bloomberg, the Winklevoss ETF could see an amended version submitted to the SEC within the next week. The twins that famously claimed to have created the Facebook idea that Mark Zuckerburg later stole, reportedly own up to $30 to $40 million worth of bitcoins now.
The ETF would allow investors to purchase the bitcoins on an exchange like a stock.
Conclusion
For now, the ability to invest in the growth of the Bitcoin is limited to directly owning the digital currency. Eventually, the Winklevoss ETF will allow for investing in the currency via a brokerage account instead of owning the currency directly. Still that option doesn't provide an opportunity to invest in the growth of the concept. Both Overstock.com and Zynga started accepting bitcoins for payments starting in January so investors won't get any real insight into the impact until when Q1 results are reported at the end of April. Ultimately, Bitcoin Shop provides the purest investment in the concept of using bitcoins for transactions.
Ultimately, it won't be the last if Mark Andreessen of Andreessen Horowitz is correct. The venture firm has invested around $50 million in Bitcoin-related start-ups. The key will be whether these firms can use first mover advantages to grab market attention and market share.
Disclosure: I am long ZNGA. I wrote this article myself, and it expresses my own opinions. I am not receiving compensation for it (other than from Seeking Alpha). I have no business relationship with any company whose stock is mentioned in this article.
Additional disclosure: The information contained herein is for informational purposes only. Nothing in this article should be taken as a solicitation to purchase or sell securities. Before buying or selling any stock you should do your own research and reach your own conclusion or consult a financial advisor. Investing includes risks, including loss of principal.