Introduction
This article is about buying on dips and corrections. The target audience is the long-term investor. We will answer the questions, what is a dip? What is a correction? We will describe the recent market dip and address why it happened.
We introduce the Relative Strength Index as a useful tool in identifying dips both in indexes and in individual stocks. A plan for buying on dips may include the use of this tool.
We illustrate the effect of the recent dip on Chevron (NYSE:CVX) and 3M Company (NYSE:MMM). This shows the importance of looking closely at valuation when considering buying a stock on a dip.
We discuss alternate cost-lowering purchase methods, and present stocks that are good values for purchase now.
What is a Dip? A Correction?
One widely accepted definition of a dip is a decline in market price of 5% or more. A correction is a larger and more sustained decline, generally considered to be 10% or more. However, these definitions are far from universal, but when you see the words dip or correction, chances are the writer is talking about a temporary decline in an upward trending market. At a decline of 20% or more, one may be entering a bear market, a long decline usually with weakening fundamentals.
Using the 5% dip and 10% correction definition guidelines, there have been 27 corrections since the end of WWII. According to Business Insider the average decline during these 27 episodes has been 13.3% and they have taken an average of 71 [market] days to play out, that is, just over three months.
Since mid-January, we have dipped. On February 3, the market (DJIA) was down almost 7% from its all-time highs of late December and mid-January. The red arrow on the below graph illustrates a 1,000 point drop in the Dow Jones Industrial Average.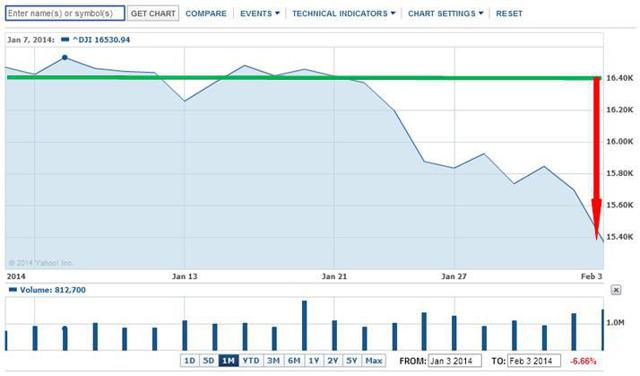 Is there a 20% or higher correction brewing? That is, can a little dip turn into a huge correction? Absolutely, it can. With either a dip or a correction, we are looking at strong and stable fundamentals driving the upward trend, based on continuing increases in earnings. What is being corrected, in the view of many, is the market-induced excesses of a bull trend. That is, factors involving the over enthusiasm of investors. A correction is a pause to sort things out, to adjust excesses, to reallocate assets.
Why Does the Market Dip?
When you read the morning news, you might see a headline that says, "Market Down 200 Points Based on Job Reports" or "World Economic Worries Drive Dow Lower". While those headlines may contain elements of truth, often I believe, the market is down because it is the nature of the market to fluctuate. It goes up and it goes down. If fundamentals are stable and within reasonably normal limits and no world-changing crisis in immanent, it is most likely that the market is simply behaving like the market. Regarding the recent 7% dip, Eric Parnell wrote an article, "What Now After A Miserable Monday?" This is well worth reading in its entirety, and I include an illustrated quote below.
"In short, the current correction appears to be nothing more than a stock market centered decline. And it generally looks like a garden variety correction when looking under the surface. Cyclical sectors such as materials (NYSEARCA:XLB), industrials (NYSEARCA:XLI) and consumer discretionary (NYSEARCA:XLY) are driving the move lower as would be expected.And highly defensive sectors such as utilities have actually moved higher during the recent decline (NYSEARCA:XLU), further reinforcing the idea that this is not a chaotic sell-off but instead a fairly orderly and rational pullback with capital reallocating both within and outside the stock market.

Following 2013 when U.S. stocks rose by roughly +30% with every other major asset classes either flat at best or in double-digit decline at worst, it is not at all surprising to see stocks let off some steam to start the New Year. As a result, the recent stock market decline should be viewed for what it is at this point, which is nothing more than a standard pullback…"
Traders have many technical signals, some based on trading volume, some based on market price in relation to different moving averages, to help them sort out the probable direction and duration of dips and corrections. The RSI is a useful tool to help any investor identify dips.
The Relative Strength Index
The relative strength index is one of the principal momentum indicators used when analyzing charts. Some value investors, typically buying undervalued stocks on analysis of fundamentals, find it useful in determining if a given stock, or the market, is oversold and possibly a bargain.
Let us look at some recent dips to see the relationship between the RSI Oscillator and the market dips. We are looking at the Dow Jones Industrial Average for the past 5 years. The red carat indicates when the RSI dips to the 20 line. It corresponds to the green exclamation point, a buying opportunity, placed at the dip on the price line.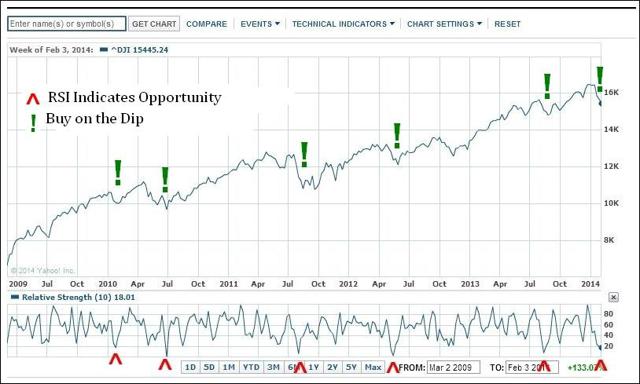 Not all of the Dow components or the stocks in the S&P 500 move up or down in unison. This is a heat map showing the amount of decline, or increase, in the S&P 500, its sectors and companies for 30 days through February 4, 2014.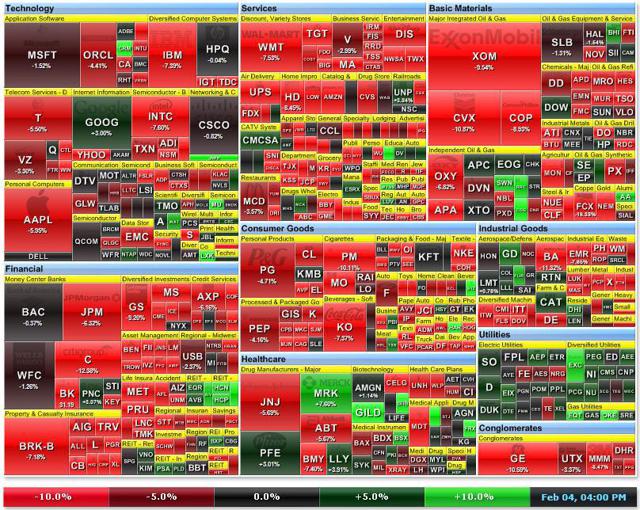 Basic Materials, a cyclical sector, is down as indicated by the predominant red color of its components. Note that Chevron is down over 10%. Utilities on the other had are mostly green, and up.
A dip is usually good news to the seasoned investor. The downturn in the market is an opportunity to pick up some bargains. As Warren Buffett sometimes puts it, "stocks go on sale".
What is Your Plan?
A prudent strategy is to have a watch list of stocks that will complement your portfolio and buy them when they decline to a certain level below their fair market value. A stock going on sale could be due to a dip or correction in the broad market or due to a typical over-reaction to "bad news" about the specific company. Bad news can be good news for the astute buyer after verifying that the fundamentals are sound and the valuation appropriate.
"Like all trading strategies, buying the dips is not a sure thing, because some stock price drops are due to negative changes in the underlying company's fundamentals. For example, investors who followed this strategy around the bursting of the dotcom bubble may have lost a lot of money because many internet companies lacked a proper revenue-generating business model."
Parts of a plan to buy on dips might include:
You may wish to set aside the cash required to purchase one or more full positions when the situation arises. You may wish to add to some existing positions on a dip.
Chances are the financial news, of TV and the Internet will inform you of any significant dip in the market. You might also watch the RSI of the Dow or of the S&P 500, or of those stocks on your watch list. Some data sources, such as FinViz, allow you to screen for RSI levels.
If you have a watch list, then you might periodically update it concerning the fair market price of the stocks, and the price that you are prepared to pay for them. For me, my portfolio of current holdings is my primary watch list, and I am usually prepared to increase my position in several at the right price.
If I look at a given stock and the new low price was available 2 months ago and 2 months before that, it may not be a unique dip but the bottom of a regular trading range. Look at the stock over a longer timeline to see if this is truly a bargain or not.
The idea of buying on the dip is to buy at an opportune price. While it might feel good to go to a department store and buy an item during a big sale, it is important to determine that the individual stock you are interested in is truly a bargain. Always use one or more methods to determine valuation. The tools I frequently use are F.A.S.T. Graphs, Morningstar Premium a common DCF program using EPS growth rate and a discount factor. Routine financial data is available from many sources, and I always look at P/E, earnings history, earnings forecasts and corporate debt levels.
An alternate to buying on dips is to dollar-cost-average into a full position on a fixed schedule. This is a standard method of assuring that you get a fair price in the long run. Rebalancing of assets by changing the allocation of stocks vs. bonds also works to increase your purchases of the less expensive securities. Some investors save dividends until they have enough to make an economical stock order, perhaps $1500, and select the best buy on their watch list. Perhaps the best known and least troublesome strategy is to reinvest dividends of the stocks you own through a DRIP program, there are usually no commissions or fees involved. I do not believe there is any one "right" way to make ongoing stock purchases. What is right for me might not be right for you.
Jason Zweig expresses an opinion that there is not much of an advantage to buying on dips. However, the examples he give in the linked article are indexes, not individual stocks. He does make the very good point that buying on a small dip when the market is at its high is hardly a bargain. Many purchases of an impulsive nature when the "sale" sign is blinking are not good buys. In addition, too often, those investors without a well defined plan are inconsistent in their approach and make errors.
However, I believe that well planned buying on dips, executed consistently, and with careful attention to due diligence including a close look at valuation will bring you profits.
Case Study - CVX
Chevron has traded in a range of 114 to 125 for the past several months.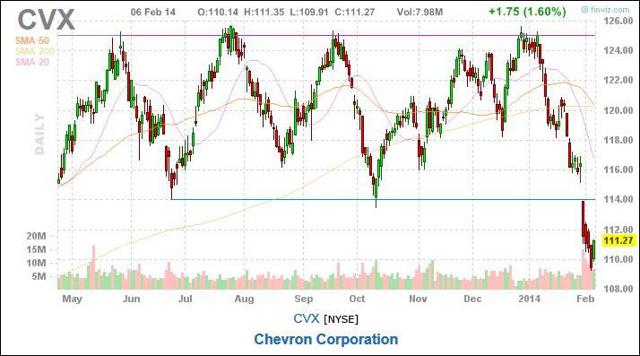 The 8% decline of last October, a time when the RSI dipped below 40 from October 3 to October 15 presented a buying opportunity.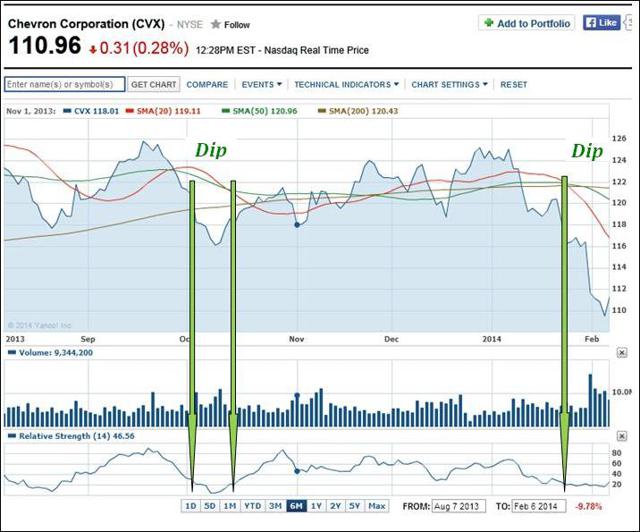 The current dip goes even lower, to a price of 110. The dip started with an RSI of near 20 on January 24 and the dip continues through this writing of February 7. The below chart shows Chevron stock, the blue area, in relation to the S&P 500, which is represented by the red line. Obviously, the length of the last downward drop for Chevron, nearly 11%, is almost twice that of the broader market.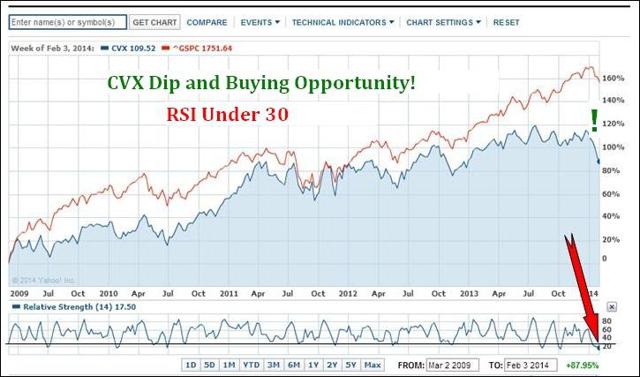 Not only is CVX's price lower than it has been, it is very important that it is also fairly valued. It was fairly valued before the market dip, and now is available at an even lower price. This is shown on the below F.A.S.T. Graph. The black price line is below the normal P/E line drawn at a P/E of 11.1, for the current P/E is only 8.3. It is also very significantly below the orange Fair Value line. Notable are the facts that Chevron has an earnings growth rate of 15.9%, a dividend yield of 3.7% and has a debt/cap ratio of 0%. Chevron, the second largest US integrated oil company is a buy.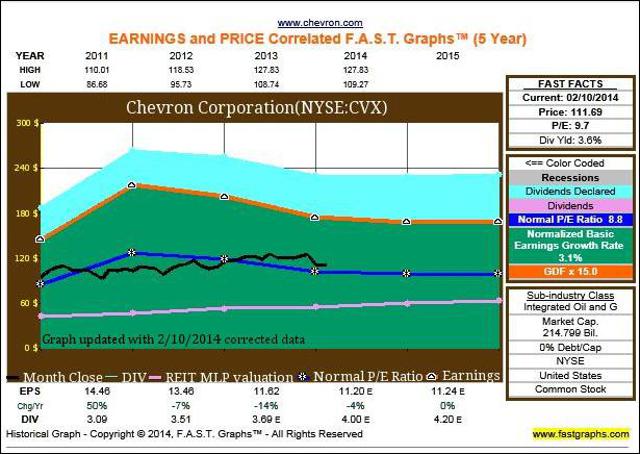 Case Study, 3M Company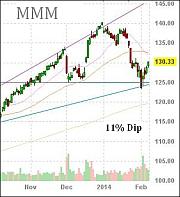 3M Company is one or the oldest, largest and most respected American corporations. Notably, it has paid a growing dividend for 56 consecutive years. It participated in the recent dip, falling from 138 on January 2, 2014 to 123 on February 3, 2014. That was nearly an 11% dip, about the same magnitude as the one Chevron made. At the same time, its RSI fell from 80 to about 30, as shown on the bottom scale on the below chart.
Also of note is the increase in volume the day after the bottom, possibly as traders saw the chance to buy at near the bottom.
However, this 11% dip did not constitute a buying opportunity for the long term investor. That is, the stock is still greatly over valued as illustrated with the below F.A.S.T. Graph.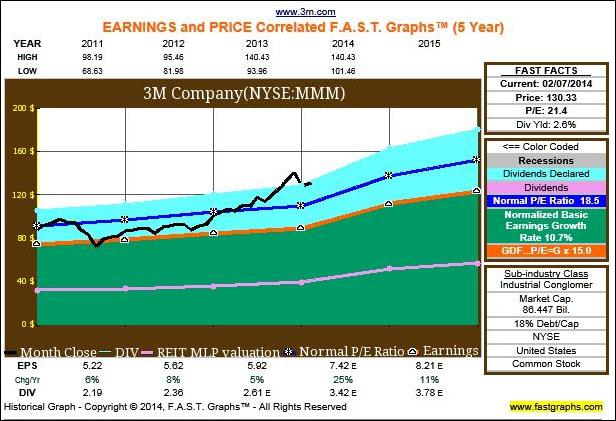 The Dow-Jones dipped, the S&P dipped and markets and stocks dipped worldwide. CVX dipped. 3 M Company dipped. However, 3M is still overvalued as indicated by the F.A.S. T. Graph. The black price line is above the blue P/E line and far above the orange Graham line, an indicator of fair value. As an overvalued stock, Morningstar only gives it 2 Stars and sets its fair value at 120, below the current market price of 130. It is not a good stock to buy on this dip.
My Under and Over Valued Stocks
The below is a table of my core portfolio as it stood on February 5th. The undervalued "buys" are shaded in green. These were still good buys at the close of the market on Friday the 7th. Stocks shaded in yellow are selling at fair value and could be considered for purchase depending on your portfolio requirements. As always I suggest you verify the current price and do your due diligence before placing an order.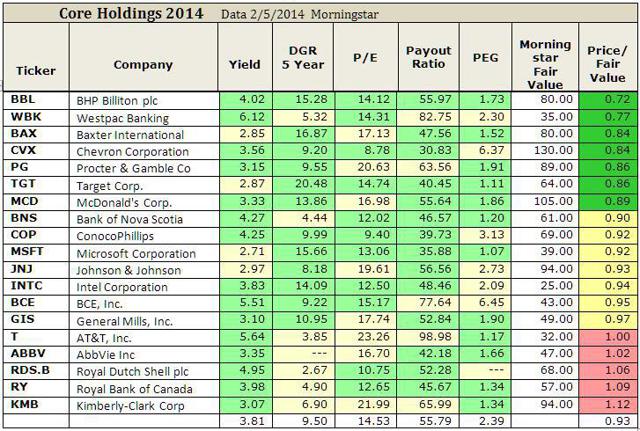 Summary
Dips and corrections in the stock market can offer astute investors opportunities to pick up stocks at lower prices than are usually available. Oversold stocks, possible values, may be found by screening by using the technical indicator, RSI, and the fundamental ratio, P/E, and other data and ratios. A good plan will enable you to make good purchases.
We have demonstrated with our case studies that a market dip, or even a sizable dip in a given stock, does not necessarily equal a buying opportunity. Therefore, it is best to look at dips and corrections as good times to evaluate opportunities and consider the current valuation of stocks on your watch list.
As in any noisy market, stay calm, look at the numbers not the talking heads and do your due diligence in evaluating likely opportunities with particular attention to valuation. Dips and corrections will become your friends.
Good luck!
Disclosure: I am long CVX. I wrote this article myself, and it expresses my own opinions. I am not receiving compensation for it (other than from Seeking Alpha). I have no business relationship with any company whose stock is mentioned in this article.