By Platinum Tiger

A 10 percent plunge in real estate stocks cooled off the Rising China Stocks (RCS) index for a second consecutive week, wiping out nearly a third of the gains the small cap index had made this year and putting it well off the pace of the red hot Russell 2000 small cap index, which is now up by nearly 20 percent this year.

[Click to enlarge images]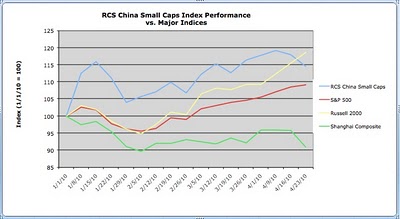 Friday marked the fifth time in six sessions that the index lost ground, culminating its biggest drop since mid-January. The decline was mainly due to heavy selling among a handful of real estate, basic materials and energy stocks. Tech and media stocks were off slightly during the week, while consumer, pharmaceutical and industrial stocks held steady.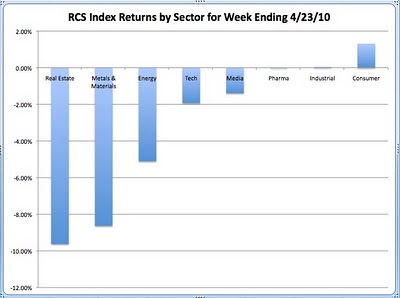 Big decliners included China Carbon Graphite Group (OTCPK:CHGI), which fell 34 percent on poor earnings, and IFM Investments, or Century 21 China (NYSE:CTC), which dropped 19 percent as investors sold off real estate and related stocks in response to the Chinese government's clampdown on speculative real estate lending. The week's top gainer was China Power Equipment (OTCPK:CPQQ), which gained 14 percent on increasing accumulation, perhaps in anticipation of an impending uplisting.

Although the index is still in a downtrend, selling pressure appears to be abating as the last several down days came on decreasing volume. Breadth, while still negative, improved markedly from the prior week. At present I'm optimistic that the tide will turn, and so I'm looking for a day of widespread gains on heavy volume. But I won't be taking any new positions until I see confirmation that the next bull leg has begun.

Disclosure: None.