We're still betting on DARA BioSciences, Inc. (DARA). It's been 14 months from our initial recommendation to buy the shares, and we're currently down 37% on the call. So what makes us believe that DARA is a stock not only still worth owning, but worth buying at today's price (note today's price includes a recent 1-for-5 reverse split)? In short, the underlying thesis of our original call, an interesting specialty pharmaceutical model at a very reasonable valuation, still holds. Below we do our best to outline why we are hanging on with DARA.
But First, A Quick Review of the Q4
On February 4, 2014, DARA Bio reported financial results for the fourth quarter and full year ended December 31, 2013. Total revenues in the quarter were $0.182 million, up 240% from the fourth quarter 2012 and $0.062 million above our estimate. Sales grew by 29% sequentially over the third quarter 2013. In our previous report, we wrote that we expected a significant disruption in sales in the fourth quarter 2013 based on the company pulling back on marketing and promotion while they focused on sales force and product expansion. As it turns out, the disruption was far less than we expected - a positive sign because that means the momentum achieved in the third quarter 2013 held even without significant promotional efforts by the DARA team in the fourth quarter. We have stated in previous reports that we believe the underlying demand for DARA's core products, namely Soltamox and Gelclair, is there; the company just needs to increase promotion and awareness to drive sales.
Operating expenses in the quarter totaled $2.59 million and were generally in-line with our expectations. Net loss in the fourth quarter totaled $2.35 million, or $0.08 per share. This was $0.01 better than our expectations, mainly attributable to the higher than expected revenues. During the fourth quarter 2013, DARA burned approximately $1.60 million in cash from operating and investing activities. The company raised $2.44 million in cash through financing activities, driven by a registered direct offering that took place in October 2013.
For the full year 2013, DARA reported total revenues of $0.419 million, up 682% over 2012. Revenues were driven primarily by sales of Soltamox (launched late 2012) and Gelclair (launched in mid-2013). Total operating expenses during the full year 2013 were $10.07 million. Net loss for the full year totaled $9.97 million, or $0.38 per share. For the full year 2013, DARA burned $9.048 million from operating and investing activities, and raised $5.977 from financing activities. DARA exited the year with $3.426 million in cash. The company will receive another $250,000 from T3D Therapeutics on DB959 here in the first quarter 2014. DARA received an upfront payment of $250,000 for out-licensing DB959 in June 2013 to T3D, of which all was paid to Bayer Pharmaceuticals.
We believe the current cash balance of $3.426 million is sufficient to fund operations into late March 2014. We note that DARA recently filed a Form S/1 allowing for a common stock offering up to $12.5 million. We expect the company to raise $8 to $10 million in cash in the next few weeks. We believe this will be sufficient cash to fund operations in 2015, whereby then investors should have a much better sense of whether or not DARA's business model is gaining traction or additional finances are need.
On February 5, 2014, DARA shareholders voted to authorize a reverse split of the common stock. Later that night, the Board of Directors announced it would affect a 1-for-5 reverse split of the shares. This took effective February 10, 2014. The company is enacting the reverse split to maintain listing requirements on the NASDAQ and lower the number of shares outstanding comfortably below the 75 million authorized level. We believe that DARA will seek to move forward with the financing noted above immediately now that the reverse split has been enacted.
ODD on KRN5500 Still Pending
DARA's Form 10K filed on February 4, 2014 provided little update on the status of the pending Orphan Drug Designation (ODD) decision from the U.S. FDA on KRN5500. The language from the annual report (posted below) is similar to the last update from the company in November 2013:

We had a brief conversation with the company for the preparation of this report. Management told us they remain in "active dialogue" with the U.S. FDA on the ODD application. This is important because many investors have asked us if the application has been rejected or moved to the back burner at either the agency of the company. This does not seem to be the case. We are hoping for a decision in the next few months.
Recent Meeting With Management
We sat down face-to-face with DARA's Chief Executive Officer and Chief Medical Officer, Dr. David Drutz, MD, and Chris Clement, President and Chief Operating Officer, in January 2014. We spent the majority of the meeting talking about the recent sales force and product expansion and the company's now six commercial assets in Soltamox, Gelclair, Bionect, Binosto, Ferralet 90, and Aquoral. Below is a fantastic slide from the company's investor presentation showing how DARA plans to leverage these six products into becoming a big player in the oncology and supportive care specialty pharmaceutical market.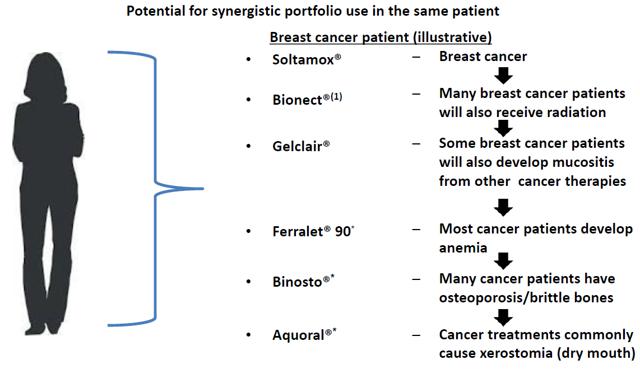 Management told us the sales force expansion has been completed and the 20 new representatives are in the field promoting the product as of the end of January 2014. The company spent much of December training and educating the new reps, as well as hosting a national sales meeting to officially kick-off the new campaign. Below are some bullet points highlighting why we think 2014 could be a breakout year for DARA on the top-line.
Throughout 2013, DARA had only five reps and three products to drive the top-line. For 2014, DARA will have twenty reps and six products, including three new products that build upon the synergistic effect of one another. This not only allows the DARA sales rep to increase call frequency, but helps them build a physician-rep-patient relationship where two or three or more DARA products are all being used to help a patient under care of one oncologist at one treatment center.
In early 2013, the marketing message for Soltamox revolved primarily around dysphagia. The DARA sales rep would ask the oncologist if they had any patients on oral tamoxifen with difficulty swallowing, and then suggest the liquid Soltamox as an alternative to the oral tablet. Today, the marketing message centers more around patient choice, satisfaction, comfort, and desire for an easier to use liquid product. As noted in the slide above, many women with breast cancer will experience dry mouth or oral mucositis as a result of the chemotherapy or radiation therapy. DARA can suggest Soltamox as an alternative, as well as Gelclair and Aquoral.
We point to the recent Soltamox pharmacy supply agreement with RainTree Oncology Services and the deal for exclusive use of Gelclair at Memorial Sloan-Kettering for oral mucositis as the kind of smart, and more focused sales effort we expect to see from DARA in 2014.
DARA plans to present the results of the CAPTURE study in mid-March 2014 at the National Comprehensive Cancer Network (NCCN) annual meeting. We believe the results from CAPTURE could be eye-opening with respect to the issues that women on oral tamoxifen have, and could represent a meaningful inflection point in driving home the marketing message on Soltamox for DARA's sales reps out in the filed promoting the product.
We point investors to a recent meta-analysis conducted by the Early Breast Cancer Trialist's Collaborative Group (EBCTCG) presented at the December 2013 San Antonio Breast Cancer Symposium highlighting the benefits of bisphosphonate use in postmenopausal women with breast cancer. We present the findings from lead author, Robert Coleman, MD, of the University of Sheffield, UK, below:
The meta-analysis was based on individual patient data from 36 randomized controlled trials comparing adjuvant use of a bisphosphonate vs no bisphosphonate or placebo; a total of 22,982 women were enrolled in these trials. Seven of the trials compared clodronate vs no bisphosphonate or placebo (n = 5,174) and 29 looked at amino-bisphosphonates (n = 17,808). Primary outcomes were time to any recurrence, time to first distant recurrence, and breast cancer mortality. Among all women, no significant difference was observed in the 10-year rate of all breast cancer recurrences or distant recurrences, including recurrence in bone. The recurrence rate was 25.4% in those who took bisphosphonates vs 26.5% in the non-bisphosphonate group; distant recurrence rates were 20.9% and 22.3%, respectively. Bone recurrence rate was 6.9% and 8.4%, respectively, and the non-bone recurrence rate was 15% in both study arms. The overall rates of local recurrence and contralateral breast cancer were quite similar in both arms at 10 years. However, among 11,036 postmenopausal women (including women aged more than 55 years if menopausal status was unknown), bisphosphonates achieved a highly significant difference in distant recurrence (18.4% in women on bisphosphonates vs 21.9% on no bisphosphonates, P = .0003) and in bone recurrence (5.9% and 8.8%, respectively, P < .00001) vs no bisphosphonates. In postmenopausal women, the 10-year rate of breast cancer mortality was 15.2% for those treated with bisphosphonates vs 18.3% for no bisphosphonates (P = .004), and the 10-year rate of all-cause mortality was 21.5% vs 23.8%, respectively (P = .007).
We think this is interesting data for a company like DARA Bio. The news is getting good press from medical news organization like Medscape and ASCO-Post, and we think DARA will benefit as they now promote the bisphosphonate product, Binosto, a quick dissolving effervescent alendronate sodium tablet that fits in perfectly with the marketing message of other DARA products like Soltamox, Gelclair, and Aquoral to oncologist.
Finally, Ferralet 90, a biocompatible iron formulation product for the treatment of anemia, rounds out DARA's impressively synergistic suite of products. Beyond dry mouth or oral mucositis, a common side effect of tamoxifen use is fatigue. Using the growing Soltamox base of patients, DARA can now offer Ferralet 90 for the treatment of anemia to these patients.
For these reasons listed above, we believe DARA will see top-line acceleration in 2014. We post our full model at the back of this report, and provide some top-line forecasts for the next three years below:

Conclusion
We believe DARA's stock remains attractively valued. Revenues in 2012 were non-existent. In 2013, revenues totaled only $0.42 million, again…pretty low. However, based on the recent sales force expansion and the three new products DARA is now co-promoting from Mission Pharmacal, we think DARA can do over $2.0 million in revenues in 2014 and $10+ million in revenues in 2016.
DARA's market capitalization is only $18 million right now on a basic share count of 6.2 million as of February 10, 2014. On a fully-diluted count, including all warrants and stock options below $10.00 per share (which we consider reasonably exercisable), the market capitalization increases to $31 million. We expect DARA to raise $8 to $10 million later this month now that the reverse split has been enacted. Including warrants that have a reasonable chance at exercise, there are roughly 10.5 million shares outstanding.
If our modeling holds, the stock should be trading at over $5.00 by year-end 2014 (post-split), and that is based solely on the six current marketed products and has no value for KRN5500. We think orphan drug designation on KRN5500 could triple the market value of the company. A licensing partner will probably be announced soon after the FDA's decision. Our conclusion is that investors can buy DARA now and get both an emerging specialty pharmaceutical story at a reasonable price, and a Phase 2b drug in KRN5500 for free.
Disclosure: I have no positions in any stocks mentioned, and no plans to initiate any positions within the next 72 hours. I wrote this article myself, and it expresses my own opinions. I am not receiving compensation for it (other than from Seeking Alpha). I have no business relationship with any company whose stock is mentioned in this article.